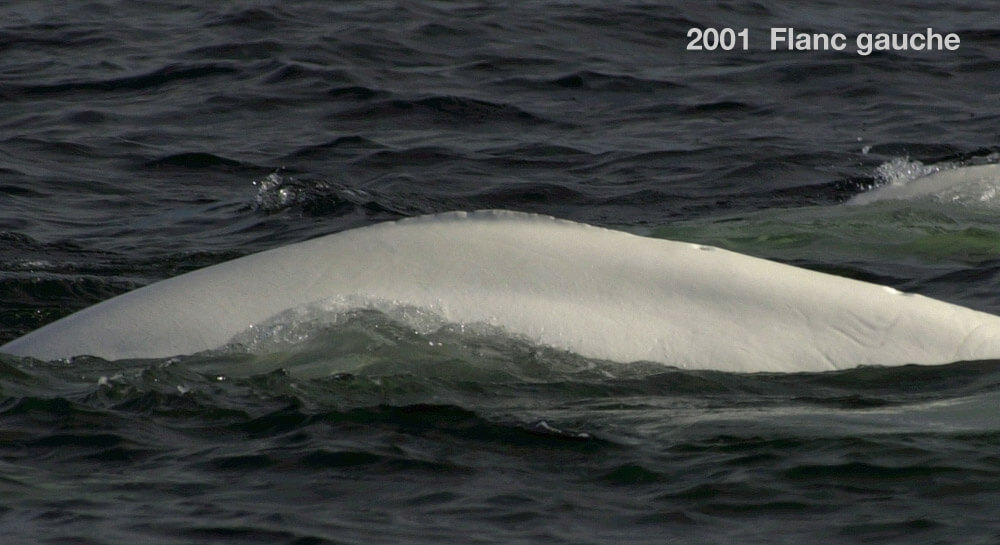 Adopted by le Château Mont-Tremblant
ID number

DL0194

Sex

Male

Year of birth

Before 1974

Known Since

1990
Distinctive traits
Trem Blanc est facilement reconnaissable avec les deux cicatrices sur le dessus de son pédoncule, visibles des deux flancs. Sa crête dorsale marquée apporte d'autres détails permettant de confirmer son identité.
Life history
La première fois que Trem Blanc est photographié, en 1990, il est déjà blanc. Il est alors âgé d'au moins 12 à 16 ans.
Selon ses habitudes et ses associations, Trem Blanc fait partie du réseau de mâles qui fréquentent le fjord du Saguenay et son embouchure.
Trem blanc est un mâle qui a été observé à maintes reprises dans le fjord du Saguenay. Nous savons encore peu de choses sur l'alimentation des bélugas, toutefois dans le fjord, les bélugas trouvent les conditions et la nourriture essentielles à leurs besoins. Ils se nourrissent de poissons de fond (capelan, hareng, éperlan, lançon), d'anguilles et d'invertébrés (le ver Nereis, calmars, poulpes, crustacés). Mais ils peuvent aussi chasser dans la colonne d'eau et près de la surface en utilisant la nage ou le sur-place contre le courant.
Observations history in the Estuary
Years in which the animal was not observed Years in which the animal was observed
Latest news
Nous travaillons à l'embouchure du fjord du Saguenay, près des traversiers. Nous sommes en présence d'un troupeau d'une quarantaine de bélugas, incluant Trem Blanc. Le troupeau est principalement composé d'adultes. Devant nous, nous observons plusieurs gros mâles que nous tentons de biopsier, en vain.
La dernière identification de Trem Blanc remonte à plus d'une dizaine d'années. Est-il mort? Est-il resté invisible à l'œil du chercheur pendant tout ce temps? Chose certaine, son histoire demeure une source d'informations précieuses qui nous aident à mieux comprendre cette population fragile.
Sponsor
Le Château Mont Tremblant adopted Trem blanc (2000).