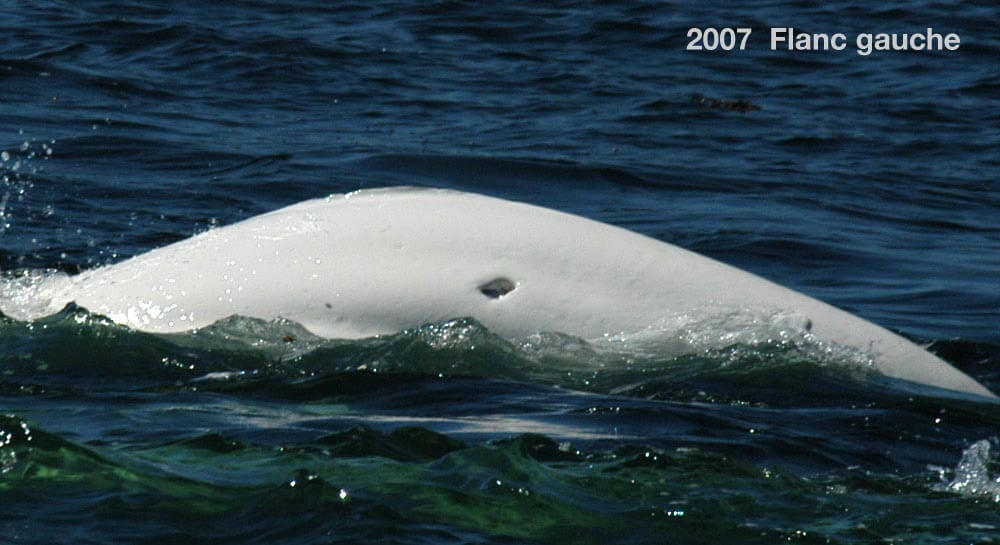 Adopted by Hotels Canadien Pacifique, Quebec Region, CP Regions
ID number

DL0152

Sex

Male

Year of birth

Before 1970

Known Since

1986
Distinctive traits
On reconnaît Laurent plus facilement du flanc gauche, grâce à sa profonde cicatrice circulaire en bas du flanc, après sa crête dorsale. Sa crête, elle, contient quelques entailles qui aident à l'identifier du flanc droit.
Life history
Observé pour la première fois en 1986, Laurent était déjà blanc. Il serait donc né avant 1970.
Le sexe de Laurent a été confirmé par une biopsie : il s'agit d'un mâle. Un morceau de peau et de gras prélevé sur son dos nous a permis d'effectuer une analyse génétique. Laurent fait partie de l'un des deux réseaux de mâles qui fréquentent la tête du chenal Laurentien et le fjord du Saguenay.
Laurent est un mâle. Comment le sait-on? Grâce à une biopsie. On prélève un minuscule morceau de gras et de peau, dans lequel se trouvent les secrets génétiques de l'animal, à l'aide d'une arbalète qui propulse une fléchette munie d'un dard. Le GREMM fait des biopsies sur des bélugas depuis 1994 afin d'identifier le sexe et les liens familiaux.
Observations history in the Estuary
Years in which the animal was not observed Years in which the animal was observed
Latest news
Nous sillonnons la côte au large des Bergeronnes. Arrivés près du cap de Bon-Désir, nous croisons deux bélugas: Laurent et Atlantis. Les animaux sont peu actifs, leurs comportements alternent entre le repos, dit le « billotage », et des plongées de courtes durées.
Sponsor
Hotels Canadien Pacifique, Quebec Region, CP Regions adopted Laurent (1998)