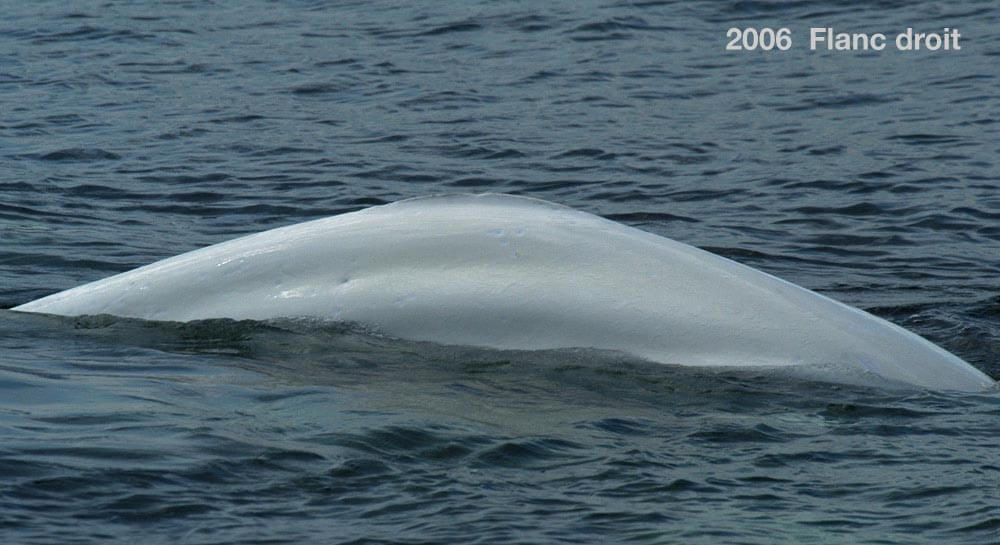 Adopted by Judith R. Hinds
ID number

DL0167

Sex

Male

Year of birth

Before 1975

Known Since

1991
Distinctive traits
On reconnaît surtout Kiki grâce aux trois petites encoches à intervalles réguliers dans sa crête dorsale ainsi qu'à sa petite cicatrice, formant un point, sur son flanc droit.
Life history
Kiki a été observé pour la première fois en 1991. Il est déjà tout blanc. Il est donc né avant 1975.
Ses associations et les secteurs qu'il fréquente nous indiquent clairement que Kiki est un mâle. Il est membre de l'un des deux réseaux de mâles qui fréquentent le fjord du Saguenay et son embouchure.
Visuellement, il est difficile de déterminer le sexe d'un individu. Les mâles sont généralement plus longs et plus gros que les femelles. Analyser leurs comportements sociaux est un autre moyen de déterminer le sexe et c'est ainsi que le sexe de Kiki a été confirmé. Les autres moyens possibles sont : une analyse génétique grâce à une biopsie, une observation de la fente génitale, un examen lors du décès de l'animal et, pour les femelles, des observations répétées avec un nouveau-né.
Observations history in the Estuary
Years in which the animal was not observed Years in which the animal was observed
Latest news
Nous décidons de nous rendre à la baie Saint-Marguerite dans le fjord du Saguenay. Sur place, nous voyons Kiki, Le Survivant et Cumulus au sein d'un groupe de sept bélugas. Le groupe est composé exclusivement d'animaux de couleur blanc, des adultes.
Sponsor
Judith R. Hinds adopted Kiki (2000).