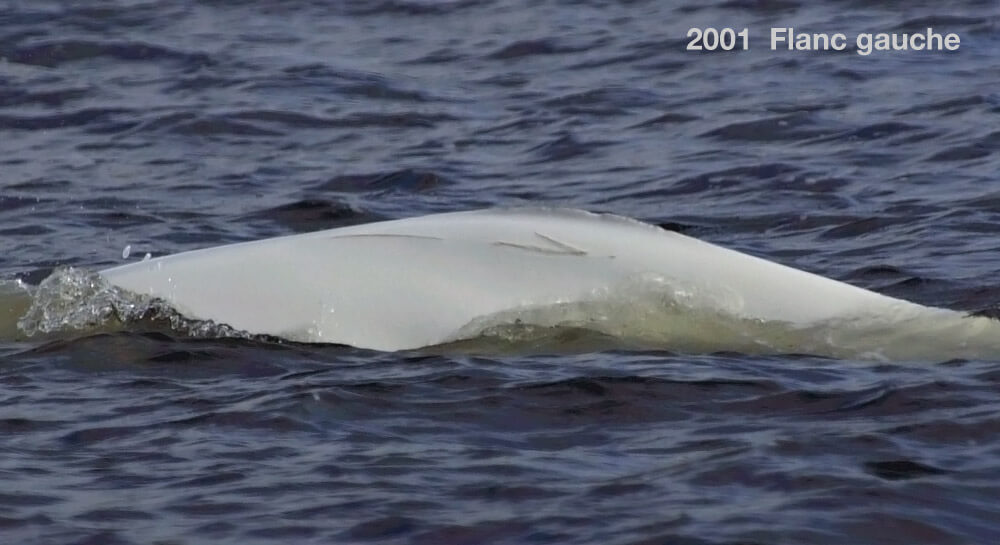 Adopted by the Fondation Daniel Jouvance
ID number

DL0114

Sex

Male

Year of birth

Before 1970

Known Since

1986
Distinctive traits
Le meilleur moyen d'identifier Sedna est sa petite cicatrice irrégulière et profonde derrière sa tête sur le flanc droit. Du flanc gauche, on peut le reconnaitre grâce aux détails de sa crête dorsale.
Life history
Sedna a été photographié pour une première fois en 1986. Il était complètement blanc à l'époque. Il serait donc né avant 1973.
Le sexe de Sedna a été confirmé par l'analyse génétique d'une biopsie : il s'agit d'un mâle. Il ferait partie de l'un des deux réseaux de mâles du Saguenay.
Sedna fait partie de la « bande du Saguenay », un groupe d'une vingtaine de mâles adultes qui arpentent le fjord du Saguenay et son embouchure. Ce groupe semble être l'un des plus stables, que ce soit du point de vue des membres, dont certains sont connus depuis plus de 20 ans, que des sites fréquentés.
Observations history in the Estuary
Years in which the animal was not observed Years in which the animal was observed
Latest news
Nous prenons la direction de l'embouchure du fjord du Saguenay. Tout près de la pointe Noire, nous rencontrons un troupeau d'une trentaine d'animaux, des adultes et des jeunes. Nous apercevons Sedna parmi un groupe de six adultes à la robe blanche. Nous réussissons à photographier tour à tour tous les individus du troupeau.
La dernière observation de Sedna remonte à plus d'une dizaine d'années. Que lui est-il arrivé? Est-il mort? Est-il demeuré invisible à l'œil du chercheur pendant tout ce temps? Chose certaine, son histoire demeure une source d'informations précieuses pour nos connaissances sur cette population fragile.
Sponsor
Fondation Daniel Jouvance adopted Sedna (1993).