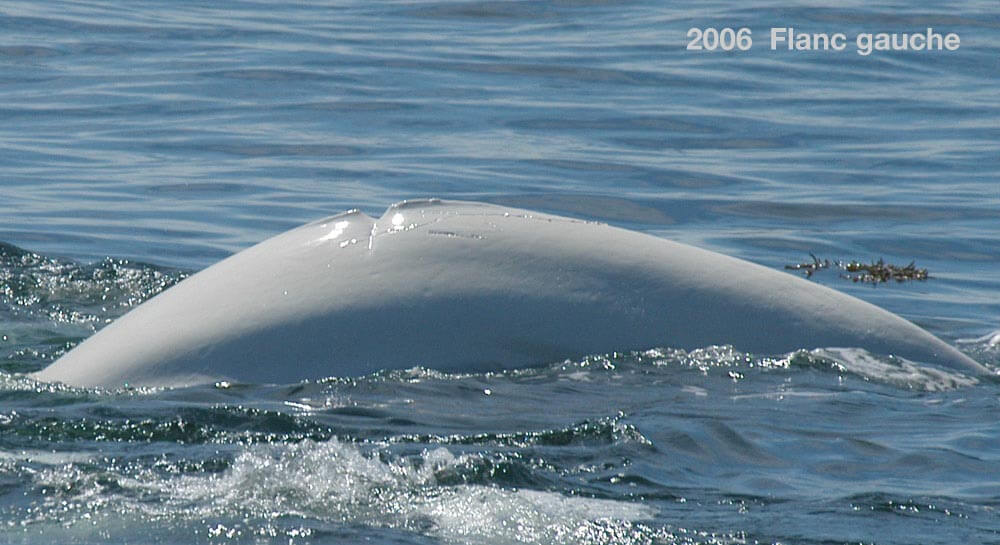 Adopted by la clientèle de La Maison Simon
ID number

DL0086

Sex

Male

Year of birth

Unknown

Known Since

1977
Distinctive traits
Twik est facilement identifiable par sa large entaille en forme de V vers le milieu de la crête dorsale. Cette entaille est très profonde et permet de reconnaître Twik des deux flancs.
Life history
Grâce à ses particularités physiques évidentes, Twik fait partie des individus que le GREMM suit depuis plus d'une dizaine d'années. Ces longues années de suivis sont précieuses, car elles permettent à l'équipe de recherche d'accumuler des données sur la distribution de la population de bélugas comme la durée et la fréquence des associations entre les individus. Cela permet ainsi de mieux comprendre les comportements sociaux et les déplacements des bélugas du Saint-Laurent.
Observations history in the Estuary
Years in which the animal was not observed Years in which the animal was observed
Latest news
Le 30 septembre 2010, Twik et Trèfle se trouvent au cœur d'un troupeau de bélugas qui voyagent à grande vitesse, tous collés les uns contre les autres, dans le secteur de l'anse à la Boule, dans le Saguenay. Puis, de jeunes gris viennent investiguer notre bateau de recherche. Curieux de nature, ces jeunes nous empêchent de poursuivre notre travail. Twik se fait reconnaître au travers d'adultes et de jeunes. En fin de matinée, on tente de prélever une biopsie sur Trèfle, mais la carabine fait défaut et le comportement de l'animal devient difficile à lire. On quitte le troupeau, qui commence à se dissocier, dans le secteur des traversiers sous une fine pluie.
Sponsor
The clientele of Maison Simons adopted Twik (1990) and Artsea (2017). Shop the collection created for the adoption of Artsea. To learn about the love story between belugas and Simons, click here.