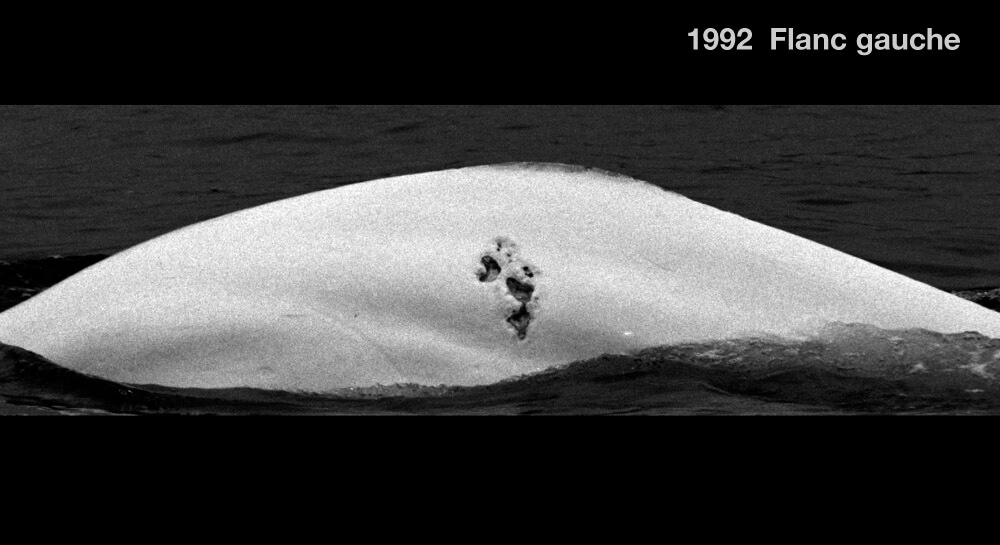 Adopted by students and employees of Ste-Foy CEGEP
ID number

DL0070

Sex

Male

Year of birth

Before 1961

Known Since

1977
Distinctive traits
La combinaison des multiples cicatrices au milieu de son flanc gauche est un bon moyen d'identifier Tesna. Les différentes entailles dans sa crête dorsale ainsi que sa cicatrice circulaire et profonde en bas de son flanc droit est aussi infaillible.
Life history
Observé pour la première fois en 1977, Tesna était complètement blanc. Il serait donc né avant 1961.
Sa grande taille, ses habitudes et ses affiliations sociales nous indiquent clairement que Tesna est un mâle. Il fait partie du réseau de mâles qui fréquentent le fjord et son embouchure.
Tesna est l'un des bélugas fréquemment croisés dans le fjord du Saguenay et son embouchure. Souvent, les groupes de bélugas « montent » le fjord à marée montante et, à l'inverse, se dirigent vers l'embouchure à marée descendante. Ils s'aident des courants pour se déplacer et économiser ainsi de l'énergie.
Observations history in the Estuary
Years in which the animal was not observed Years in which the animal was observed
Latest news
Tesna est repéré dans le secteur de la batture aux Alouettes. Il fait partie d'un troupeau de bélugas d'une trentaine d'individus dans lequel on repère des adultes, des jeunes et un nouveau-né. Plus encore, Tesna est en compagnie de bélugas bien connus de l'équipe de recherche : Griffon, Slash, Twik, Virgule et DL0111 sont présents. Plus tard en matinée, Tesna et Twik sont un peu à l'écart du groupe, accompagnés de jeunes gris. Les chercheurs notent que le pédoncule de Tesna semble avoir une déformation, mais ses déplacements sont normaux.
La dernière observation de Tesna remonte à plus d'une vingtaine d'années. Est-il mort? Est-il demeuré invisible à l'œil du chercheur pendant tout ce temps? Chose certaine, son histoire demeure une source d'informations précieuses qui nous aident à mieux comprendre cette population fragile.
Sponsor
Students and employees of Ste-Foy CEGEP adopted Tesna (1990).