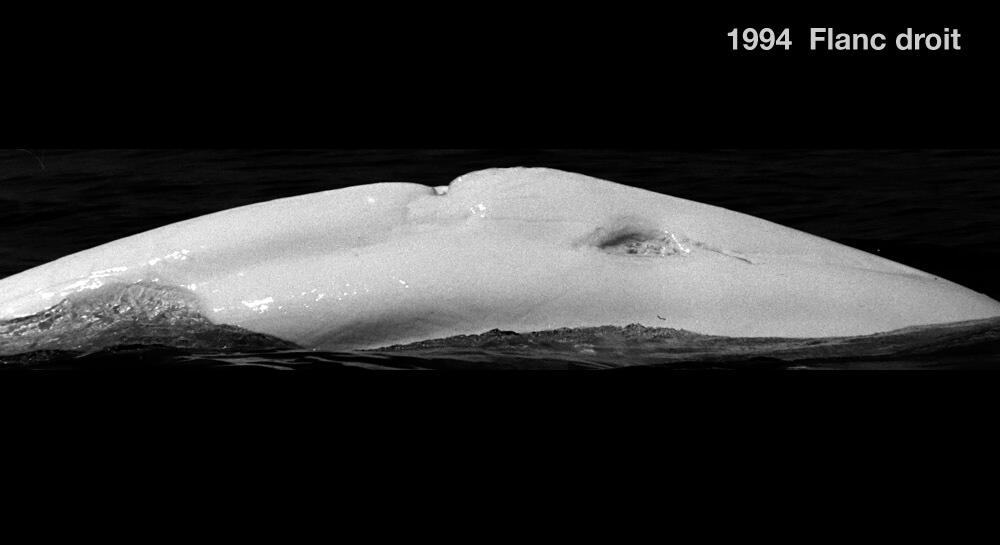 Adopted by La Marjolaine II and its passengers
ID number

DL0001

Sex

Male

Year of birth

1954 (death in 1996)

Known Since

1980
Distinctive traits
Alpha can be recognized by the large scar at the end of his dorsal crest running down both flanks. On his right side, he bears a long linear scar, which in 1994 became both longer and deeper.
Life history
Alpha was photographed for the first time in 1980 in the mouth of the Saguenay. He was already all white at the time, which means he was at least 12 to 16 years old.
His large size and social associations are a clear indication that Alpha is a male. He belongs to one of the two networks of males that frequent the waters of the Saguenay Fjord and the river mouth.
The first observation of Alpha comes to us from the archives of Leone Pippard, who studied St. Lawrence belugas between 1975 and 1980. Alpha's name and ID number are a reflection of the very first time a beluga from the Pippard archives was matched to the St. Lawrence Beluga Project family album initiated by the GREMM in 1985.
Tesna
Virgule
Le Survivant
Sedna
Twik
Galubé
Laurent
Cumulus
Walter
Observations history in the Estuary
Years in which the animal was not observed Years in which the animal was observed
Latest news
We find his 4.25 m long carcass on the shores of Les Escoumins. A post-mortem examination allows us to confirm that Alpha was a male; he was at least 42 years old. He died of a bacterial infection. To this day, his story remains one of the most colourful in our family album.
Sponsor
La Marjolaine II and its passengers adopted Alpha (1989).