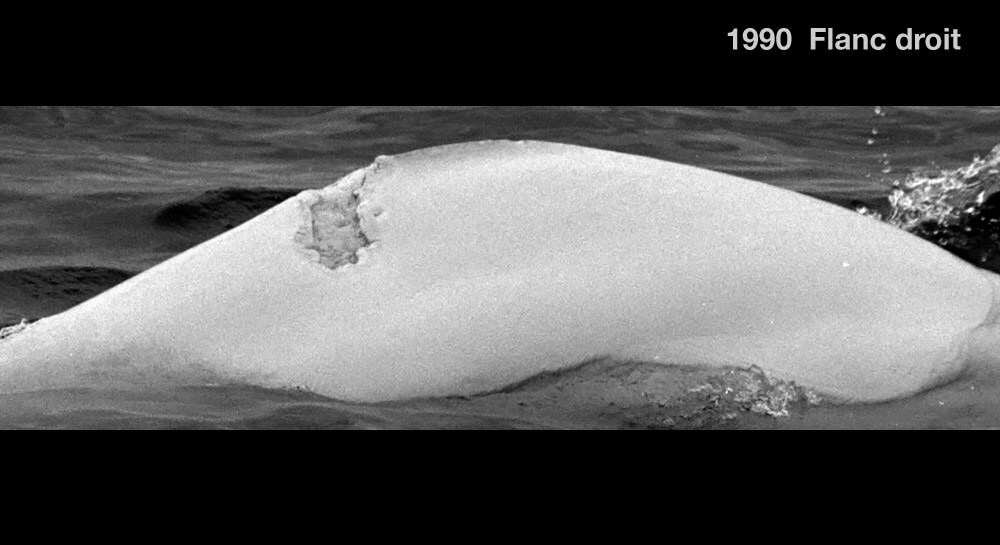 Adopted by Cossette Communication-Marketing Québec inc
ID number

DL0002

Sex

Male

Year of birth

Before 1965

Known Since

1977
Distinctive traits
Walter stands out by the deep scar on his right side that runs up to his dorsal crest. On his left flank, two small gray spots can be seen. In 2000, two new small gashes appeared in the middle of his dorsal crest.
Life history
The first time Walter was photographed in 1977, he was already pure white, which means he was at least 12 to 16 years old.Walter belongs to one of the two male networks that frequent the head of the Laurentian Channel and the Saguenay Fjord. Within these networks are smaller groups of males that are regularly seen together.
Walter's most regularly "pals around" with Double-Vent, Jasper and Pablo. Nevertheless, during one of our last encounters with Walter in 2002, he was observed in the company of Cumulus and Laurent, two males who are not part of his usual clan. This observation raises some interesting questions. Has he lost his longtime companions? Can an aging beluga take on a new social role?
Observations history in the Estuary
Years in which the animal was not observed Years in which the animal was observed
Latest news
We are at the mouth of the Saguenay, near Pointe Rouge. We recognize Walter and Pascolio in a herd of some thirty individuals composed of adults, young and one calf. Animals are scattered and are diving for long periods. We have no chance to successfully place a transmitter on any of them.
Was this the last observation of Walter? We haven't spotted him again since 2002. Did he die? Or has he escaped researchers' detection all this time? One thing for sure is that his story remains a precious source of information for our knowledge of this fragile population.
Sponsor
Cossette Communication-Marketing Québec inc adopted Walter (1989).