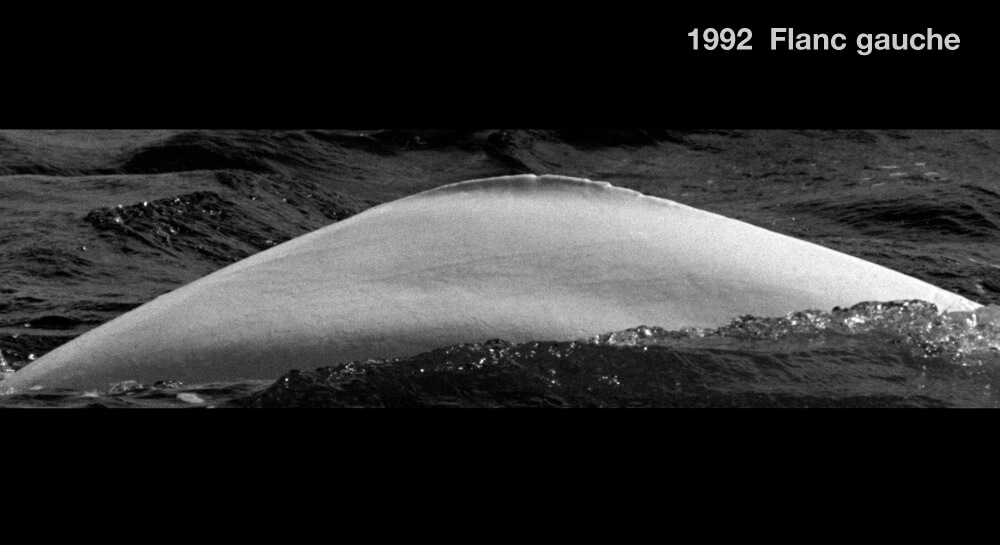 Adopted by Fairmont Chateau Lake Louise
ID number

DL0008

Sex

Male

Year of birth

Before 1973

Known Since

1989
Distinctive traits
Loulou ne possède pas de cicatrice sur les flancs, mais sa crête dorsale est pleine de détails. Une petite encoche au milieu, suivie de quelques légères bosses pointues et de plusieurs dépressions à la fin font le profil de Loulou.
Life history
Observé pour la première fois en 1989, Loulou était complètement blanc. Il serait donc né avant 1973.
Sa grande taille, ses habitudes et ses affiliations sociales nous indiquent clairement que Loulou est un mâle. Il est régulièrement observé dans le fjord du Saguenay dont à la baie Sainte-Marguerite. Il fait partie de l'un des deux réseaux de mâles du Saguenay.
Loulou est un mâle adepte du fjord du Saguenay. Il y trouve les conditions et la nourriture essentielles à ses besoins. Il se nourrit de poissons de fond (capelan, hareng, éperlan, lançon), d'anguilles et d'invertébrés (le ver Nereis, calmars, poulpes, crustacés). Mais il peut aussi chasser dans la colonne d'eau et près de la surface en utilisant la nage ou le sur-place contre le courant.
Observations history in the Estuary
Years in which the animal was not observed Years in which the animal was observed
Latest news
Nous sommes dans le Saguenay. Nous venons de reconnaître Loulou dans un troupeau d'une soixantaine d'individus, principalement des adultes. En compagnie de Loulou, nagent Walter, Pablo, Double-Vent, Équerre et DL0084.
La dernière observation de Loulou remonte à plus d'une vingtaine d'années. Que lui est-il arrivé? Est-il mort? Est-il demeuré invisible à l'œil du chercheur pendant tout ce temps? Chose certaine, son histoire demeure une source d'informations précieuses qui nous aident à mieux comprendre cette population fragile.
Sponsor
Fairmont Chateau Lake Louise adopted Loulou (1999).