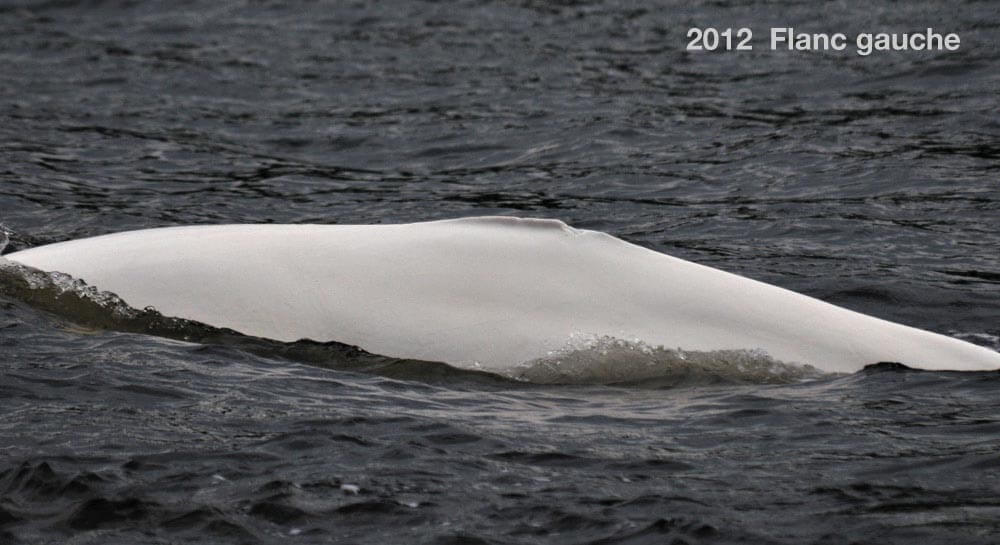 Adopted by The Fairmont Vancouver Airport
ID number

DL0113

Sex

Male

Year of birth

Around 1980

Known Since

1990
Distinctive traits
Sa large entaille profonde en fin de crête dorsale combinée à cette autre petite encoche un peu plus en avant représente le profil caractéristique de Jetstream. Les contours de cette entaille ont changé petit à petit avec le temps.
Life history
Notre toute première rencontre avec Jetstream remonte en 1990. Il est légèrement gris. Puis, en 1994, il est parfaitement blanc. Jetstream serait donc né au début des années 1980.
Les sexe de Jetstream est confirmé par l'analyse génétique d'une biopsie prélevée sur son dos: il s'agit d'un mâle. Il fait partie d'un des deux réseaux de mâles qui sillonnent le fjord du Saguenay et son embouchure.
Jetstream appartient à l'un des groupes de mâles du Saguenay. Lors des premières rencontres, il était presque toujours avec les mêmes compagnons: Frimas, Camério et Dance-Sea. Ce quatuor a été l'un des premiers groupes à mettre la puce à l'oreille des chercheurs sur la formation de clan chez les mâles, soit des associations stables entre individus.
Observations history in the Estuary
Years in which the animal was not observed Years in which the animal was observed
Latest news
Nous observons Jetstream dans l'embouchure du fjord du Saguenay, près du site d'observation Pointe-Noire. Il nage parmi un troupeau d'une quarantaine d'individus, dont un nouveau-né. L'ensemble des animaux monte tranquillement en ligne droite en direction de l'amont du fjord.
Nous décidons d'arrêter le bateau pour effectuer un survol du secteur à l'aide d'un drone, un nouvel outil prometteur pour la recherche et la conservation des baleines.
En effet, les drones élargissent la vision d'une zone marine à partir d'un bateau de recherche, facilitent les inventaires et l'estimation des âges, augmentent la précision des données récoltées et permettent l'observation de comportements peu documentés sur le terrain.
Sponsor
The Fairmont Vancouver Airport adopted Jetstream (2002).