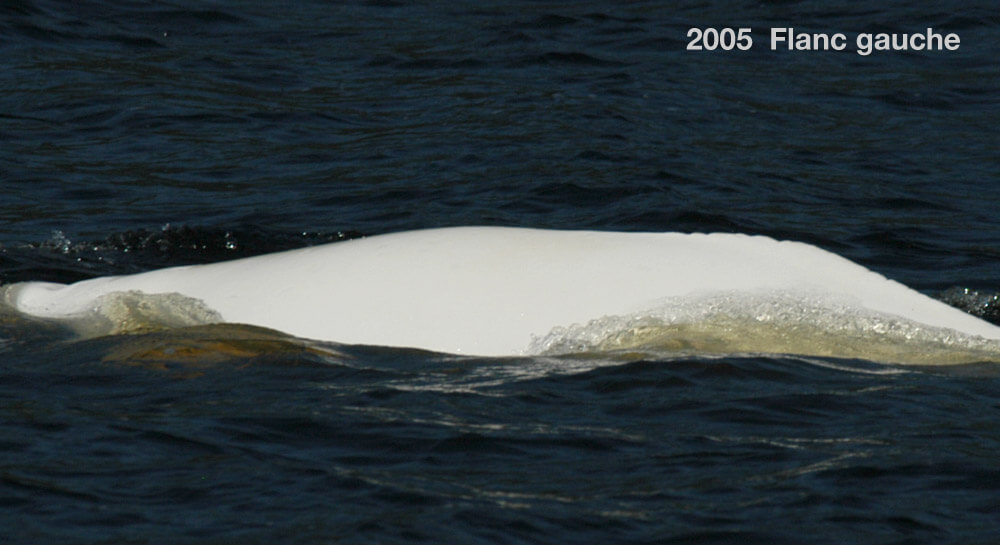 Adopted by The Glen and Carmel Mitchell Foundation
ID number

DL0198

Sex

Male

Year of birth

Before 1978

Known Since

1990
Distinctive traits
Dans la crête dorsale de Babalou, on compte six encoches dont la profondeur varie. En plus de cette crête très détaillée, Babalou porte une petite cicatrice sur son flanc droit, à l'avant.
Life history
Notre première rencontre avec Babalou remonte à 1990. Il était complètement blanc à l'époque. Babalou serait donc né avant 1978.
Le sexe de Babalou est confirmé par l'analyse génétique d'une biopsie: il s'agit d'un mâle. Il a régulièrement été observé dans de grands troupeaux très dynamiques, composés majoritairement de mâles. Babalou serait un membre de l'un des deux réseaux de mâles du Saguenay.
Le 13 septembre 2005, Babalou nage dans le secteur des Escoumins. Il se trouve parmi un troupeau d'une quinzaine de bélugas. Dans ce troupeau, on retrouve principalement des adultes, mais on constate qu'il y a aussi quelques jeunes gris pâles. Le groupe est difficile à suivre, les individus ne cessent de se diviser en petits groupes pour ensuite se rassembler en un super-groupe unique. Toutefois, nous reconnaissons au travers du troupeau Frimas, Yorkie et Dance-Sea.
Frimas
Dance-Sea
Tepui
Camério
Cumulus
Jasper
Le Survivant
Sedna
Observations history in the Estuary
Years in which the animal was not observed Years in which the animal was observed
Latest news
Nous n'avons pas revu Babalou depuis 2005. Est-il mort? Est-il demeuré invisible à l'œil du chercheur pendant tout ce temps? Chose certaine, son histoire demeure une source d'informations précieuses pour nos connaissances sur cette population fragile.
Sponsor
The Glen and Carmel Mitchell Foundation adopted Babalou (2000).