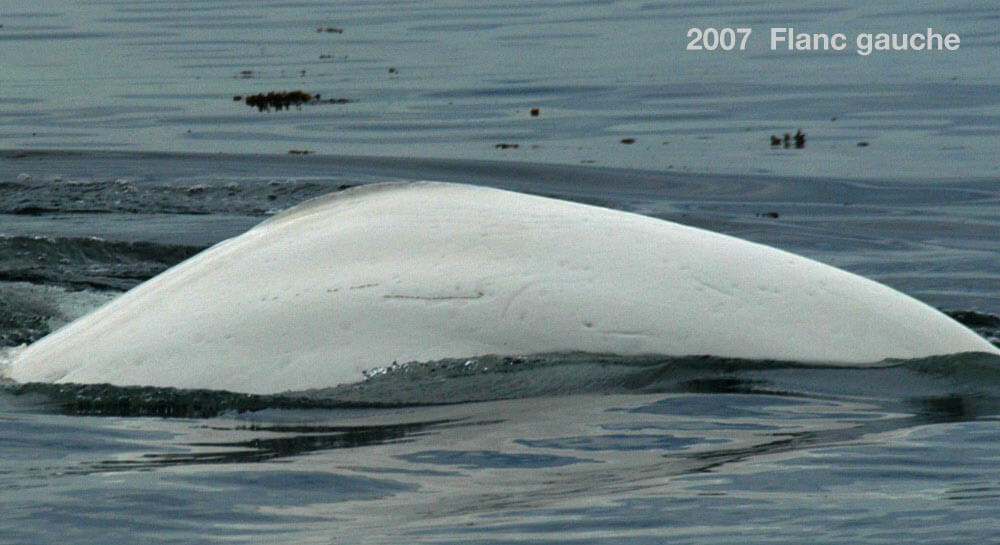 Adopted by the Fairmont Jasper Park Lodge
ID number

DL0092

Sex

Male

Year of birth

Before 1971

Known Since

1987
Distinctive traits
La caractéristique de Jasper, c'est cette longue succession de cicatrices linéaires et pointillées sur une partie de son flanc gauche. Sa crête dorsale, elle, contient assez de détails pour le distinguer du flanc droit.
Life history
Jasper est observé pour la première fois en 1987. Sa « robe » est déjà d'un blanc immaculé. Il est donc né avant 1971.
Sa grande taille, ses habitudes et ses affiliations sociales nous indiquaient clairement que Jasper est un mâle. Le 31 juillet 1997, une biopsie le confirme. Jasper est régulièrement observé dans le fjord du Saguenay. Il fait partie de l'un des deux réseaux de mâles du Saguenay.
Ce mâle fréquente le Saguenay et son embouchure ainsi qu'une partie de l'estuaire maritime l'été. Et l'hiver? La population se déplacerait dans la partie aval de l'estuaire (entre Forestville et Pointe-des-Monts) et dans la portion nord du golfe.
Observations history in the Estuary
Years in which the animal was not observed Years in which the animal was observed
Latest news
Jasper est observé au large des Escoumins. Le troupeau est composé d'une trentaine de bélugas uniquement blancs, des adultes. La distribution des animaux est très étendue, mais nous réussissons à prendre plusieurs photos de bélugas qui présentent des caractéristiques physiques intéressantes. À la fin de la journée, parmi ce troupeau, nous reconnaissons un autre mâle: Trèfle.
Sponsor
The Fairmont Jasper Park Lodge adopted Jasper (1998).