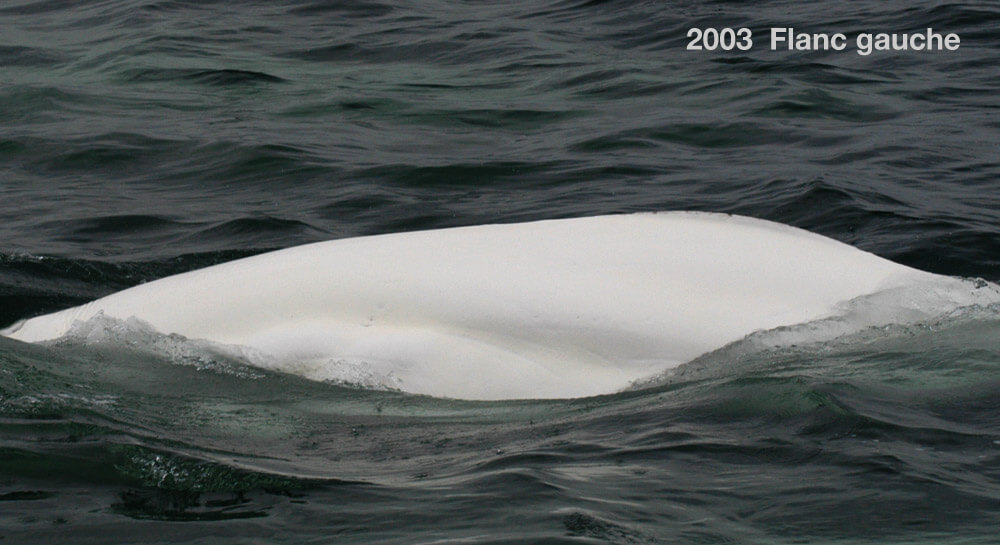 Adopted by Hotel Newfoundland, CP Hotels
ID number

DL0205

Sex

Male

Year of birth

Before 1973

Known Since

1989
Distinctive traits
Pour identifier Matthew, il faut regarder sa peu apparente, mais large dépression en avant de sa crête dorsale ainsi que les petites entailles disséminées le long de sa crête.
Life history
Observé pour la première fois en 1989, Matthew était complètement blanc. Il serait donc né avant 1973.
Ses associations et les secteurs qu'il fréquente nous indiquent que Matthew est un mâle. Il est l'un des membres de l'un des deux réseaux de mâles qui fréquentent le fjord du Saguenay et son embouchure.
Nous n'avons pas encore realisé de biopsie sur Mattew, mais il fait probablement partie de l'une des bandes de mâles adultes qui fréquentent le Saguenay. On a pu l'observer souvent en compagnie d'autres mâles comme Walter et Tepui. L'été, il existe une forte ségrégation sexuelle chez les bélugas adultes. Les mâles et les femelles démontrent des préférences nettement marquées, autant dans leurs associations que dans les secteurs qu'ils fréquentent. Chez les juvéniles et les jeunes adultes, ce comportement n'est pas aussi marqué.
Observations history in the Estuary
Years in which the animal was not observed Years in which the animal was observed
Latest news
Matthew se trouve dans un groupe d'une trentaine d'individus dans le secteur des Bergeronnes, près de l'anse à la Cave. La visibilité réduit et nous perdons contact avec les animaux. Nous réussissons tout de même à repérer Double-Vent qui nage avec DL0217et Matthew.
La dernière observation de Matthew remonte à plus d'une dizaine d'années. Que lui est-il arrivé? Est-il mort? Est-il demeuré invisible à l'œil du chercheur pendant tout ce temps? Chose certaine, son histoire demeure une source d'informations précieuses qui nous aident à mieux comprendre cette population fragile.
Sponsor
Hotel Newfoundland, CP Hotels adopted Matthew (1999).