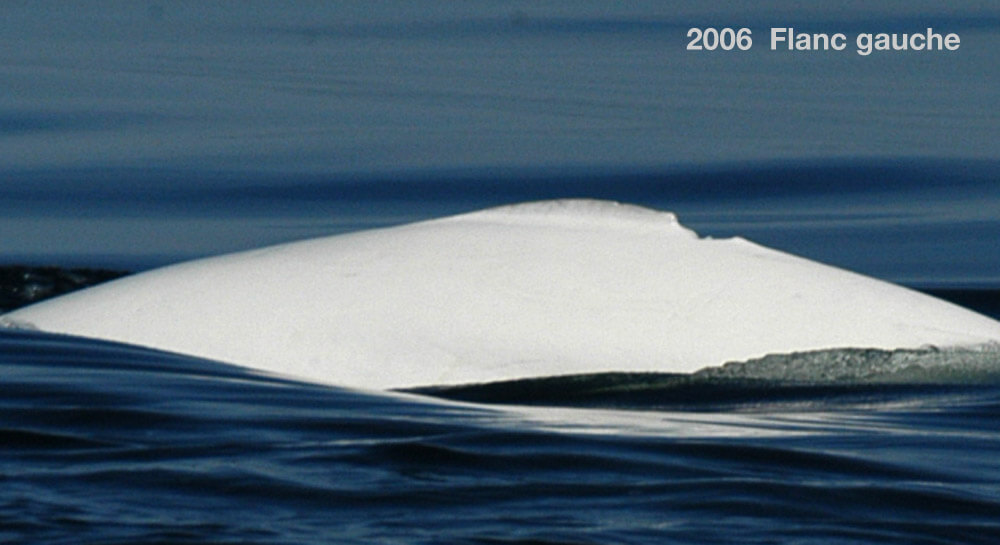 Adopted by Marc-Aurèle Rovero
ID number

DL0485

Sex

Male

Year of birth

Around 1983

Known Since

1995
Distinctive traits
Il est très facile de reconnaitre Agatho dès le premier coup d'œil. Une très grosse entaille dans la partie postérieure de sa crête lui enlève environ le quart de celle-ci.
Life history
Notre première rencontre avec Agatho remonte en 1995. Sur sa peau nous pouvions encore observer des fragments de peau colorée légèrement grise. Il serait né autour de 1983 ou avant.
Agatho fait partie du réseau de mâles qui fréquentent le secteur aval entre Tadoussac et Les Escoumins.
Lorsque l'on observe Agatho, il se trouve régulièrement avec des individus que l'on pourrait qualifier de «bambocheurs».Ces troupeaux sont souvent composés de mâles adolescents. Ces groupes sont souvent intéressants à observer, car les animaux sont très dynamiques, ils viennent étudier notre bateau et on peut même parfois les entendre vocaliser. Quelques fois, ils frappent la surface de l'eau avec leur ventre ou font ce qu'on appelle du «bodysurfing».
Observations history in the Estuary
Years in which the animal was not observed Years in which the animal was observed
Latest news
Le 10 octobre 2007, on se trouve avec un troupeau d'au moins 250 individus à l'embouchure du Saguenay. Il y a des adultes, mais aussi plusieurs jeunes qui se démarquent par leur «robe» grise. Le dynamisme du troupeau est élevé, on voit des têtes, des queues et des nageoires pectorales hors de l'eau. Plusieurs individus adoptent un comportement nommé « le marsouinage» : ils se déplacent en accélérant sous la surface puis se projettent vigoureusement hors de l'eau. C'est impresionnant !
Sponsor
Marc-Aurèle Rovero adopted Agatho (2006).