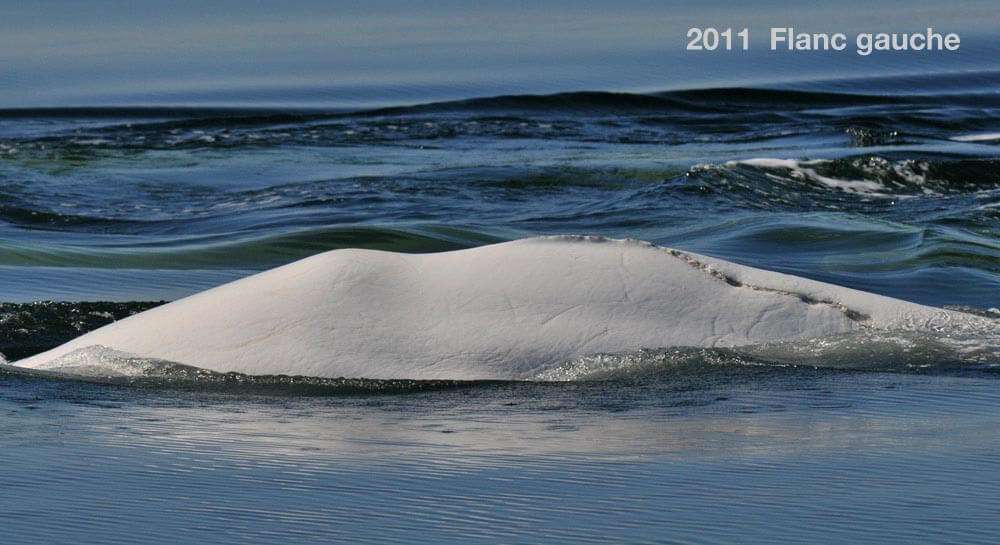 Adopted by Shaklee Canada Inc.
ID number

DL0083

Sex

Male

Year of birth

Before 1973

Known Since

1989
Distinctive traits
Vita est reconnaissable au premier coup d'œil, par sa longue cicatrice profonde et sinueuse au flanc gauche. Il a également une imposante bosse en avant de la crête, dont la taille a augmenté avec les années.
Life history
Il a été photographié pour une première fois en 1989. Il était complètement blanc à l'époque. Vita serait donc né avant 1973.
Son sexe a été confirmé par l'analyse génétique d'une biopsie: il s'agit d'un mâle. Il ferait partie de l'un des deux réseaux de mâles du Saguenay.
Le GREMM suit Vita depuis une vingtaine d'années. Il fait partie d'un groupe d'une vingtaine de mâles adultes, appelé la bande du Saguenay, qui arpente le fjord du Saguenay et son embouchure. Ce groupe semble être l'un des plus stables. Certains de ses membres sont connus depuis plus de 20 ans. La suite de l'histoire de Vita nous apprendra énormément sur l'évolution de la vie sociale des bélugas
Observations history in the Estuary
Years in which the animal was not observed Years in which the animal was observed
Latest news
En matinée, nous observons Vita en compagnie de GraCy dans la baie Sainte-Marguerite. Il se trouve dans un troupeau d'une trentaine d'adultes, scindé en plusieurs petits groupes dont l'un est composé d'une dizaine de mâles et l'autre de 6 ou 7 juvéniles gris. On voit des queues, des melons et des nageoires pectorales à la surface de l'eau. Il y a de l'action!
Sponsor
Shaklee Canada Inc. adopted Vita (1990).