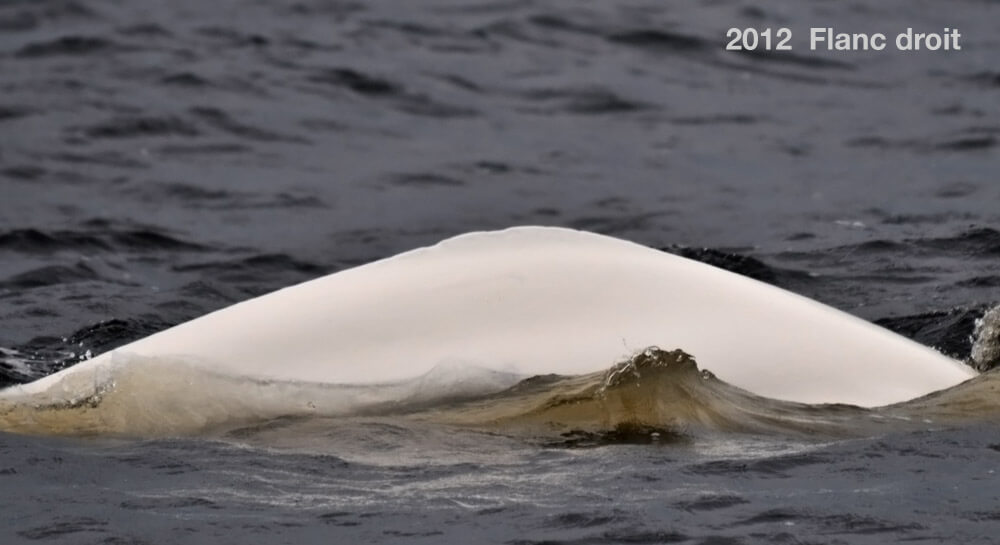 Adopted by collectively
ID number

DL0197

Sex

Presumed male

Year of birth

Before 1978

Known Since

1990
Distinctive traits
Hope stands out from the others thanks to multiple variably-sized notches in his dorsal crest, by which he can be recognized from either side.
Life history
When we first encountered him in 1990, Hope was already white. Belugas fade from gray to white in colour between the ages of 12 and 16. Hope would therefore have been born before 1978.
His associations and the sectors that he frequents suggest that Hope is a male. Like other adult bulls of the population, he spends the summers in herds composed essentially of males. He is part of one of the two male networks that frequent the Saguenay Fjord, its mouth as well as the portion of the Estuary as far as Les Escoumins. The members of these networks do not intermingle with other male networks, even if their territories do overlap.
Within these networks, adult males form groups of companions who remain more or less faithful over the years. These associations may play a role in belugas' reproductive lives. By far his most faithful companion is Vita, who was already with him at our first encounter. Hope is also regularly seen with DL0117, Jetstream and GRaCy, all of whom are members of the Saguenay network.
How Hope's story unfolds will teach us volumes on the evolution of belugas' social lives. By better understanding how belugas live, we will better be able to protect them.
Observations history in the Estuary
Years in which the animal was not observed Years in which the animal was observed
Latest news
DL0197 is in a mixed herd of 25 belugas comprising adult males and females accompanying young, including at least two newborns. The herd stretches the entire span of the mouth of the Saguenay. DL0197 is swimming in the company of his companion Vita. In our 31 encounters with DL197, he has been seen in Vita's company 19 times (61% of the time).
The mouth of the Saguenay is a place where the male networks and the female communities meet. Large herds briefly form here before splitting up into smaller stable units of males or females with young.
On this gorgeous summer day, we are on board the Bleuvet in the Saguenay Fjord. We observe a herd of about thirty individuals, including adults and young. Once we get close enough, we attempt to take a biopsy, but without success.
The herd is divided into a few smaller groups engaged in different activities. For example, six belugas are "logging", meaning they are resting and treading water at the surface, side by side. Not far from them are a few young grays who are swimming actively. One of them spits out a stream of water at the surface and gives the impression that it is in the process of feeding. Two other grays slap their heads, pectoral fins and tails on the water surface while emitting a few clicking noises.
In another group, we spot DL0197. Some belugas are stationary; others are swimming up the Fjord. Once again we try to take a biopsy from a beluga, but to no avail. Finally, after three hours of valuable observations, we leave the belugas to their activities.
Sponsors of the collective adoption
Jean Blane
Merry Christmas Robert and friends. Please keep up the fantastic work and efforts to inform others! I'd like to suggest the name "Ti-Nick." It is suggestive of the nature of the identity marks, and is also associated with this time of year.
La famille Ferland et cie, amoureuse des animaux et de la nature
Merci pour votre formidable action. À la mémoire de Jean-Louis et Françoise Ferland.
Andrée Lamontagne
Pour Arnaud Bustamente
Thomas du Mesnil
Bonjour le GREMM, Merci beaucoup pour votre travail !! Je vous suis depuis des années déjà, et j'espère avoir bientôt l'occasion de vous visiter, venant de l'autre côté de l'Atlantique. Je souhaite apporter une modeste contribution à vos recherches pour un cadeau de Noël, à une personne qui était tout excité à l'idée de pouvoir apercevoir des bélugas.
Fanny Moreau
Merci pour ce que vous faites !!! J'ai visité le Québec à trois reprises et c'est ma façon de remercier ces anmaux et les autres d'ailleurs du bonheur qu'ils m'ont apporté !! En hommage à tous les animaux de ce monde et dans l'espoir qu'ils soient tous plus respectés un jour… Je propose donc de l'appeler hope…
Nicolas Brochu
En hommage à ma mère, Marie-Claude Plamondon, pour ses 60 ans, le regard tourné vers l'avenir, rempli d'espoir et d'émerveillement.
Monique Ouellet 
Je m'appelle Michelle Bertrand et je suis céramiste. Je fais de la poterie utilitaire et décorative, dont la sculpture. Depuis quelques années, je crée des sculptures de baleines, en particulier le rorqual à bosse, seul ou avec son baleineau. J'ai toujours eu une grande affection et intérêt pour ces mammifères marins et leur sort.
Audrey Hottin (29e don)
Simon Caron (6e don)
Karolanne Simard (2e don)
En l'honneur de Joe Howlet
Isaac Gauthier (3e don)
En l'honneur de notre bébé – Merci pour l'excellent travail que vous faites. Le Saint-Laurent est une richesse collective et devrait bénéficier à toutes les espèces vivantes, humaines et autres, qui l'habitent. J'espère que mon humble don vous sera utile 🙂
Geneviève et Yannick, de la part de Véronik et Marc
En hommage à Geneviève et Yannick, qui célèbrent leur mariage le 20 juillet 2018, au bord du fleuve Saint-Laurent, tout en musique. Avec toute notre affection, Véronik et Marc
Marjolaine et Juliette
Longue vie à Sonar. Que personne ne brouille ses repères.
Country Walkers
À la mémoire de Joe Kowalski. Our suggested name for Beluga DL0197 is "Joe".
Dominique Mercier
Au nom de La nature…
Laure Mussier (15e don)
En l'honneur de la Terre ! Si tout le monde sert une ou plusieurs causes, si tout le monde y met du sien alors petit a petit on sauvera notre terre mère 🙂 Je propose le nom Pow wow.
Andréanne Courtemanche
Au nom de Francis Lussier.
Julie Veillette
La préservation des espèces menacées me tiens vraiment à coeur. J'ai déjà offert un don pour la sauvegarde du perroquet Kakapo en Nouvelle-Zélande et maintenant je suis très heureuse de pouvoir contribuer pour l'étude des bélugas. Un grand bravo également a tout les biologistes et étudiants qui s'occupent de ces magnifiques cétacés. L'être humain est entrain de causer la 6ème extinction et il est vraiment important que nous nous retroussions les manches et prenons soin de notre planète.
Louise Lefebvre
Salinda Horgan
We did a hot chocolate fund raiser to raise money to donate to GREMM. We learnt about GREMM when we were in Tadoussac last summer to whale watch. Our suggested names for DL0197 are Streak Streaker or Louie.
Josiane Lee Vezina
Merci de protégez nos bélugas!
Jonah Gapes
un étudiant en 4e secondaire, amasse 1000$ pour les bélugas!
Le 15 mai dernier, Jonah Gapes, un jeune étudiant de l'école secondaire Kénogami à Saguenay, est venu remettre un chèque en main propre d'un montant de 1000$ à l'équipe du Groupe de recherche et d'éducation sur les mammifères marins (GREMM). La campagne de sensibilisation et la collecte de fonds pilotées par Jonah s'inscrivent dans le cadre d'un projet d'engagement communautaire qu'il devait réaliser pour un programme d'études internationales. Jonah a choisi de verser la totalité des dons amassés au Projet Béluga dans le cadre de la campagne Adoptez un béluga. En savoir plus
Nathalie Labreche
Liam Ouellet
Liam, 6 ans, a vidé sa tirelire pour faire ce don. Liam veut être vétérinaire de tous les animaux marins et des animaux terrestres. Il propose le nom Ti-Mignon.
Alain Senecal (25e don)
Au nom de mes enfants!
«Ma belle-fille propose le nom Blixtar qui veut dire «éclair » en suédois.»
Lise Trudel
En l'honneur de Gilles Trudel pour ses 60 ans. Continuez ces recherches et tout ce travail extraordinaire.
Emma et sa mère Athena Davis
Isabelle Leduc
Janis Warne