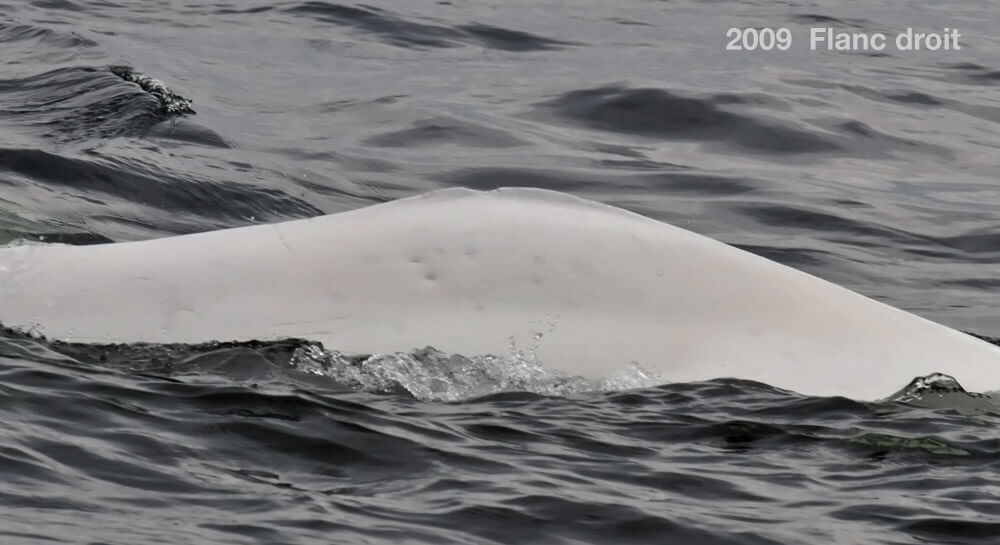 Adopted by Global Reservation Centre
ID number

DL0027

Sex

Male

Year of birth

Before 1973

Known Since

1989
Distinctive traits
La large et profonde entaille dans le milieu de la crête dorsale de GraCy est frappante dès le premier coup d'œil. Sur son flanc droit se trouvent trois petites marques en dessous de sa crête et un petit point du côté gauche.
Life history
Connu depuis 1989, il était déjà tout blanc. GraCy serait donc né avant 1973.
Le sexe de GraCy a été confirmé par une biopsie, où un morceau de peau prélevé sur son dos nous a permis d'effectuer une analyse génétique : il s'agit d'un mâle. Il fait partie de l'un des deux réseaux de mâles du Saguenay.
Notre première rencontre avec GraCy remonte à 1989 alors qu'il était déjà un adulte entièrement blanc. Il a donc plus d'une trentaine d'années aujourd'hui. On a longtemps cru que les bélugas vivaient une trentaine d´années, alors qu´on calculait à l'époque deux couches de croissance dans la dent par année. Toutefois, la technique diffère aujourd'hui : nous comptons une année par couche de croissance. Les bélugas vivraient ainsi jusqu´à 60, voire 80 ans. C'est en suivant un élément radioactif dans les dents de bélugas « témoins » de l´Arctique, des bélugas ayant subi les effets des essais nucléaires réalisés dans les années 1950-1960, que les chercheurs ont modifié la méthode.
Observations history in the Estuary
Years in which the animal was not observed Years in which the animal was observed
Latest news
GraCy est aperçu dans un troupeau d'une cinquantaine d'adultes au large de l'anse à Pierrot dans le fjord du Saguenay. Lentement, en file indienne, les animaux se dirigent vers l'aval, en direction de l'estuaire du Saint-Laurent. GraCy nage en compagnie de huit bélugas, tous de gros mâles, et parmi eux se trouvent deux de ses compagnons les plus fidèles: DL0204 et Or Blanc. Pendant que nous procédons au relevé photographique, nous effectuons un survol avec le drone. Les images sont saisissantes. Ces images aériennes seront utilisées pour estimer la taille des bélugas, une nouvelle information que nous pourrons ajouter à leurs fiches individuelles.
Sponsor
Global Reservation Centre adopted GRaCy (2003).