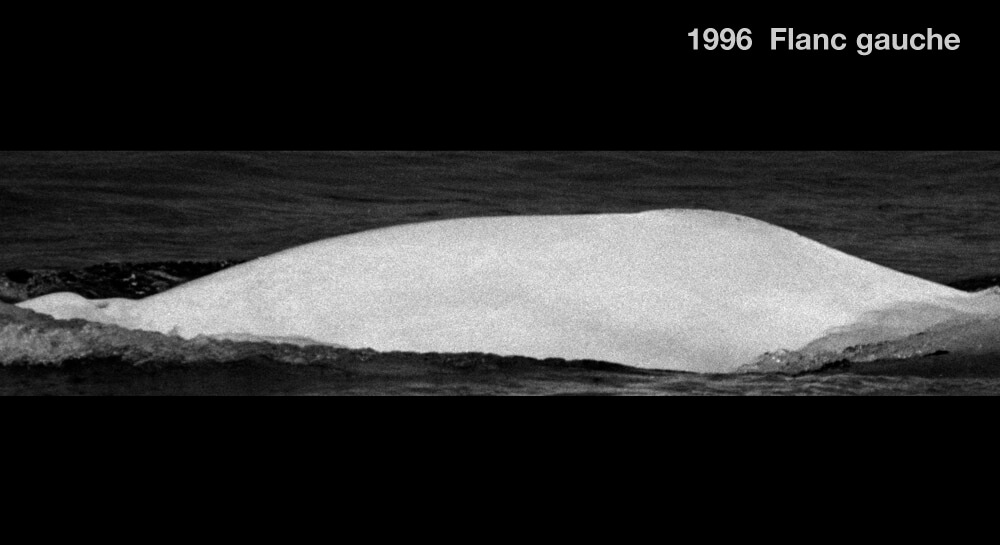 Adopted by Rogers Cantel Québec
ID number

DL0128

Sex

Male

Year of birth

Around 1964

Known Since

1980
Distinctive traits
Pénélope est assez difficile à identifier du flanc gauche en ayant pour seul indice sa crête dorsale. C'est surtout grâce aux multiples taches grises en bas de sa crête, sur le flanc droit, qu'on le reconnait.
Life history
Lors de notre première rencontre avec Pénélope, en 1980, il était légèrement gris. À partir de 1989, on l'a toujours noté comme blanc. Il serait né autour de 1975.
Son sexe a été confirmé par l'analyse génétique d'une biopsie : il s'agit d'un mâle. Il ferait partie de l'un des deux réseaux de mâles du Saguenay.
Pénélope est un mâle adepte du fjord du Saguenay. Il y trouve les conditions et la nourriture essentielles à ses besoins. Il se nourrit de poissons de fond (capelan, hareng, éperlan, lançon), d'anguilles et d'invertébrés (le ver Nereis, calmars, poulpes, crustacés), mais il peut aussi chasser dans la colonne d'eau et près de la surface en utilisant la nage ou le sur-place contre le courant.
Observations history in the Estuary
Years in which the animal was not observed Years in which the animal was observed
Latest news
Le 13 juin 2002, Pénélope se trouve au large des Bergeronnes. Il nage au travers d'une vingtaine d'individus, des adultes et des jeunes. Nous suivons un petit groupe d'adultes, car nous désirons poser une balise télémétrique sur l'un d'entre eux. Après une heure d'observation, nous n'avons toujours pas posé de balises, mais nous avons photographié tous les animaux du flanc gauche et droit. Finalement, nous quittons le secteur et reprenons la route vers Tadoussac pour conclure la journée.
La dernière observation de Pénélope remonte à plus d'une dizaine d'années. Que lui est-il arrivé? Est-il mort? Est-il demeuré invisible à l'œil du chercheur pendant tout ce temps? Chose certaine, son histoire demeure une source d'informations précieuses pour nos connaissances sur cette population fragile.
Sponsor
Rogers Cantel Québec adopted Pénélope (1993).