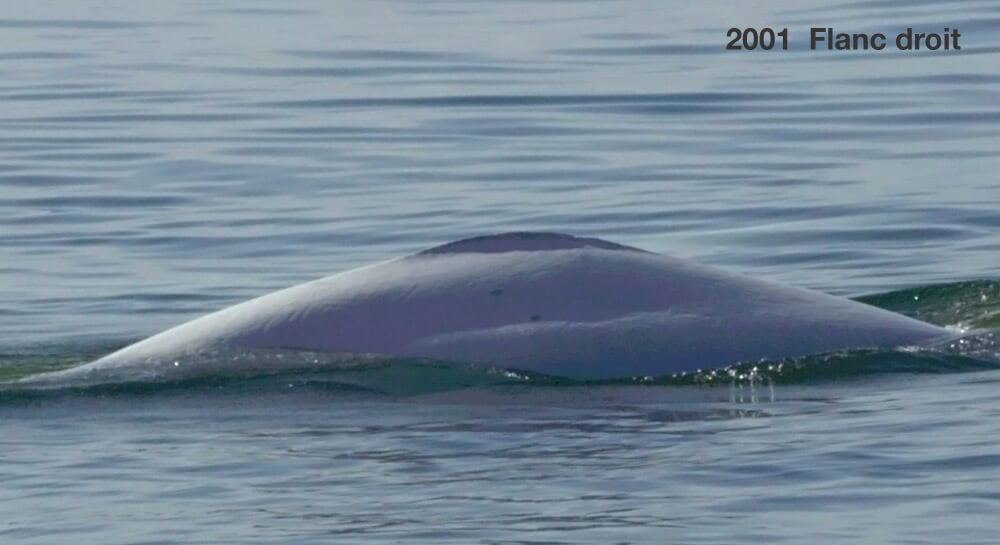 Adopted by The Fairmont Waterfront
ID number

DL0193

Sex

Male

Year of birth

Around 1981

Known Since

1989
Distinctive traits
La crête dorsale de Stanley contient assez d'entailles pour parvenir à l'identifier des deux flancs avec ce seul élément. Il possède également des petites taches grises sur chaque flanc qui aident à le reconnaitre.
Life history
Nous avons rencontré Stanley pour la première fois en 1989. À cette époque, il était gris, donc un juvénile. À partir de 1995, on l'a toujours noté comme blanc. Il serait donc né vers 1981.
Le sexe de Stanley est confirmé par l'analyse génétique d'une biopsie prélevée sur son dos : il s'agit d'un mâle. Ses fréquentations suggèrent qu'il appartient aux « Downstream boys », une bande de mâles qu'on retrouve régulièrement au large des Bergeronnes et des Escoumins.
Visuellement, il est difficile de déterminer le sexe d'un individu. Le sexe de Stanley a été confirmé au moyen d'une biopsie. En outre, les mâles sont généralement plus longs et plus gros que les femelles. Les autres moyens possibles sont : observation de la fente génitale, type de troupeaux fréquentés, examen lors du décès de l'animal et, pour les femelles, observations répétées avec un nouveau-né.
Observations history in the Estuary
Years in which the animal was not observed Years in which the animal was observed
Latest news
Nous nous trouvons à l'embouchure du Saguenay près de la bouée K54. C'est là que Stanley, accompagné de DL0248, nage dans un troupeau d'une trentaine de bélugas, essentiellement des jeunes gris. Nous sommes à la queue du troupeau. Il est difficile d'avancer, car nous sommes en plein cœur de la barre de courants, un secteur dynamique qui attire aussi beaucoup d'oiseaux marins, comme les mouettes de Bonaparte que nous observons.
Sponsor
The Fairmont Waterfront adopted Stanley (2001).