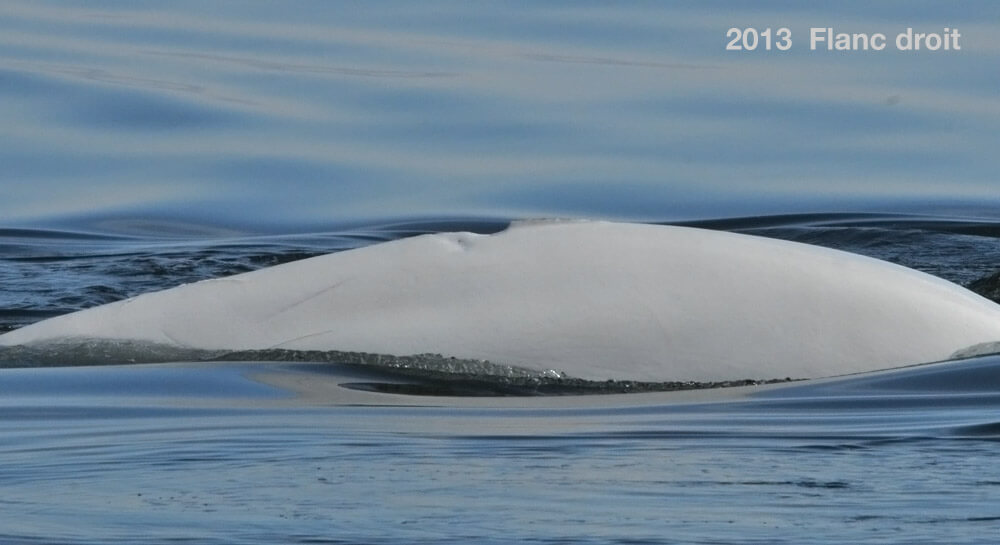 Adopted by les municipalités riveraines du Saint-Laurent
ID number

DL0486

Sex

Presumed male

Year of birth

Circa 1985

Known Since

1995
Distinctive traits
Solidaire can be easily recognized thanks to the long, deep scar at the end of his dorsal crest. Just below this scar, on each flank, a small dot can also be discerned, both of which have remained visible all these years.
His story
Our first encounter with Solidaire goes back to 1993. At the time, he was still gray. He faded little by little until he turned white in the early 2000s. Belugas fade from gray to white in colour between the ages of 12 and 16. Solidaire would therefore have been born in the mid-1980s.
Solidaire's habits and associations suggest that he is a male. When they reach adulthood, male belugas gradually form stable groups of companions. Three networks of males are known: two of these navigate the Saguenay Fjord and the head of the Laurentian Channel, while the third one, the "Downstream Boys", also uses the head of the Channel as well as the downriver portion of the Estuary. These associations may play a role in belugas' reproductive lives. Solidaire has no known faithful companion. He is regularly seen however with Lugi, Chérubin and DL1214, all males who, like Solidaire, have never been observed in the Saguenay River. This leads us to believe that they may be members of the "Downstream Boys".
How Solidaire's story unfolds will teach us volumes on the evolution of belugas' social lives. For example, which sector will he favour as he grows older? Who will his lifelong companions be? By better understanding how belugas live, we will better be able to protect them.
Observations history in the Estuary
Years in which the animal was not observed Years in which the animal was observed
Latest news
Last winter, our research assistants undertook the meticulous analysis of some 13,000 photos collected throughout the summer of 2018.Thanks to this exercise, we were able to conclude that we spotted Solidaire at least once. Here is a description of this encounter.
We're off the coast of Les Escoumins on board the BpJAM, our inflatable research boat. The sun glare on the water prevents us from obtaining an accurate count, but we have at least 70 belugas in front of us. We approach a cluster of 5 individuals to photo-identify them. All of a sudden, we start seeing pectoral fins poking above the surface and tails being lifted out of the water. We slip on our hockey helmet and leather gloves as we gear up to launch the drone. We also drop a hydrophone into the water to record the beluga's vocalizations.
Once the drone has achieved lift-off, we observe the whales' behaviours. The animals' broad shoulders indicate that we are dealing with a group of bulls. They are strongly interacting, grazing and jostling one another. Within the group, we recognize Écho, Gaston, Solidaire, Lugi, DL2023 and DL0058. The herd splits into smaller groups of ten or so individuals, while a few of the animals are swimming alone. Two young grey belugas and one that is almost white – what we would call dirty white – approach the boat and and begin to nibble on our hydrophone. The animals pick up their pace and we film for the twenty minutes of battery life we have left before departing to search for another group.
L'été 2016, notre 32e saison en mer avec les bélugas, a encore été riche en rencontres et en surprises. Bonne nouvelle, après une absence remarquée de trois ans, nous avons revu Solidaire cet été. Depuis notre première rencontre en 1994, il a régulièrement « manqué à l'appel ». On cherche toujours à mieux comprendre ces brèves absences: reflètent-elles ses déplacements ou bien les aléas de notre échantillonnage? [À postériori, nous avons découvert que Solidaire avait été vu en 2015 et 2013, mais que son identification nous avait échappée au premier coup d'oeil]
Le 29 juillet 2016, nous croisons la route de Solidaire près de l'île aux Pommes au large de Trois-Pistoles. Il nage parmi un troupeau de mâles, des adultes blancs et des jeunes gris, incluant environ 150 individus. Le troupeau est divisé en une vingtaine de groupes.
Les animaux sont très actifs: certains bélugas « marsouinent », c'est-à-dire qu'ils nagent en sortant leur corps hors de l'eau, d'autres sortent la queue. Nous entendons toutes sortes de vocalises. Avant de prendre des photos, nous devons repérer les marques que portent les animaux, sur les deux flancs. Malgré la taille du troupeau, nous réussissons à faire le tour et plusieurs individus présentent des marques facilement identifiables. L'analyse plus poussée des données nous permettra de savoir qui étaient les camarades de Solidaire cette journée-là.
En commençant notre journée, nous croisons un béluga solitaire. Nous décidons de poursuivre notre chemin vers Rimouski, à la recherche d'un plus grand nombre de bélugas. Coup de chance, nous croisons la route d'un immense troupeau qui compte environ 200 bélugas! Le troupeau s'étale sur une bonne distance et se divise en six groupes. La taille des individus nous signale que ce sont surtout des mâles, des adultes et des jeunes. Parmi cette masse de dos blancs, nous reconnaissons celui de Solidaire, qui nage en compagnie de deux autres mâles connus, Jetstream et Trèfle.
Nous sommes au large de l'île aux Basques occupés à filmer des images sous-marines des bélugas. Solidaire est immortalisé sur la pellicule avec d'autres adultes blancs et des jeunes gris qui passent et repassent sous notre bateau. Les bélugas sont des animaux grégaires et curieux et ils examinent parfois les embarcations. Ce comportement d'investigation les expose à des risques de collision. C'est pourquoi les navigateurs du Saint-Laurent sont invités à la plus grande prudence en présence de bélugas et si possible, à garder leurs distances.
Sponsors
The riverside municipalities of the St. Lawrence Solidary adopted Neige, Nics, Bilou, Cica and Solidaire (2014).
Beauharnois; Bécancour; Candiac; Carleton-sur-Mer; Charlemagne; Chute‐aux‐Outardes; Châteauguay; Contrecoeur; Grande Rivière; La Pocatière; Lanoraie; Les Bergeronnes; Louiseville; Lévis; Matane; Montmagny; Montréal; New-Richmond; Notre-Dame-des-Sept-Douleurs; Percé; Pincourt; Port-Cartier; Québec; Repentigny; Rimouski; Saint-André; Saint-Zotique; Sainte-Anne-de-Sorel; Sainte-Anne-des-Monts; Saint‐Ignace‐de‐Loyola; Saint‐Siméon; Salaberry-de‐Valleyfield; Sept-Iles; Sorel-Tracy; Tadoussac; Varennes
Click on the names below to discover texts, drawings and videos composed by children of participating schools on Facebook as part of the Our Beluga's Name is… contest.
Neige was named by the special education class of the École Saint-Alexandre in Port-Cartier.
Nics was named by the 5th and 6th grade class of the École Élisabeth Turgeon in Rimouski.
Bilou was named by the 3th grade class of the École de Ste-Thérèse-De-L'Enfant-Jésus in Saint-Jérôme.
Cica was named by the 2th grade class of the École de la Ruche in Lévis.
Solidaire was named by the 5th grade of the École Our Lady of Pompei in Montreal.