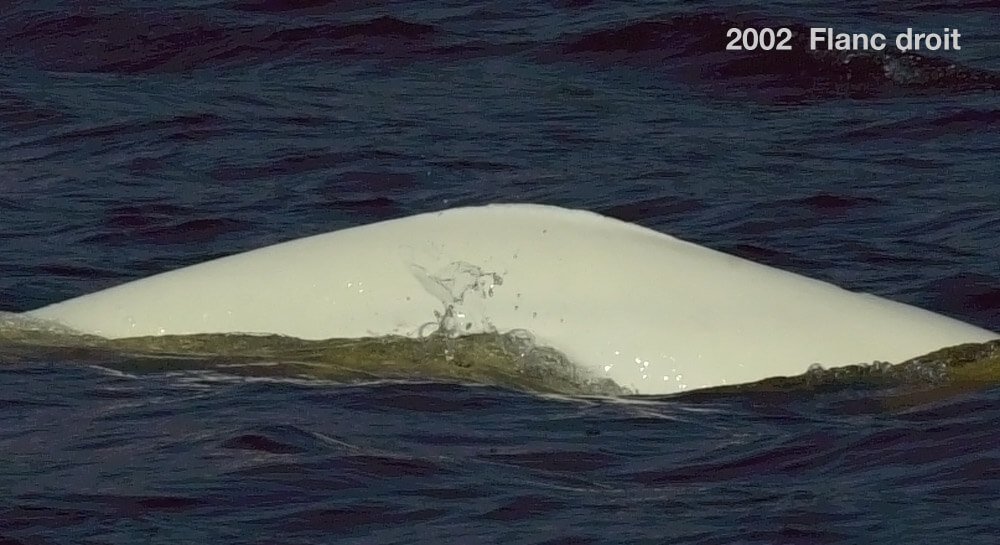 Adopted by Brewery O'keefe Ltd
ID number

DL0050

Sex

Male

Year of birth

Before 1974

Known Since

1986
Distinctive traits
Le nom de DL0050, Double Vent, lui vient de sa cicatrice en forme d'évent qui se trouve juste devant sa crête dorsale. En 1993, il a acquis une encoche supplémentaire à la fin de sa crête dorsale.
Life history
Double vent est observé pour la première fois en 1986. Sa «robe» est déjà d'un blanc immaculé. Il est donc né avant 1977.
Sa grande taille, ses habitudes et ses affiliations sociales nous indiquaient clairement que Double Vent est un mâle. Le 31 juillet 1995, une biopsie le confirme. Double Vent est régulièrement observé dans le fjord du Saguenay. Il fait partie de l'un des deux réseaux de mâles du Saguenay.
Au cours d'une journée, l'équipe entend la voix de Double Vent. Avec ses compagnons, il émet des vocalises de surface et sort la tête et la queue hors de l'eau. Sifflements, claquements, grincements et grognements, le répertoire vocal du béluga est très vaste, d'où son surnom de «canari des mers». Ce répertoire pourrait être une adaptation à la vie près de la glace où le bruit ambiant est omniprésent.
Observations history in the Estuary
Years in which the animal was not observed Years in which the animal was observed
Latest news
Double Vent est vu pour la dernière fois le 17 septembre 2003. Il se trouve dans un groupe d'une trentaine d'individus dans le secteur des Bergeronnes près de l'anse à la Cave. Comme la visibilité est de moins en moins bonne, nous perdons contact avec les animaux, mais nous repérons Double Vent qui nage avec DL0217.
La dernière observation de Double Vent remonte à plus d'une dizaine d'années. Que lui est-il arrivé? Est-il mort? Est-il demeuré invisible à l'œil du chercheur? Impossible de savoir pour le moment. Chose certaine, nous restons vigilants et espérons une rencontre prochainement.
Sponsor
Brewery O'keefe Ltd adopted Double Vent (1990).