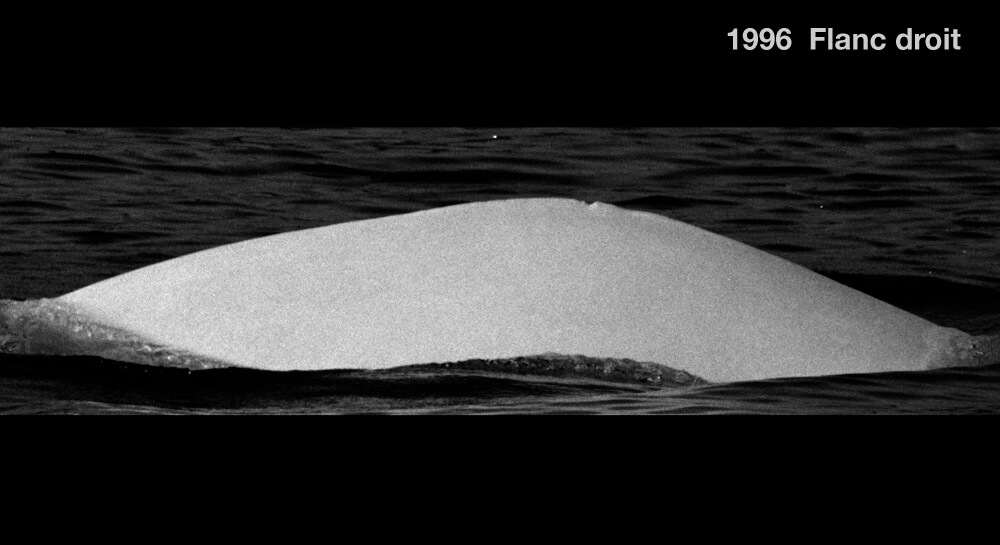 Adopted by The Algonquin Hotel
ID number

DL0084

Sex

Male

Year of birth

Before 1970

Known Since

1986
Distinctive traits
La marque principale de Quin est très basse sur son pédoncule gauche, elle n'est donc pas toujours visible. Cependant, Quin est facilement reconnaissable des deux flancs grâce aux détails dans sa crête dorsale.
Life history
Lors de notre première rencontre avec Quin, en 1986, il était d'un blanc immaculé. Il serait donc né avant 1970.
Le sexe de Quin a été confirmé par une biopsie : il s'agit d'un mâle. Il ferait partie de l'un des deux réseaux de mâles qui fréquentent le fjord du Saguenay et son embouchure.
L'identification du sexe de Quin s'est fait par le prélèvement d'une petite quantité de peau et de gras. On réalise une biopsie avec une carabine modifiée. On se positionne à une vingtaine de mètres de l'animal et l'on vise l'endroit qui est sous sa crête dorsale, pour ne pas toucher la tête. Avec cette carabine modifiée, on peut ajuster la pression du tir, selon la distance de l'animal, de manière à doser la force avec laquelle le dard va pénétrer la peau et le gras. La carabine est équipée d'un moulinet de pêche permettant de ramener le fil vers le bateau, ce qui évite de naviguer à l'intérieur du troupeau. Ce fil, qui reste tendu lors de la projection, joue un rôle de stabilisateur de dard quand celui-ci est projeté, comme le fait l'empennage d'une flèche.
Observations history in the Estuary
Years in which the animal was not observed Years in which the animal was observed
Latest news
Nous croisons plusieurs bélugas au large du site d'observation de Pointe-Noire. Le troupeau d'une cinquantaine d'individus réunit des adultes, des jeunes et un nouveau-né. Quin nage en compagnie de la femelle Pascolio et d'un jeune gris. Le groupe est très actif en surface et l'on voit des queues sortir de l'eau.
La dernière observation de Quin remonte à plus d'une dizaine d'années. Que lui est-il arrivé? Est-il mort? Est-il demeuré invisible à l'œil du chercheur pendant tout ce temps? Impossible de savoir pour le moment. Chose certaine, son histoire demeure une source d'informations précieuses pour nos connaissances sur cette population fragile.
Sponsor
The Algonquin Hotel, CP Hotels adopted Quin (1998).