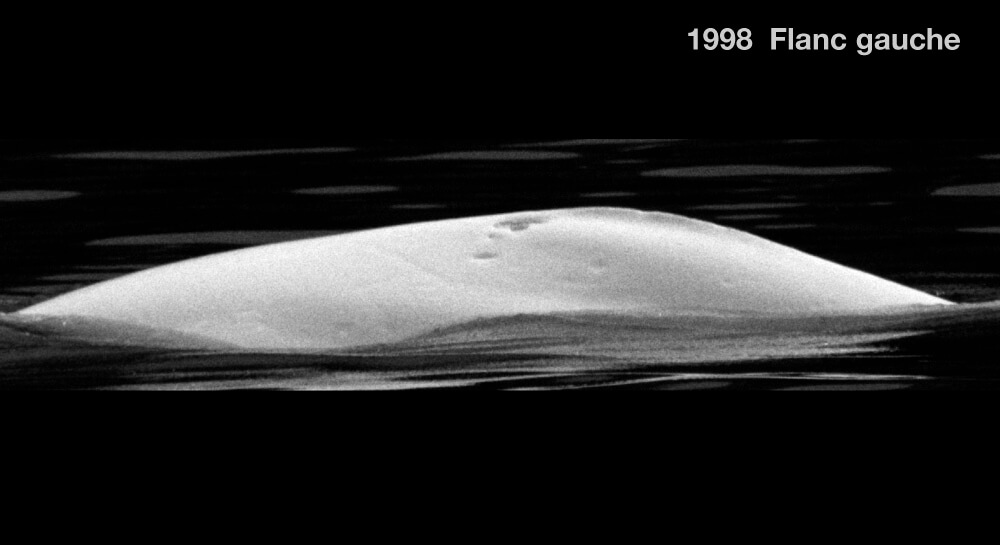 Adopted by Real Investment Property and Management
ID number

DL0093

Sex

Male

Year of birth

Before 1973

Known Since

1989
Distinctive traits
On reconnait Pablo grâce aux cicatrices rapprochées sur son flanc gauche vers le début de sa crête dorsale. Il faut regarder les détails des petites encoches de sa crête pour l'identifier du flanc droit.
Life history
À notre première rencontre en 1989, Pablo était déjà blanc. Il serait donc né avant 1973.
Ses habitudes et ses fréquentations nous laissaient déjà présumer que Pablo était un mâle de l'un des deux réseaux de mâles du Saguenay. Son sexe a été confirmé par l'analyse génétique d'une biopsie, soit un minuscule morceau de peau prélevé sur son dos.
Pablo est un mâle. Comment le sait-on? Grâce à une biopsie. On prélève un minuscule morceau de gras et de peau, dans lequel se trouvent les secrets génétiques de l'animal, à l'aide d'une arbalète qui propulse une fléchette munie d'un dard. Le GREMM fait des biopsies sur des bélugas depuis 1994 pour identifier le sexe et les liens familiaux.
Observations history in the Estuary
Years in which the animal was not observed Years in which the animal was observed
Latest news
Pablo nage parmi un troupeau d'une vingtaine de bélugas dans la baie Sainte-Marguerite située dans le fjord du Saguenay. Le troupeau est composé d'adultes et de jeunes adultes. Souvent, les troupeaux de mâles qui remontent le Saguenay vont se livrer à des comportements étonnants : vocalises à la surface de l'eau, têtes et nageoires pectorales hors de l'eau et somnolence en « billotage » à la surface.
La dernière observation de Pablo remonte à 18 ans. Que lui est-il arrivé? Est-il mort? Est-il demeuré invisible à l'œil du chercheur pendant tout ce temps? Impossible de savoir pour le moment. Chose certaine, son histoire demeure une source d'informations précieuses pour nos connaissances sur cette population fragile.
Sponsor
Real Investment Property and Management adopted Pablo (1989).