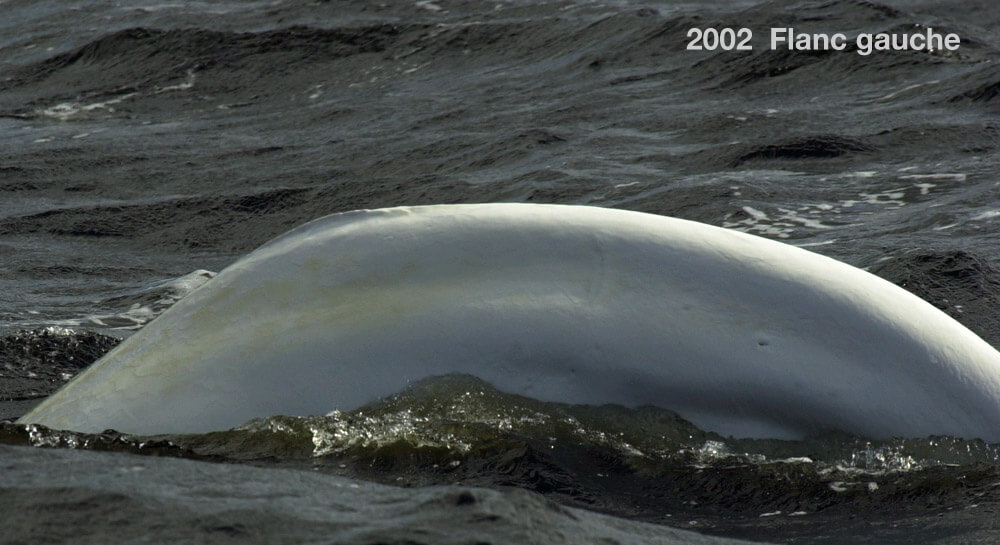 Adopted by Adelaide Gomer
ID number

DL0228

Sex

Male

Year of birth

Before 1974

Known Since

1986
Distinctive traits
ll est possible de reconnaître Tepui grâce aux petites entailles de sa crête dorsale, mais il est plus facile de confirmer son identité par le petit point sur son pédoncule gauche.
Life history
Tepui a été photographié pour une première fois en 1986. Il était déjà tout blanc, donc il serait né avant 1972.
Le sexe de Tepui a été confirmé par une analyse génétique qui a pu être effectuée grâce à une biopsie prélevée sur son dos : il s'agit d'un mâle. Il fait partie de l'un des deux réseaux de mâles du Saguenay.
Le béluga est un animal grégaire vivant en groupes, appelés clans, de 2 à plusieurs dizaines d'individus. L'été, les mâles vivent séparément des femelles. Avec les années, les mâles ont tendance à former des bandes de compagnons stables. Ces associations s'établissent progressivement et jouent possiblement un rôle dans la vie reproductive des bélugas. Tepui a souvent été observé en compagnie de Frimas, Dance-sea et Le Survivant, des mâles bien connus de l'équipe du GREMM.
Observations history in the Estuary
Years in which the animal was not observed Years in which the animal was observed
Latest news
Malheureusement, Tepui n'a pas été revu depuis le 1er octobre 2003. Lors de cette dernière observation, il était à l'embouchure du fjord du Saguenay en compagnie de Slash, Pascolio et Le Survivant, dans un troupeau d'une cinquantaine d'animaux. Nous avions aussi remarqué plusieurs jeunes, de couleur grise. Le dynamisme du troupeau était élevé : ils passaient énormément de temps à la surface à « marsouiner ». En plus, on pouvait voir des têtes, des queues et des nageoires pectorales hors de l'eau.
Que lui est-il arrivé depuis cette rencontre ? Est-il mort ? Est-il demeuré invisible à l'œil du chercheur ? Impossible de répondre à ces questions pour le moment. Chose certaine, les données recueillies depuis 17 ans sur Tepui nous ont permis d'en savoir davantage.
Sponsor
Adelaide Gomer adopted Tepui (2000) and Dorothy (2016).