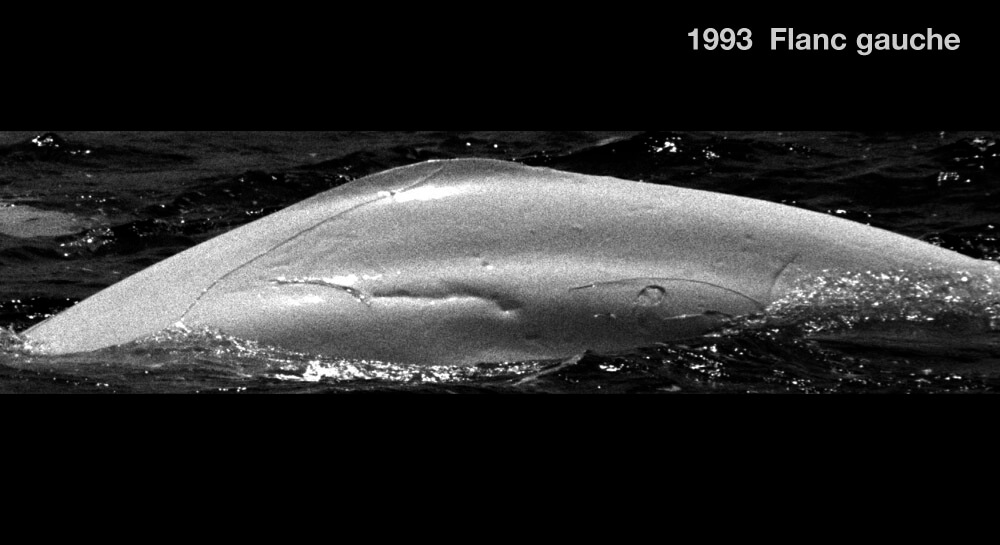 Adopted by the employees of the Ministère de l'Environnement du Québec
ID number

DL0048

Sex

Male

Year of birth

1970 (death in 1999)

Known Since

1980
Distinctive traits
La cicatrice en forme de bâton de hockey sur son flanc gauche est la marque la plus distinctive de Galubé. On voit aussi une petite dépression sur son flanc droit, plus ou moins visible selon l'angle ou la lumière.
Life history
Galubé a été photographié pour la première fois en 1980. Il était légèrement gris. Le passage du gris au blanc survient entre l'âge de 12 à 16 ans. Il était probablement âgé de moins de 12 ans à l'époque.
Galubé fait partie de l'un des deux réseaux de mâles qui fréquentent la tête du chenal Laurentien et le fjord du Saguenay.
Ce mâle est bien connu de l'équipe du GREMM. Entre 1988 et 1999, l'année de sa mort, il a été vu chaque été, surtout dans le fjord du Saguenay et son embouchure. Encore aujourd'hui, le public peut admirer ses marques et prendre la mesure de son imposante taille, car il est l'une des cinq répliques de bélugas grandeur nature qui « habitent » le jardin de la Grève, devant le Centre d'interprétation des mammifères marins (CIMM) à Tadoussac.
Observations history in the Estuary
Years in which the animal was not observed Years in which the animal was observed
Latest news
Galubé se trouve dans un troupeau d'une dizaine de bélugas, que des adultes. Les animaux nagent au travers des traversiers qui font la navette entre Tadoussac et Baie-Saint-Catherine.
Il s'agit de la dernière observation de Galubé. Il a été trouvé échoué mort le 3 août 1999. Les données prélevées sur sa carcasse ont révélé que ce mâle mesurait 4,18 mètres et qu'il est mort à l'âge de 29 ans.
Sponsor
Employees of the Ministère de l'Environnement du Québec adopted Galubé (1989).