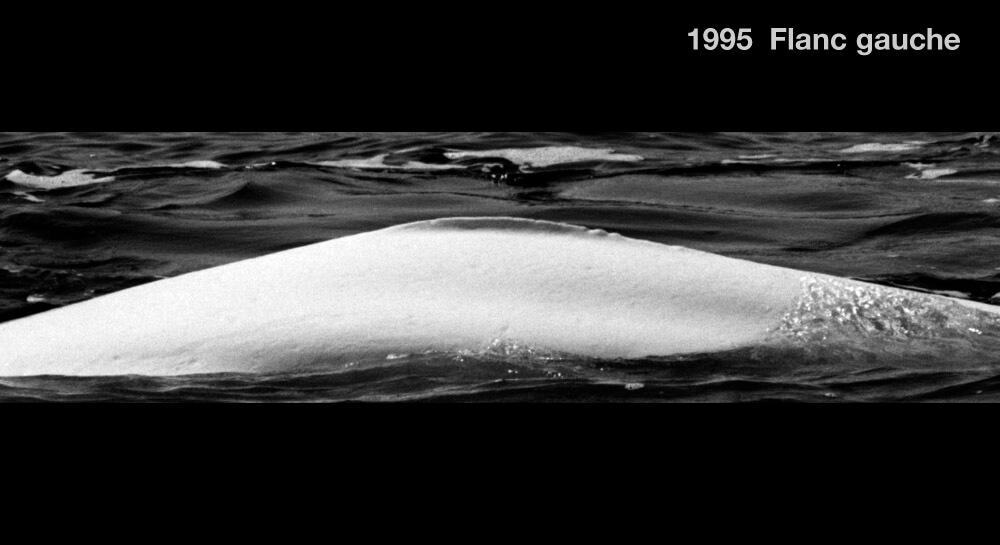 Adopted by employees and customers of Fairmont Chateau Montebello
ID number

DL0157

Sex

Male

Year of birth

Before 1979

Known Since

1991
Distinctive traits
Bello est identifiable grâce à sa crête dorsale, notamment au niveau de la partie postérieure où l'on peut voir une très légère bosse suivie d'un long plateau avant d'arriver à deux autres bosses.
Life history
Lors de notre première rencontre en 1992, la «robe» de Bello et déjà de couleur blanche. Il serait donc né avant 1979.
Sa forte taille et ses habitudes laissent croire que Bello est un mâle. Il est membre de l'un des deux réseaux de mâles du Saguenay et de son embouchure.
Bello fut observé plus d'une dizaine de fois dans la baie Sainte-Marguerite qui se trouve dans le fjord du Saguenay. Ce site particulier est d'une grande importance pour les bélugas du Saint-Laurent. Elle est située à une vingtaine de kilomètres de l'embouchure et fait partie du parc marin du Saguenay–Saint-Laurent. L'utilisation de la baie par les bélugas, surtout des femelles et des jeunes, n'est pas encore comprise. L'endroit pourrait être un lieu d'alimentation, de repos et de socialisation pour les jeunes. Il pourrait même être un lieu de mise bas pour des femelles, comme Griffon, mais cette hypothèse reste à être vérifiée.
Observations history in the Estuary
Years in which the animal was not observed Years in which the animal was observed
Latest news
La dernière observation de Bello remonte à plus d'une quinzaine d'années. Que lui est-il arrivé? Est-il mort? Est-il demeuré invisible à l'oeil du chercheur pendant out ce temps ? Impossible de savoir pour le moment. Chose certaine, son histoire demeure une source d'informations précieuses pour nos connaissances sur cette population fragile.
Sponsor
Employees and customers of Fairmont Chateau Montebello adopted Monte and Bello (2000).