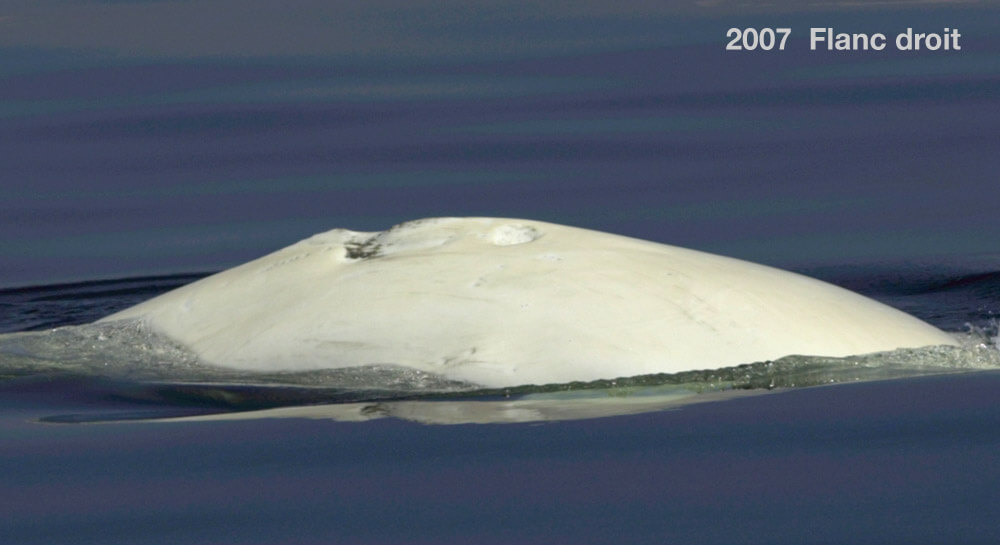 Adopted by l'AMEUS de l'Université de Sherbrooke
ID number

DL0087

Sex

Male

Year of birth

Before 1970

Known Since

1986
Distinctive traits
Sa large cicatrice qui s'étire sur les deux flancs à partir de sa crête dorsale permet de reconnaître Virgule dès le premier coup d'œil. Sur le flanc droit, en avant de la crête, se trouve une autre cicatrice circulaire.
Life history
Lors de notre première rencontre avec Virgule, en 1986, il était d'un blanc immaculé. Il serait donc né avant 1970.
Le sexe de Virgule a été confirmé par une biopsie : il s'agit d'un mâle. Il ferait partie de l'un des deux réseaux de mâles qui fréquentent le fjord du Saguenay et son embouchure.
Même sans analyse génétique, lorsque nous avons plusieurs données sur un individu, il est possible de présumer son sexe. En effet, l'été on retrouve une forte ségrégation sexuelle chez les bélugas adultes. Les mâles et les femelles démontrent des préférences nettement marquées, autant dans leurs associations que dans les secteurs qu'ils fréquentent.
Observations history in the Estuary
Years in which the animal was not observed Years in which the animal was observed
Latest news
Nous nous trouvons au large des Escoumins, où nous repérons un troupeau d'une vingtaine d'individus, des adultes et des jeunes. Malgré des vagues considérables dans le secteur, nous reconnaissons Virgule. Il nage en compagnie de 3 bélugas adultes, des mâles. Les conditions commencent à être très difficiles, nous devons quitter le troupeau.
La dernière observation de Virgule remonte à plus d'une dizaine d'années. Est-il mort? Est-il resté invisible à l'œil du chercheur pendant tout ce temps? Chose certaine, son histoire demeure une source d'informations précieuses qui nous aident à mieux comprendre cette population fragile.
Sponsor
L'AMEUS, Université de Sherbrooke adopted Virgule (1990).