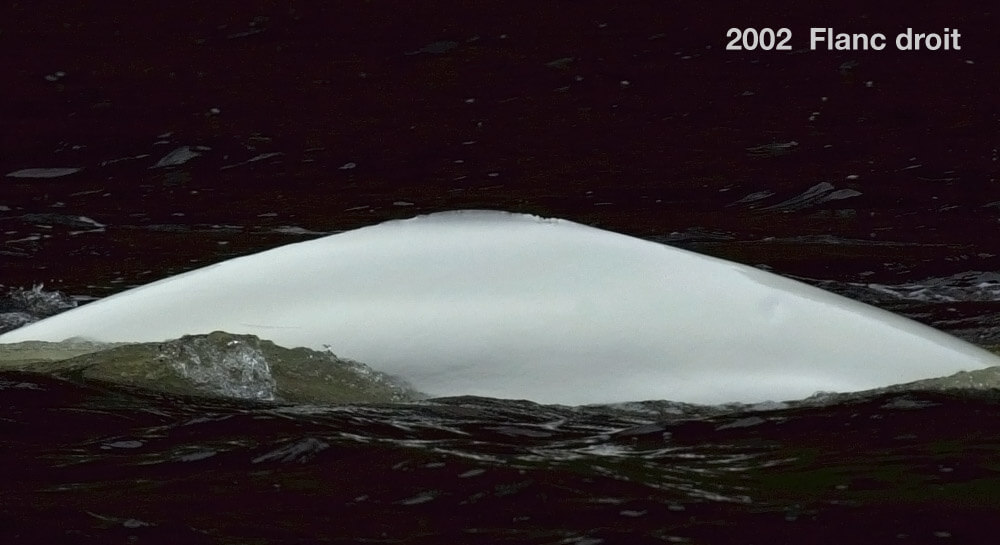 Adopted by Delta Lodge at Kananaskis
ID number

DL0047

Sex

Male

Year of birth

Around 1977

Known Since

1987
Distinctive traits
Il y a plusieurs moyens d'identifier Chinook. Le profil crénelé de sa crête dorsale et les deux petites cicatrices présentes sur le flanc gauche et le flanc droit entre la tête et la crête dorsale permettent de le reconnaître.
Life history
Nous avons rencontré Chinook pour la première fois en 1987. À cette époque, il était légèrement gris. À partir de 1991, on l'a toujours noté comme blanc. Il serait donc né vers 1977.
Le sexe de Chinook a été confirmé par une biopsie, il s'agit d'un mâle. Un morceau de peau prélevé sur dos nous a permis d'effectuer une analyse génétique.
Il existe deux réseaux de mâles qui fréquentent la tête du chenal Laurentien et le fjord du Saguenay. Un autre réseau de mâles, les «Downstream boys» utilise aussi la tête du chenal et la portion aval de l'estuaire. Même si leurs territoires se chevauchent, les individus d'un réseau côtoient très peu les mâles des autres réseaux. À l'intérieur de ces réseaux, il existe des bandes, soit des petits groupes de mâles régulièrement vus ensemble.
Observations history in the Estuary
Years in which the animal was not observed Years in which the animal was observed
Latest news
Le 15 septembre 2004, nous remontons le fjord du Saguenay à midi. Les vagues sont grosses dans l'estuaire et nous avons repéré des bélugas près de la rive nord du fjord. Les reflets du soleil nous empêchent de bien distinguer tous les animaux, mais nous pouvons voir que les groupes sont très disparates: adultes, juvéniles, veaux. Les associations semblent fluides et les comportements sont plutôt aléatoires. Chinook est au cœur d'un troupeau très dynamique. Nous assistons même à des moments de chasse sous la surface de l'eau et les animaux crachent de l'eau à la surface.
S'agissait-il de la dernière observation de Chinnok? Nous ne l'avons pas revu depuis une dizaine d'année. Est-il mort? Est-il demeuré invisible à l'œil du chercheur pendant tout ce temps? Chose certaine, son histoire demeure une source d'informations précieuses pour nos connaissances sur cette population fragile.
Sponsor
Delta Lodge at Kananaskis adopted Chinook (1999).