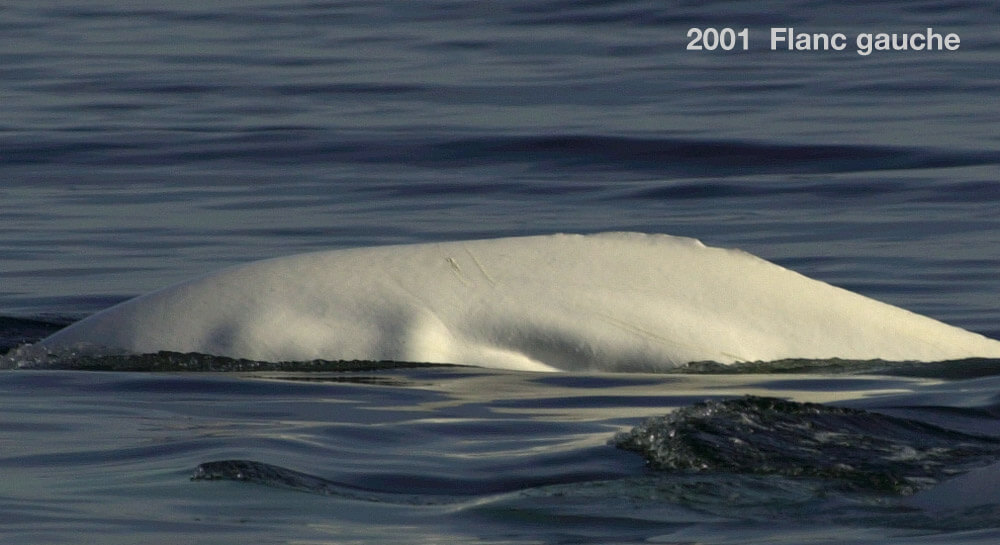 Adopted by The Fairmont Banff Springs
ID number

DL0132

Sex

Male

Year of birth

Before 1974

Known Since

1990
Distinctive traits
On reconnait Norquay surtout grâce au profil de sa crête dorsale. Il a d'ailleurs changé en 1993 : on trouve une seule large entaille à la fin de sa crête contre trois petites auparavant. Il y a aussi une tache grise sur son flanc droit.
Life history
À notre première rencontre en 1990, Norquay était déjà blanc. Il serait donc né avant 1974.
Ses associations et les secteurs qu'il fréquente nous indiquent clairement que Norquay est un mâle. Il est un membre de l'un des deux réseaux de mâles qui fréquentent le fjord du Saguenay et son embouchure.
Les bélugas sont les seuls cétacés résidents du Saint-Laurent. Cependant, ils effectuent des migrations saisonnières entre les parties aval et amont de leur aire de distribution. L'été, Norquay fréquente surtout le fjord du Saguenay et son embouchure jusqu'aux Bergeronnes. L'hiver, avec le reste de la population, il se déplace dans la partie aval de l'estuaire et dans la portion nord du golfe. Au printemps, la population se répartirait de la péninsule gaspésienne jusqu'à l'ile aux Coudres.
Observations history in the Estuary
Years in which the animal was not observed Years in which the animal was observed
Latest news
Nous observons Norquay dans le fjord du Saguenay, près de la baie Sainte-Marguerite. Il se trouve dans un troupeau d'une quarantaine d'individus composé d'adultes, de jeunes et d'un nouveau-né. Il nage en compagnie de Tepui et Griffon. À notre arrivée, le troupeau est dispersé en plusieurs petits groupes; tranquillement, les animaux se rassemblent en un seul gros peloton.
La dernière observation de Norquay remonte à 2003. Que lui est-il arrivé? Est-il mort? Est-il demeuré invisible à l'œil du chercheur pendant tout ce temps? Impossible de savoir pour le moment. Chose certaine, son histoire demeure une source d'informations précieuses pour nos connaissances sur cette population fragile.
Sponsor
The Fairmont Banff Springs adopted Norquay (1999).