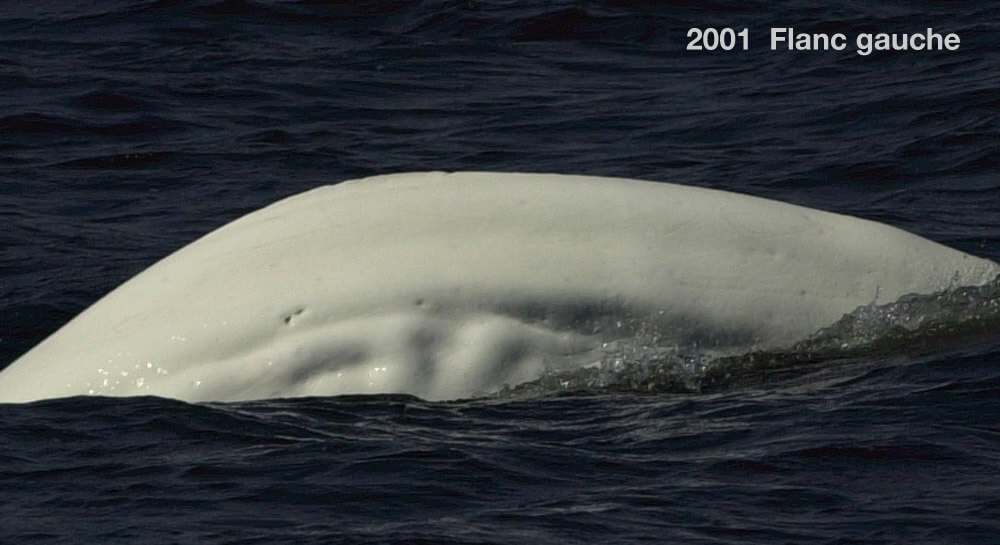 Adopted by Canadien Pacifique Hotels, Atlantic Region, CP Region
ID number

DL0192

Sex

Male

Year of birth

Before 1978

Known Since

1990
Distinctive traits
On reconnaît Atlantis à ses deux petites cicatrices rondes rapprochées, comme une paire de lunettes, sur le flanc gauche. Sa crête dorsale contient également plusieurs encoches permettant de le distinguer des autres.
Life history
À notre première rencontre en 1990, Atlantis était déjà blanc. Il serait donc né avant 1978.
Ses habitudes et ses fréquentations nous laissaient déjà présumer qu'Atlantis était un mâle de l'un des deux réseaux de mâles du Saguenay. Le sexe d'Atlantis a été confirmé par l'analyse génétique d'une biopsie, soit grâce à un minuscule morceau de peau prélevé sur son dos.
Atlantis fait partie d'un groupe de mâles bien connu de l'équipe: la bande du Saguenay. Lorsqu'ils montent le fjord du Saguenay, ces bélugas gagnent souvent la baie Sainte-Marguerite où ils se livrent à des comportements étonnants: vocalises à la surface de l'eau, têtes et nageoires pectorales hors de l'eau et somnolence en «billotant» à la surface.
Observations history in the Estuary
Years in which the animal was not observed Years in which the animal was observed
Latest news
Le 16 juin 2009, Atlantis nage parmi un troupeau d'une quinzaine d'individus, adultes et jeunes, dans le secteur des Escoumins. Le groupe semble être principalement composé de gros mâles qui vocalisent, sifflent et approchent notre embarcation. Finalement, les animaux se cantonnent au large du cap Granite. Comme nous avons obtenu une documentation visuelle suffisamment exhaustive, nous quittons le site.
Sponsor
Canadien Pacifique Hotels, Atlantic Region, CP Region adopted Atlantis (1998).