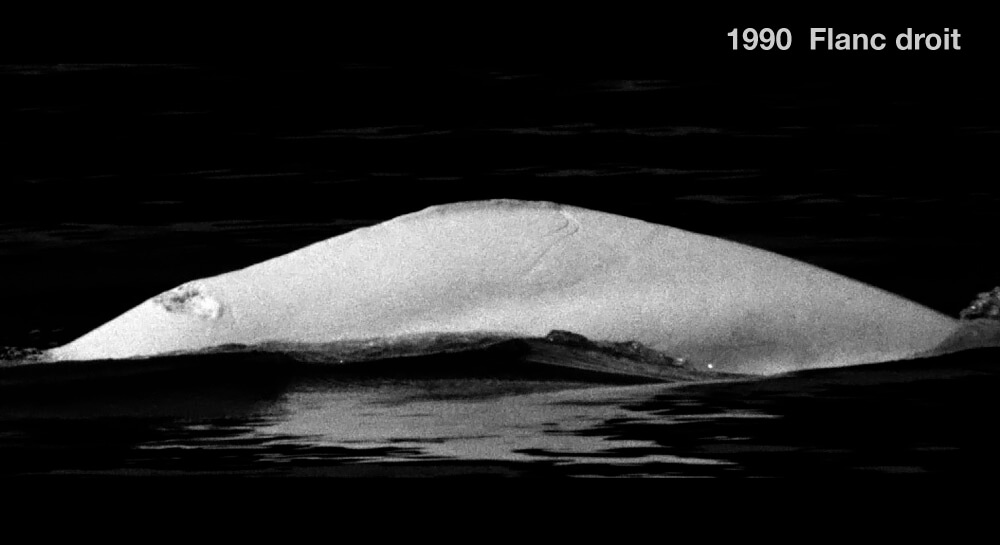 Adopted by Peinture Internationale
ID number

DL0024

Sex

Male

Year of birth

Before 1968

Known Since

1980
Distinctive traits
Blanche-Neige porte une grosse cicatrice sur son pédoncule qui est visible des deux côtés. Côté gauche, juste en dessous de celle-ci, se trouve un petit point. Sa crête irrégulière bien marquée est un autre moyen de le reconnaître.
Life history
La première fois que Blanche-Neige est photographié, en 1980, il est déjà d'un blanc immaculé. Il est alors âgé d'au moins 12 à 16 ans.
Selon ses habitudes et ses associations, Blanche-Neige fait partie du réseau de mâles qui fréquentent le secteur aval entre Tadoussac et Les Escoumins, de l'aire de distribution estivale des bélugas.
Les bélugas du Saint-Laurent, comme Blanche-Neige, appartiennent à la population la plus au sud de bélugas. Les autres populations se trouvent dans les régions circumpolaires de l'Arctique. Physiquement, les bélugas du Saint-Laurent sont plus petits que ceux de l'Arctique et ils n'ont pas de mue saisonnière. Ceci s'explique par leur résidence permanente dans l'estuaire dont les eaux sont plus tempérées et un peu moins salées que celles où se trouvent les bélugas de l'Arctique.
Observations history in the Estuary
Years in which the animal was not observed Years in which the animal was observed
Sponsor
Peinture Internationale adopted Octave, Aile Joyeuse, Blanche-Neige, Oreillette, Patte d'Oie and Vagabonde (1988).