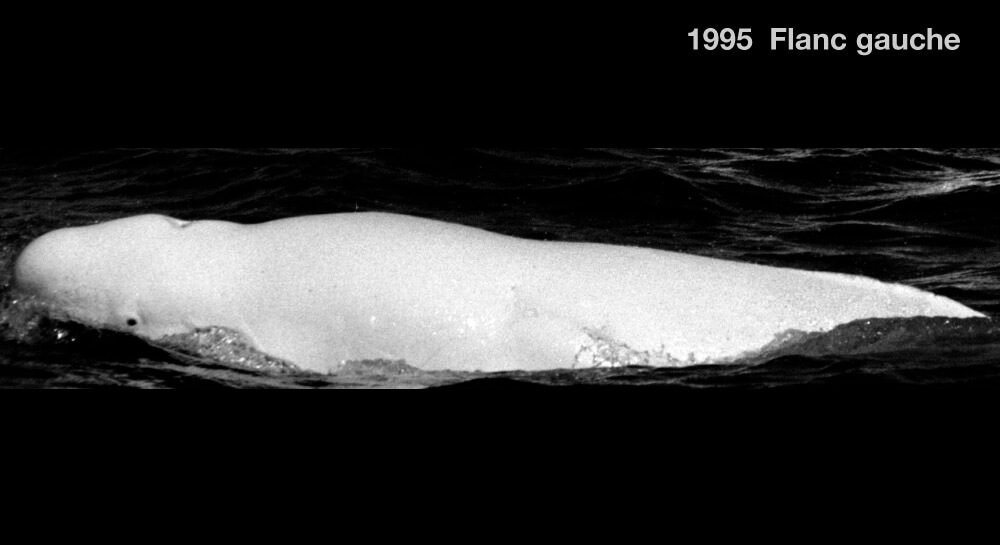 Adopted by Canadian Pacific Hotels, Manitoba and Ontario Region, CP Regions
ID number

DL0107

Sex

Male

Year of birth

Around 1980

Known Since

1989
Distinctive traits
La bosse en arrière de la tête de Mo est un bon indice pour le reconnaître. De plus, sur chaque flanc juste en arrière de cette bosse, se trouve une petite et profonde cicatrice. Sa crête dorsale contient également beaucoup de détails.
Life history
Notre toute première rencontre avec Mo remonte en 1989. Il s'agissait alors d'un béluga légèrement gris. Puis, en 1995, il est devenu presque parfaitement blanc. Mo serait donc né au début des années 1980.
Sa grande taille, ses habitudes et ses affiliations sociales nous indiquent clairement que Mo est un mâle. Il fait partie de l'un des deux réseaux de mâles du Saguenay.
Nous supposons que Mo est un mâle en raison de son comportement social. Lors de nos premières rencontres avec Mo, on l'observait avec des mâles connus de l'équipe comme Galubé et Alpha. Les bélugas mâles occupent davantage la partie du centre et en aval de l'aire de répartition : le fjord du Saguenay et la tête du chenal Laurentien jusqu'aux environs de Forestville. Les femelles fréquentent davantage des territoires situés dans le secteur amont ainsi que le fjord.
Observations history in the Estuary
Years in which the animal was not observed Years in which the animal was observed
Latest news
Nous sommes à l'embouchure du fjord du Saguenay. Nous repérons un troupeau d'une quarantaine d'individus, des adultes et des jeunes. Le troupeau se scinde en deux groupes, l'un d'une vingtaine d'animaux adultes et jeunes et l'autre d'une quinzaine d'animaux adultes. Après une heure d'observation, nous remarquons qu'il y a très peu d'interactions entre les deux groupes. Vers la fin du contact, nous tentons une biopsie, la cible est atteinte et l'équipe est satisfaite.
S'agissait-il de la dernière observation de Mo? Nous ne l'avons pas revu depuis une vingtaine d'années. Est-il mort? Est-il demeuré invisible à l'œil du chercheur pendant tout ce temps? Chose certaine, son histoire demeure une source d'informations précieuses qui nous aident à mieux comprendre cette population fragile.
Sponsor
Canadian Pacific Hotels, Manitoba and Ontario Region, CP Regions adopted Mo (1989).