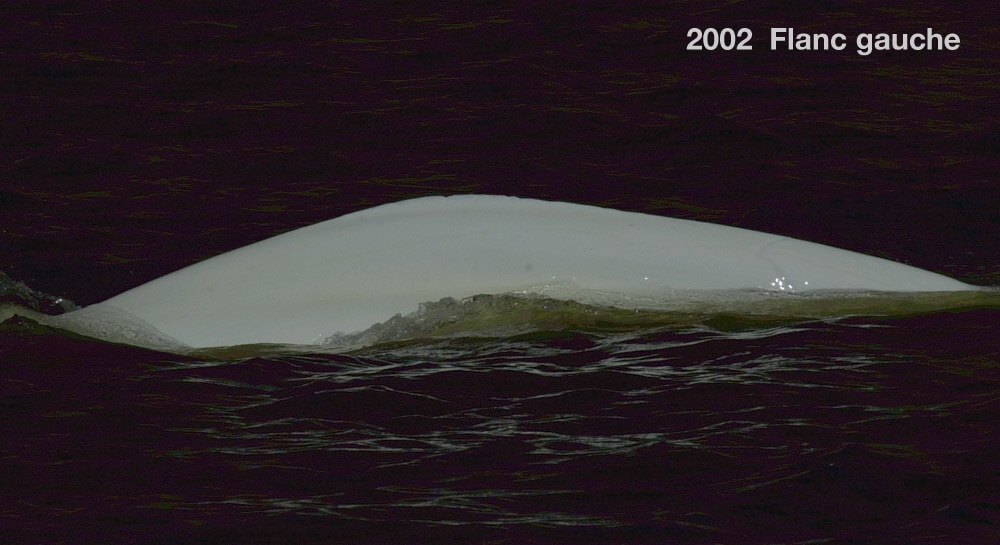 Adopted by Québec city
ID number

DL0025

Sex

Male

Year of birth

Around 1956 (death in 1991)

Known Since

1986
Distinctive traits
Il faut regarder dans la crête dorsale de Napou pour le reconnaitre. On y trouve de nombreuses petites entailles du début à la fin de la crête qui permettent de l'identifier du flanc gauche comme du flanc droit.
Life history
Notre première rencontre avec Napou remonte à 1986. Il était complètement blanc à l'époque. Il était âgé d'au moins 12 à 16 ans.
Ses habitudes et ses fréquentations nous laissent présumer que Napou est un mâle de l'un des deux réseaux de mâles du Saguenay.
La première observation de Napou remonte au 3 septembre 1986. Il s'agissait dès lors d'un adulte. Lors de cette rencontre, l'équipe a suivi ses pas pendant près de trois heures. Il se trouvait près de la côte, en face du cap de Bon-Désir. Il était accompagné d'une dizaine de bélugas adultes dans un troupeau d'environ 100 individus, presque tous des adultes. L'équipe a finalement laissé Napou à l'ile Rouge.
Observations history in the Estuary
Years in which the animal was not observed Years in which the animal was observed
Latest news
Nous observons Napou une dernière fois le 16 août 2002. Il se trouve dans un troupeau d'une vingtaine d'individus près de la baie Sainte-Marguerite dans le fjord du Saguenay. Il nage en compagnie des mâles Walter et Le Survivant.
C'est la dernière fois que nous croiserons la route de Napou. Sa carcasse a été retrouvée le 9 octobre 2011 sur les rives de La Martre en Gaspésie. L'examen post-mortem confirme qu'il s'agit bien d'un mâle. Il était âgé de plus de 55 ans et il mesurait 4,24 m.
Sponsor
Québec city adopted Napou (1989), Bélibec (2014) and participates in the solidary adoptions of Neige, Nics, Solidaire, Bilou and Cica with other riverside municipalities of the St. Lawrence (2014).
Click on the name below to discover texts, drawings and videos composed by children of participating schools on Facebook.
Bélibec was named by the 3th grade class of the École Saint-Yves in Québec City as part of the Our Beluga's Name is… contest.