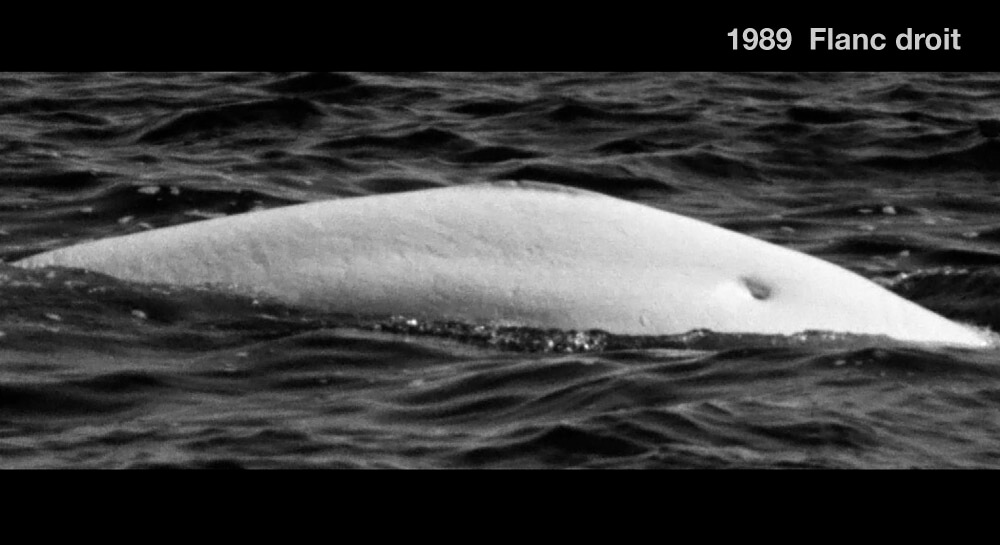 Adopted by Bourassa Gravel, Notary
ID number

DL0052

Sex

Unknown

Year of birth

Before 1970

Known Since

1986
Distinctive traits
Impac est reconnu seulement du flanc droit : on y trouve une cicatrice circulaire de taille moyenne entre la crête dorsale et la tête. Dans sa crête peu proéminente se démarquent deux petites entailles.
Life history
Connu depuis 1986, il était déjà tout blanc. Impac serait donc né avant 1970.
Malgré des marques évidentes, Impac a été observé peu de fois. Les données ne nous permettent pas de déterminer son sexe ni son air de fréquentation pendant la saison estivale.
Chaque fois qu'Impac a été vu, c'était dans un secteur différent. Ses habitudes sociales et ses secteurs de prédilection demeurent donc mystérieux. Les bélugas mâles occupent davantage la partie du centre et de l'aval de l'aire de répartition : le fjord du Saguenay et la tête du chenal Laurentien jusqu'aux environs de Forestville. Les femelles fréquentent des territoires situés dans le secteur en amont.
Observations history in the Estuary
Years in which the animal was not observed Years in which the animal was observed
Latest news
Nous voyons Impac parmi un groupe d'une centaine d'individus. Nous sommes dans le secteur de l'embouchure du Saguenay. Impac nage avec plusieurs animaux connus : Alpha, Twik, Virgule, Galubé et Vita. L'embouchure du Saguenay est une zone de rencontre! Les réseaux de mâles bélugas y croisent les réseaux de femelles avec les jeunes. De grands troupeaux s'y forment, de façon éphémère, en raison de l'abondance de nourriture.
S'agissait-il de la dernière observation d'Impac? Nous ne l'avons pas revu depuis une vingtaine d'années. Est-il mort? Est-il demeuré invisible à l'œil du chercheur pendant tout ce temps? Chose certaine, son histoire demeure une source d'informations précieuses qui nous aident à mieux comprendre cette population fragile.
Sponsor
Bourassa Gravel, Notary adopted Impac (1989).