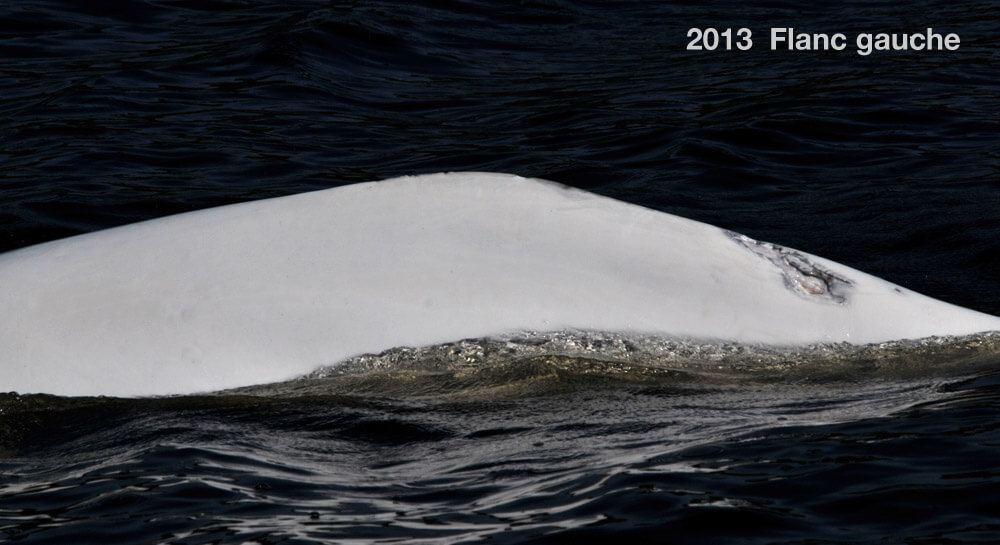 Adopted by Leslie B. Durst
ID number

DL0079

Sex

Female

Year of birth

Around 1973

Known Since

1987
Distinctive traits
Les marques distinctives de Céline sont nombreuses, mais la principale est la profonde cicatrice sur le flanc gauche en arrière de la crête qui s'étend jusque sur le flanc droit et qui est entourée d'une tâche grise large et diffuse.
Life history
Our first encounter with Celine goes up to 1987, when she was slightly grey, so she was at least 12 years old.
Céline is a female. Her sex was confirmed by a biopsy, the genetic analysis of a tiny piece of skin taken from her back. She is part of the female community of the Saguenay Fjord.
On June 18, 2002, the team placed a VHF radio beacon on her right flank. Céline moves from the mouth of the Saguenay towards the Prince Shoal lighthouse, skirts Île Rouge, heads towards Île Verte and, finally, takes the direction of Cap de la Tête-au-Chien in Charlevoix. Generally, she makes shallow dives (less than 20 m) except at Cap de la Tête-au-Chien where she goes up to 40 m. The follow-up ended late in the evening… to resume the next morning. In fact, the beacon broke off in the morning at the mouth of the Saguenay River, the same sector where it had been placed 21 hours earlier. Céline is almost at the same place… only 100 m away.
Observations history in the Estuary
Years in which the animal was not observed Years in which the animal was observed
Latest news
Journée de rêve pour nous sur la tour de la baie Sainte-Marguerite. Le ciel bleu est tacheté de quelques nuages épars. Nous observons un troupeau d'une vingtaine de bélugas adultes et jeunes, et même un à trois veaux. Le nombre de veaux est difficile à confirmer, parce que les animaux bougent vigoureusement. Un moment, tous les animaux sont collés les uns contre les autres et l'instant suivant, ils sont très dispersés. Des queues et des nageoires pectorales traversent la surface et claquent l'eau.
Le contact avec le troupeau nous permet de reconnaitre des vedettes du catalogue de photo-identification des bélugas du Saint-Laurent : Athéna, Miss Frontenac, Céline, Pure Laine et Blanchon étaient réunies ce jour-là.
Nous observons Céline et son bleuvet dans l'embouchure du fjord du Saguenay, près de pointe Noire. Ils nagent parmi un troupeau d'une quarantaine d'individus, dont un nouveau-né. L'ensemble des animaux monte tranquillement en ligne droite en direction de l'amont du fjord du Saguenay. Nous décidons d'arrêter le bateau pour effectuer un survol du secteur à l'aide d'un drone. C'est un nouvel outil que le GREMM aimerait utiliser pour la recherche et la conservation. L'utilisation d'un drone facilite le dénombrement et l'estimation de l'âge des individus d'un troupeau et augmente la précision des données récoltées.
Le 15 septembre 2013, nous croisons Céline dans un groupe d'une vingtaine de bélugas composé d'adultes et de jeunes. Nous sommes près de la rivière Sainte-Marguerite dans le fjord du Saguenay et nous suivons le groupe en direction de l'anse Saint-Étienne. Rendus à l'anse, plusieurs individus se mettent à prendre plusieurs directions différentes, ce qui complexifie notre travail.
Au cours de cette rencontre, nous tentons de prélever une biopsie sur l'un des individus présents. Nous réussissons à atteindre notre cible. La collecte d'une biopsie sur une cible mouvante en bateau n'est pas une mince tâche. Avec la pratique, nous avons atteint un taux de succès de plus de 80 %. Reste que lorsque nous réussissons, il y a de la joie sur bateau. Ce sont des données précieuses et les occasions ne sont pas si fréquentes.
Sponsor
Leslie B. Durst adopted Céline (1997).