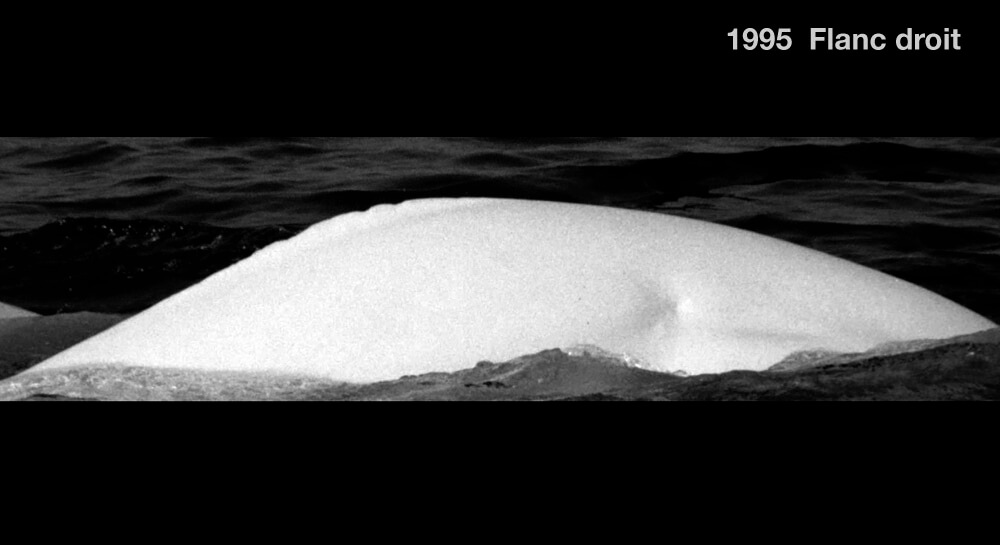 Adopted by Samson Bélair Deloitte & Touche
ID number

DL0033

Sex

Male

Year of birth

Before 1970

Known Since

1986
Distinctive traits
Il faut regarder dans sa crête dorsale pour reconnaitre Trident. Celle-ci compte plusieurs entailles, dont une plutôt longue. En observant attentivement la partie antérieure de son flanc droit, on y voit aussi un léger renflement.
Life history
Trident a été photographié pour une première fois en 1986. Il était déjà blanc. Trident serait donc né avant 1970.
Le sexe de Trident a été confirmé par l'analyse génétique d'une biopsie : il s'agit d'un mâle. Il ferait partie de l'un des deux réseaux de mâles du Saguenay.
On voit le dos de Trident lorsqu'il fait surface pour respirer. Il dévoile ainsi quelques-uns de ces traits uniques, des détails dans sa crête dorsale. Normalement, les bélugas effectuent 2 à 3 séquences respiratoires avant de plonger. Les plongées peuvent durer jusqu'à 15 minutes et atteindre 800 m de profondeur. Toutefois, environ 70 % des plongées des bélugas atteindraient plus de 40 m.
Observations history in the Estuary
Years in which the animal was not observed Years in which the animal was observed
Latest news
Nous remarquons Trident dans la baie Sainte-Marguerite. D'autres bélugas évoluent autour de lui : des jeunes bélugas gris ainsi que des adultes d'un blanc clair. Le troupeau, d'une vingtaine d'individus, est plutôt éparpillé dans la baie.
La dernière observation de Trident remonte à plus d'une quinzaine d'années. Que lui est-il arrivé? Est-il mort? Est-il demeuré invisible à l'œil du chercheur pendant tout ce temps? Chose certaine, son histoire demeure une source d'informations précieuses pour nos connaissances sur cette population fragile.
Sponsor
Samson Bélair Deloitte & Touche adopted Trident (1988).