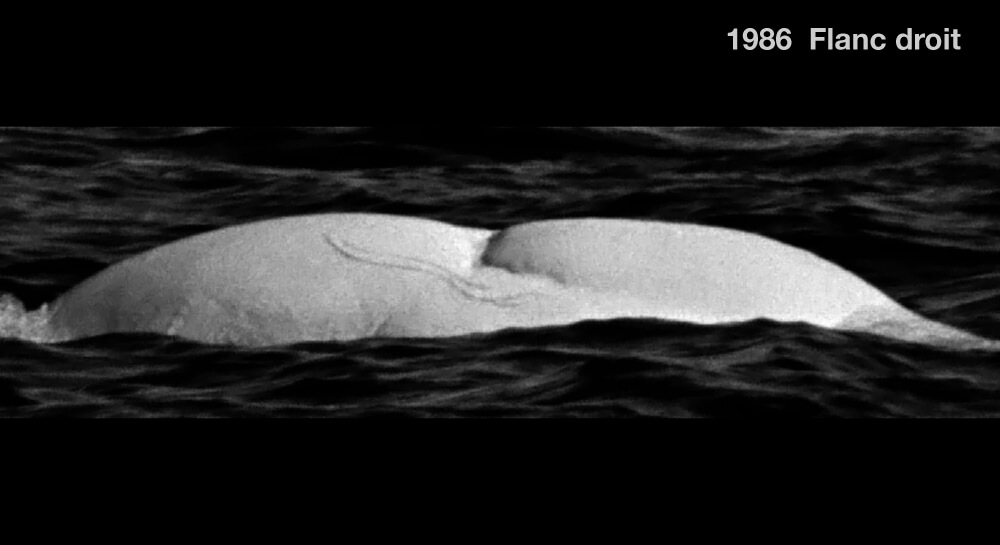 Adopted by the city of Lachine
ID number

DL0017

Sex

Unknown

Year of birth

Before 1964

Known Since

1980
Distinctive traits
La grosse cicatrice à angle droit, qui s'étend du dessus des flancs au début du pédoncule, est à l'origine du nom de DL0017: Équerre. Cette cicatrice s'étire jusqu'au flanc gauche.
Life history
Connu depuis 1980, Équerre était déjà tout blanc à l'époque. Il serait donc né avant 1964.
Malgré des marques évidentes, Équerre a été observé peu de fois. Les données ne nous permettent pas de déterminer son sexe ni son aire de fréquentation pendant la saison estivale.
Équerre est un béluga adulte dont on ignore encore le sexe. À l'oeil, il est difficile de déterminer le sexe d'un individu. Les mâles sont généralement plus grands et plus gros que les femelles. Observer les fentes génitales est un autre moyen visuel de déterminer le sexe.
Observations history in the Estuary
Years in which the animal was not observed Years in which the animal was observed
Latest news
Arrivés au cap Sainte-Marguerite dans le fjord du Saguenay, nous y découvrons une vingtaine de bélugas, des adultes et jeunes. Parmi eux, Équerre nage tranquillement avec trois autres jeunes gris.
S'agissait-il de la dernière observation d'Équerre? Nous ne l'avons pas revu depuis une vingtaine d'années. Est-il mort? Est-il demeuré invisible à l'œil du chercheur pendant tout ce temps? Chose certaine, son histoire demeure une source d'informations précieuses qui nous aident à mieux comprendre cette population fragile.
Sponsor
The city of Lachine adopted Équerre (1988).