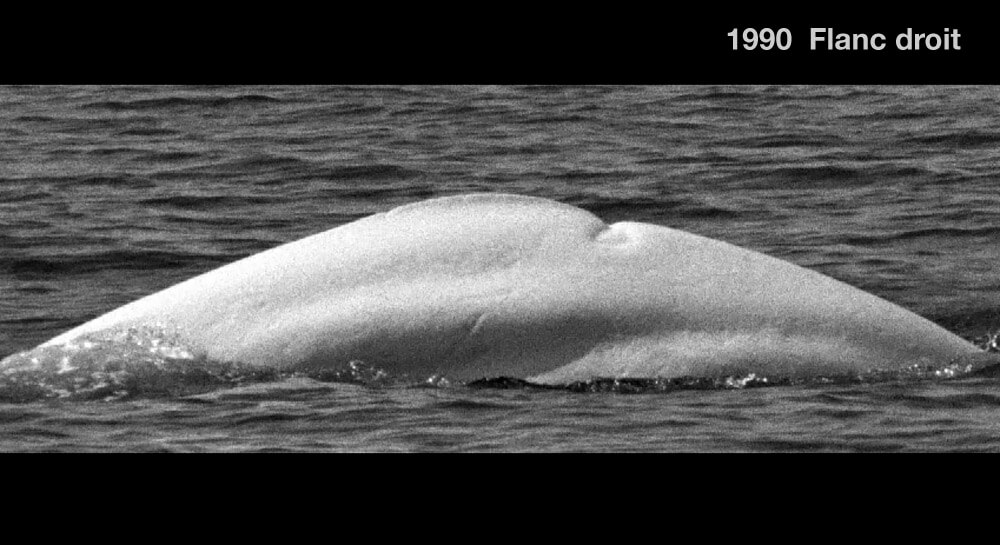 Adopted by the students and staff of the biology module of the Université du Québec à Chicoutimi 
ID number

DL0018

Sex

Unknown

Year of birth

Before 1961

Known Since

1977
Distinctive traits
Hélis se reconnaît principalement avec sa cicatrice sur le dos, en arrière de sa crête dorsale, qui descend sur les deux flancs. Elle est assez large sur le flanc droit et plutôt mince sur le flanc gauche. Sa crête contient plusieurs petites entailles.
Life history
Connu depuis 1977, Hélis était déjà tout blanc. Il serait donc né avant 1961.
Malgré des marques évidentes, Hélis a été observé peu de fois. Les données ne nous permettent pas de déterminer son sexe ni son aire de fréquentation pendant la saison estivale.
En 2005, Hélis a déserté le Saint-Laurent au cours de l'hiver pour se retrouver bien loin de chez lui en avril, environ 2000 km plus au sud, dans la rivière Delaware au New Jersey, à 200 km de la côte Atlantique. Il n'a finalement passé que quatre jours dans cette zone. Neuf jours plus tard, il réapparaissait dans une autre zone fortement industrialisée près de Philadelphie: la rivière Schuylkill. Depuis qu'il a quitté cette rivière, aucune autre observation de ce béluga n'a été signalée.
Observations history in the Estuary
Years in which the animal was not observed Years in which the animal was observed
Latest news
À l'embouchure du Saguenay, Hélis est reconnu parmi une dizaine d'adultes. Le groupe nage dans des eaux agitées. Il passe près d'un autre groupe de bélugas comprenant des adultes et des jeunes. Si les deux groupes sont distants d'à peine 100 m l'un de l'autre, nous ne voyons aucune interaction entre les deux.
Sponsor
Students and staff of the biology module of the Université du Québec à Chicoutimi adopted Hélis (1989).