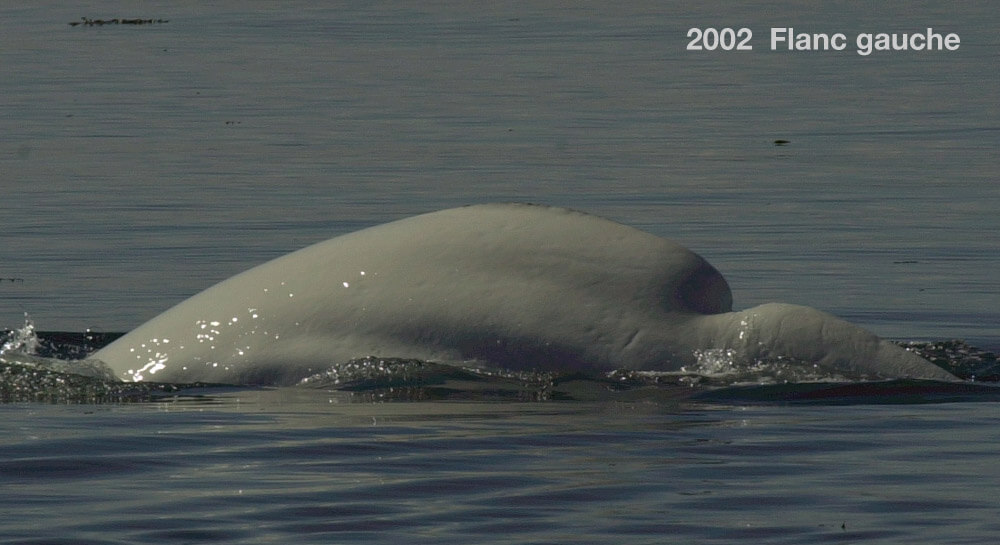 Adopted by the students of the Commission scolaire Baldwin-Cartier
ID number

DL0013

Sex

Male

Year of birth

Before 1970

Known Since

1986
Distinctive traits
Une très grosse entaille au début du pédoncule ayant la forme du symbole grec ω est à l'origine de son nom : Oméga. Sur son flanc droit, viennent s'ajouter trois autres petites cicatrices juste sous la crête.
Life history
Lors de notre première rencontre avec Oméga en 1986, sa « robe » était déjà toute blanche. Il serait donc né avant 1970.
Les fréquentations et les habitudes d'Oméga nous laissent croire qu'il est un mâle du réseau qui fréquente le secteur aval de l'aire de répartition estivale entre Tadoussac et Les Escoumins.
Oméga est un mâle « d'en bas ». Il a déjà été vu en aval aussi loin que Pointe-à-Boisvert près de Rivière-Portneuf. Les troupeaux de ce secteur sont généralement composés presque exclusivement d'adultes et peuvent compter une centaine d'individus.
Observations history in the Estuary
Years in which the animal was not observed Years in which the animal was observed
Latest news
C'est dans le secteur Les Escoumins-Les Bergeronnes que nous reconnaissons Oméga parmi une trentaine d'adultes. Vu leur taille, nous présumons que le troupeau est composé uniquement de mâles. Selon le technicien en chef de l'équipe de recherche du GREMM, il est difficile de les suivre parce que les animaux sont très dispersés et ils « viraillent en rond ».
Notre dernière rencontre avec Oméga remonte à plus de quatorze ans. Est-il mort? Est-il demeuré invisible à l'œil du chercheur pendant tout ce temps? Chose certaine, son histoire demeure une source d'informations précieuses qui nous aident à mieux comprendre cette population fragile.
Sponsor
Students of the Commission scolaire Baldwin-Cartier adopted Oméga (1989).