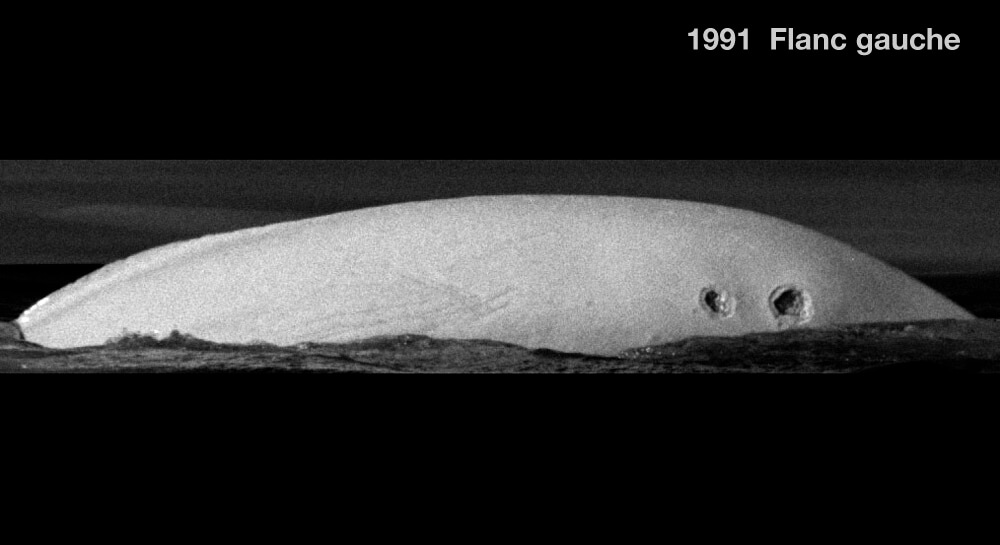 Adopted by Collège MacDonald, Collège Jean-de-Brébeuf and École E.S.C. students
ID number

DL0101

Sex

Presumed male

Year of birth

Before 1973

Known Since

1989
Distinctive traits
On reconnaît Titanic par les marques sur son pédoncule caudal. Il y a deux cicatrices profondes au flanc gauche et une autre du côté droit. Sa crête dorsale contient assez d'éléments pour permettre de l'identifier.
Life history
Sa grande taille, ses habitudes et ses affiliations sociales nous indiquent clairement que Titanic est un mâle. Il fait partie du réseau de mâles qui fréquentent le secteur aval de l'aire de distribution estivale des bélugas, entre Tadoussac et Les Escoumins.
Lors d'une des premières rencontres avec Titanic, l'équipe de recherche a été très surprise, car elle a pu observer un béluga avec une anguille dans la gueule. Il s'agit d'une observation d'exception, car malgré quelques soupçons, on n'avait pas encore la certitude que les anguilles figuraient sur la liste des proies des bélugas, et plus précisément qu'elles sont attrapées à l'automne, alors que les anguilles effectuent leur migration dans le Saint-Laurent.
Observations history in the Estuary
Years in which the animal was not observed Years in which the animal was observed
Latest news
Nous sommes au large de l'île Verte et nous croisons un troupeau d'une quarantaine d'individus composé principalement d'adultes. Les animaux sont tranquilles, ils sont au repos. Plusieurs individus font du « billotage ». Toutefois, nous reconnaissons Titanic en compagnie d'un autre blanc. Après une heure d'observation, comme il est difficile de les prendre en photos, nous décidons de partir à la recherche d'un autre troupeau.
La dernière observation de Titanic remonte à plus d'une vingtaine d'années. Est-il mort? Est-il demeuré invisible à l'œil du chercheur pendant tout ce temps? Chose certaine, son histoire demeure une source d'informations précieuses qui nous aident à mieux comprendre cette population fragile.
Sponsor
Collège MacDonald, Collège Jean-de-Brébeuf and École E.S.C. students adopted Titanic (1990).