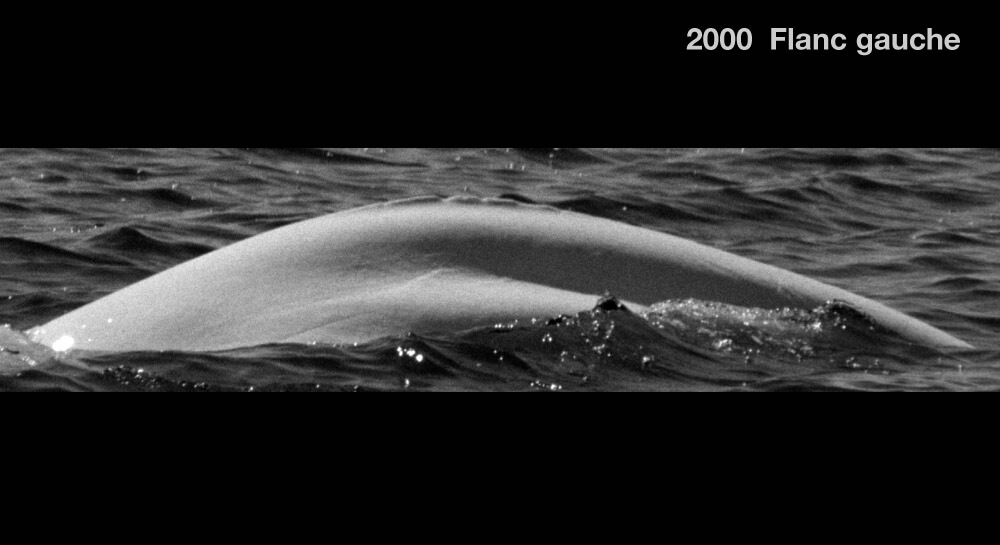 Adopted by The students in ecology of the Commission scolaire régionale de Chambly
ID number

DL0085

Sex

Presumed male

Year of birth

Before 1970

Known Since

1984
Ses traits distinctifs
La marque en arrière de sa tête ainsi que le point en dessous de sa crête dorsale permettent de reconnaître Béluvie du flanc droit. Sa crête dorsale contient assez de détails pour l'identifier également du flanc gauche.
Son histoire
Béluvie a été photographié pour une première fois dans le secteur de la baie Sainte-Marguerite. Il était légèrement gris, donc il serait né vers 1970 ou avant.
Sa forte taille et ses affiliations sociales semblent présumer que Béluvie serait un mâle et qu'il ferait partie de l'un des deux réseaux de mâles qui fréquentent le fjord du Saguenay et son embouchure.
Béluvie est fréquemment croisé dans le fjord du Saguenay et son embouchure. Ce secteur est une zone de rencontre. Les réseaux de mâles bélugas y croisent les réseaux de femelles avec les jeunes. De grands troupeaux s'y forment, de façon éphémère, entre autres en raison du nombre élevé de nourriture. C'est aussi le lieu de rencontre entre les eaux salées de l'estuaire maritime et les eaux saumâtres du Saguenay. La topographie, les courants, les marées et les caractéristiques des masses d'eau qui se rencontrent créent des conditions océanographiques très particulières qui piègent les proies attirant les prédateurs comme les bélugas.
Observations history in the Estuary
Years in which the animal was not observed Years in which the animal was observed
Latest news
Le 11 août 2000, nous ciblons l'embouchure du fjord du Saguenay comme lieu de travail. Sur notre route, nous croisons un petit groupe d'une dizaine d'animaux, que des adultes d'un blanc clair. Parmi le groupe, nous repérons Béluvie qui nage en compagnie d'Hélis. Après une heure d'observation, notre groupe est rejoint par un groupe de jeunes gris. Finalement, il n'y a aucune interaction entre les adultes et les jeunes et après un moment, les deux groupes prennent des directions différentes.
Sponsor
The students in ecology of the Commission scolaire régionale de Chambly adopted Béluvie (1990).