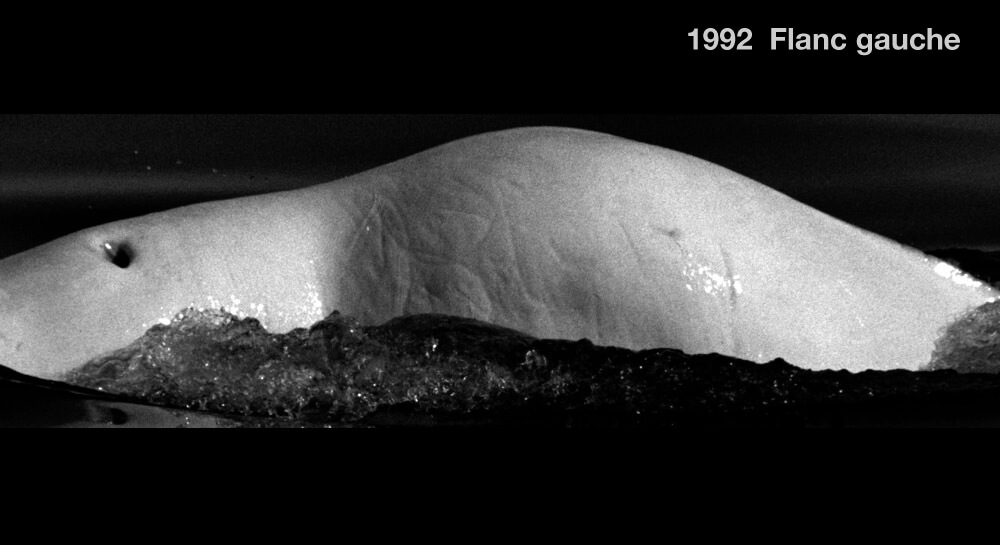 Adopted by Tecsult Inc.
ID number

DL0029

Sex

Unknown

Year of birth

Around 1970

Known Since

1986
Distinctive traits
La déformation de sa colonne vertébrale, entre sa tête et sa crête dorsale, crée une grosse bosse sur le dos de Kamouraska.
Life history
Kamouraska a été photographié pour une première fois en 1986. Il était légèrement gris, donc il serait né autour des années 1970.
Malgré sa déformation évidente, Kamouraska a été observé peu de fois. Les données que nous avons recueillies ne nous permettent pas de déterminer son sexe ni son air de fréquentation pendant la saison estivale.
Plusieurs bélugas possédant une malformation, comme Kamouraska, fréquentent les eaux du Saint-Laurent et du Saguenay. En raison de cette caractéristique, ils sont facilement reconnaissables et deviennent rapidement des vedettes, comme Pascolio et Néo. Tout comme chez l'humain, ces courbures de la colonne vertébrale, concaves ou ayant la forme d'une spirale, sont nommées lordose ou scoliose. ntrer de préférence dans ses associations. Il se trouve successivement accompagné de jeunes et d'adultes.
Observations history in the Estuary
Years in which the animal was not observed Years in which the animal was observed
Latest news
On l'avait aperçu dans le secteur des îlets Boisés, en aval des Escoumins. Nous ne l'avons pas revu depuis. Est-il mort? Est-il demeuré invisible à l'œil du chercheur pendant tout ce temps? Chose certaine, son histoire demeure une source d'informations précieuses qui nous aident à mieux comprendre cette population fragile.
Sponsor
Tecsult Inc. adopted Kamouraska (1988).