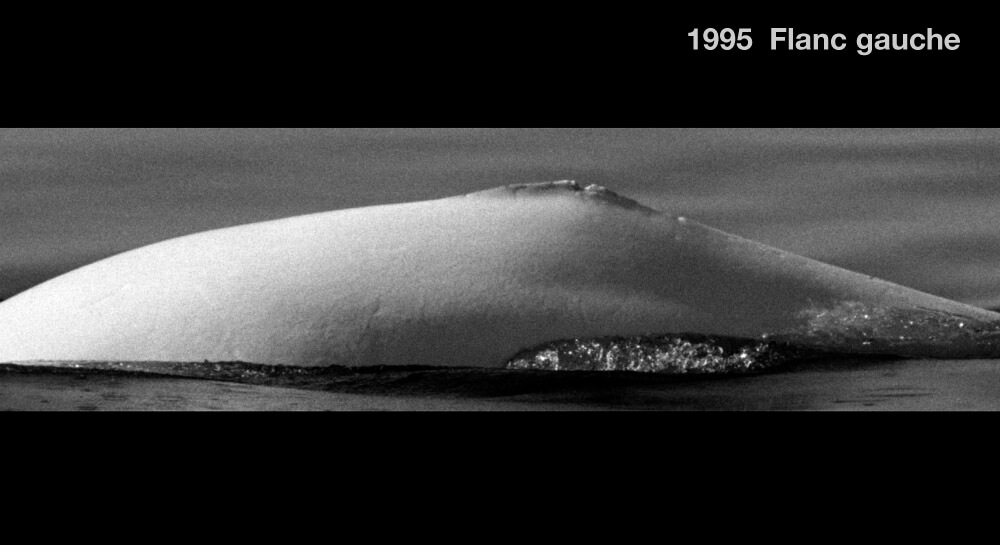 Adopted by Jackie and Kenneth Gerhart, Texas
ID number

DL0009

Sex

Male

Year of birth

Before 1977

Known Since

1989
Distinctive traits
Le profil de Doby Mick a changé en 1992 lorsque sa cicatrice dans le milieu de sa crête dorsale s'est creusée pour former une profonde entaille. La petite cicatrice juste en arrière de sa crête est également visible des deux flancs également.
Life history
Nous avons rencontré pour la première fois Doby Mick en 1989. Il était déjà d'un blanc immaculé. Doby Mick serait né avant 1977.
Le sexe de Doby Mick est confirmé par l'analyse génétique d'une biopsie prélevée sur son dos; il s'agit d'un mâle. Il fait partie de l'un des deux réseaux de mâles du Saguenay.
Doby Mick a souvent été vu dans le Saguenay, particulièrement dans la baie Sainte-Marguerite, et à son embouchure. La baie Sainte-Marguerite semble être un site particulier et d'une grande importance pour les bélugas du Saint-Laurent. Cette baie, située à une vingtaine de kilomètres de l'embouchure, fait partie du parc marin du Saguenay–Saint-Laurent et elle est bordée par le parc national du Saguenay. Nous avons vu fréquemment Doby Mick faire des comportements typiques de ce lieu: flânage, vocalises à la surface de l'eau et éclaboussures..
Observations history in the Estuary
Years in which the animal was not observed Years in which the animal was observed
Latest news
Le 13 juin 1996, nous croisons un troupeau d'une quarantaine d'individus à l'embouchure du Saguenay. En fait, on y trouve plusieurs petits groupes qui forment tranquillement ce que l'on surnomme un «super-groupe». Le groupe est composé d'adultes et de jeunes incluant Doby Mick.
S'agissait de la dernière observation de Doby Mick? Nous ne l'avons pas revu depuis 1996. Est-il mort? Est-il demeuré invisible à l'œil du chercheur pendant tout ce temps? Chose certaine, son histoire demeure une source d'informations précieuse pour nos connaissances sur cette population fragile.
Sponsor
Jackie and Kenneth Gerhart, Texas adopted Doby Mick (1988).