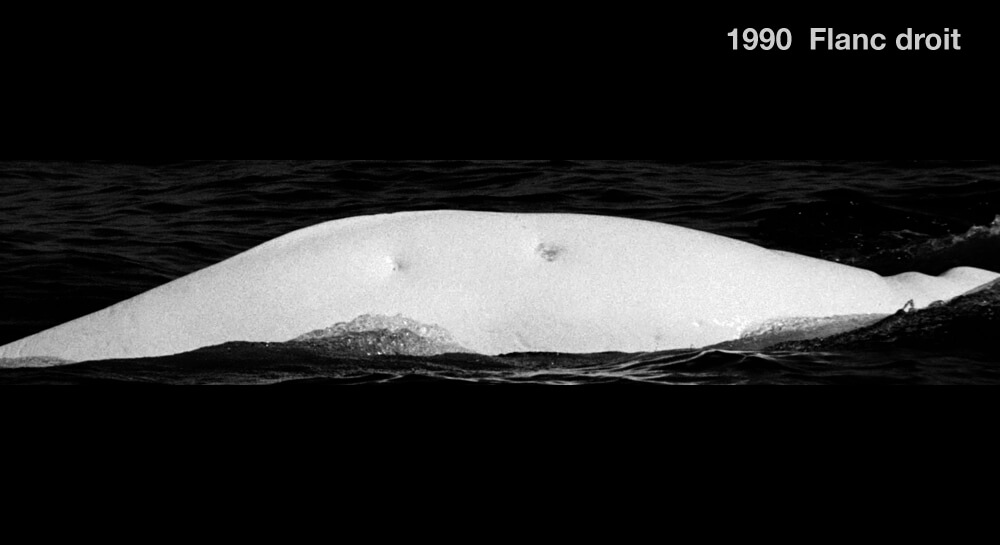 Adopted by Peinture Internationale
ID number

DL0028

Sex

Female

Year of birth

Before 1969

Known Since

1985
Distinctive traits
La marque dans son cou s'étire sur les deux flancs de Vagabonde. Elle porte aussi deux cicatrices, en avant et sous la crête dorsale sur chaque flanc. Sa crête dorsale présente deux petites entailles dans la partie antérieure.
Life history
Observée pour la première fois en 1985, Vagabonde était complètement blanche. Elle serait donc née avant 1969.
Selon ses habitudes et ses associations, Vagabonde est une femelle. Elle ferait partie de la communauté de femelles de la rive sud du fleuve Saint-Laurent.
La baie Sainte-Marguerite, dans le fjord du Saguenay, constitue un habitat estival privilégié pour les bélugas, dont les femelles comme Vagabonde. Parfois, on peut voir les bélugas en position d'espionnage, sortir la tête hors de l'eau, ou remarquer des nageoires pectorales et des queues à la surface. On peut aussi entendre leurs vocalises comme des beuglements ou des sifflements.
Observations history in the Estuary
Years in which the animal was not observed Years in which the animal was observed
Latest news
Nous sommes à un mille nautique au large du cap de la Tête au Chien, Charlevoix. Nous observons un troupeau de deux individus, des jeunes. Puis, tout d'un coup, nous tombons sur Vagabonde qui nage à l'écart, elle plonge et remonte au même endroit à plusieurs reprises. Nous la quittons, car au loin nous repérons un autre groupe de 8 à 10 bélugas.
La dernière observation de Vagabonde remonte à plus de 25 ans. Est-elle morte? Est-elle demeurée invisible à l'œil du chercheur pendant tout ce temps? Chose certaine, son histoire demeure une source d'informations précieuses qui nous aident à mieux comprendre cette population fragile.
Sponsor
Peinture Internationale adopted Octave, Aile Joyeuse, Blanche-Neige, Oreillette, Patte d'Oie and Vagabonde (1988).