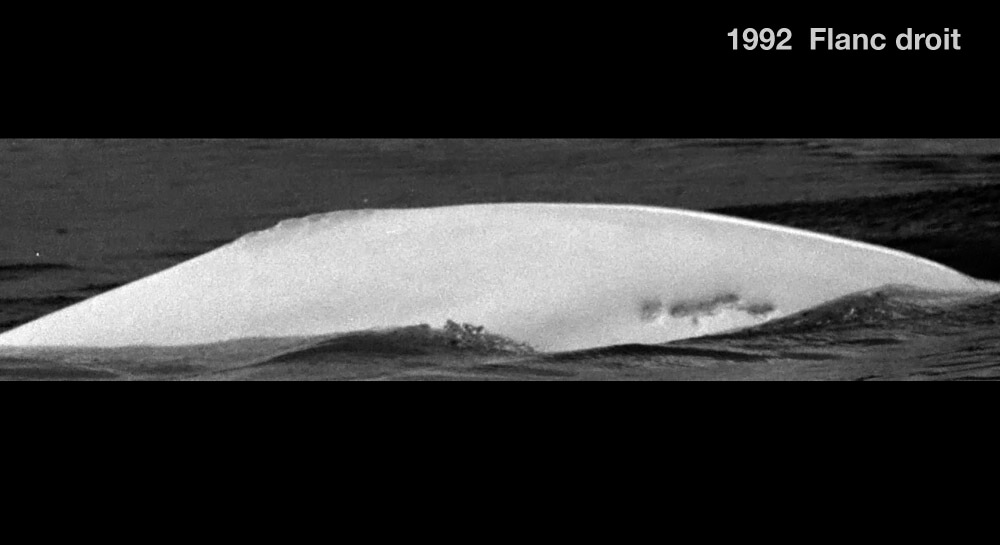 Adopted by Laporte school students
ID number

DL0035

Sex

Female

Year of birth

Before 1974

Known Since

1986
Distinctive traits
On reconnaît facilement Delphine du flanc droit à sa longue cicatrice sinueuse et profonde en arrière de sa tête. Sa crête dorsale contient plusieurs encoches assez profondes principalement dans la partie postérieure.
Life history
La première fois que Delphine est photographiée, en 1986, elle est déjà d'un blanc immaculé. Elle est donc née avant 1974.
Ses associations et ses habitudes ainsi que le fait que l'équipe de recherche l'a vue en compagnie d'un veau de façon récurrente a permis de confirmer que Delphine est une femelle de la communauté du Saguenay.
En été, les femelles forment de grandes communautés dans lesquelles elles s'occupent des nouveau-nés et des jeunes. Ces communautés sont attachées à des territoires traditionnels et il y a peu d'échanges entre elles. La mise bas des bélugas du Saint-Laurent se déroule généralement de juin à septembre. Les petits sont allaités pendant environ deux ans. Cette période d'apprentissage et de soins de la mère est vitale pour la survie du nouveau-né.
Observations history in the Estuary
Years in which the animal was not observed Years in which the animal was observed
Latest news
Le 17 août 1992, Delphine est présente au cœur du Saguenay. Elle est loin d'être seule; une trentaine de bélugas forment des groupes séparés, composés d'adultes et de jeunes, dans lesquels on reconnaît Walter, Twik et Double-Vent.
La dernière observation de Delphine remonte à plus d'une vingtaine d'années. Que lui est-elle arrivée? Est-elle morte? Est-elle demeurée invisible à l'oeil du chercheur? Impossible de savoir pour le moment. Chose certaine, nous restons vigilants et espérons une rencontre prochainement.
Sponsor
Laporte school students adopted Delphine (1990).