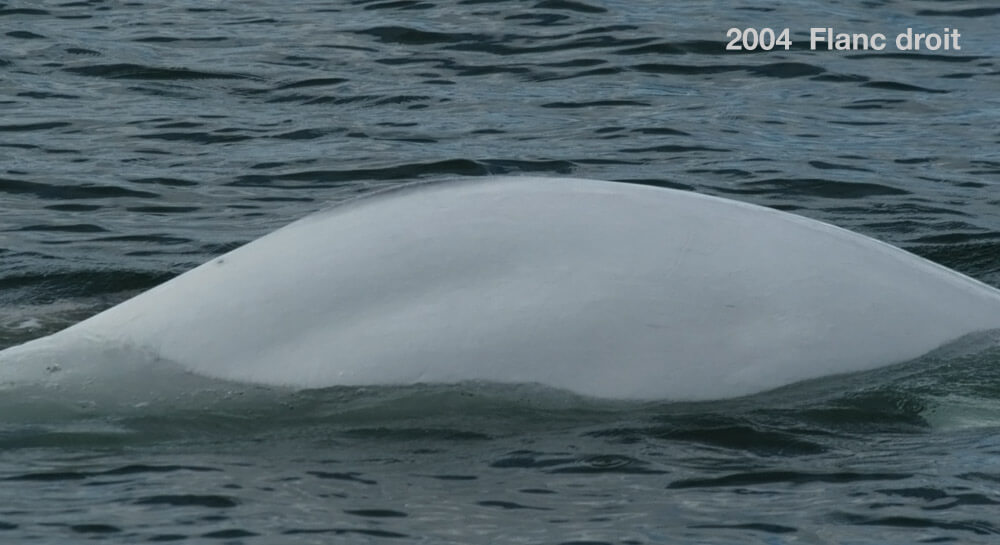 Adopted by Fairmont Le Château Frontenac
ID number

DL0006

Sex

Female

Year of birth

Around 1982

Known Since

1985
Distinctive traits
The best way to identify Griffon is by the small white scar behind her head on the left side. From the right side, we rely on her nearly smooth dorsal crest and the small black spot just behind it.
Life history
The first encounter with Griffon goes back to 1985. At the time, she was a young gray beluga 2 or 3 years of age.
Griffon is a female of the Saguenay community. Her sex was confirmed by a biopsy sample taken August 26, 1998. Throughout our expeditions, we have regularly spotted her in the company of newborns and young gray individuals. It is highly probable that Griffon has given birth to no fewer than six calves.
This female, a faithful visitor to the Saguenay, was one of the first belugas identified by the GREMM team. She is even featured in the Jardin de la Grève at the Marine Mammal Interpretation Centre (CIMM) in Tadoussac where a life-size replica of her can be found. His story is a precious source of information for our knowledge of this fragile population.
Observations history in the Estuary
Years in which the animal was not observed Years in which the animal was observed
Latest news
September 15, 2006: we discover a herd of some twenty individuals in the Saguenay Fjord, near Pointe aux Crêpes. Griffon is recognized, accompanied by a rather sizable young gray beluga. As she slowly heads toward Baie Saint-Marguerite, she joins another herd comprising some twenty adult and young belugas.
Baie Sainte-Marguerite seems to be a unique and highly important site for St. Lawrence belugas. It is located approximately twenty kilometres from the mouth of the Saguenay and lies within the Saguenay–St. Lawrence Marine Park (SSLMP). Belugas' use of the bay, especially females and young, is not yet clearly understood, though it might serve as a feeding, resting, or socialization area for young. It might even constitute a calving ground for females like Griffon, though this theory remains to be verified.
Sponsor
Fairmont Le Château Frontenac adopted Griffon (2002) and Miss Frontenac (2008).