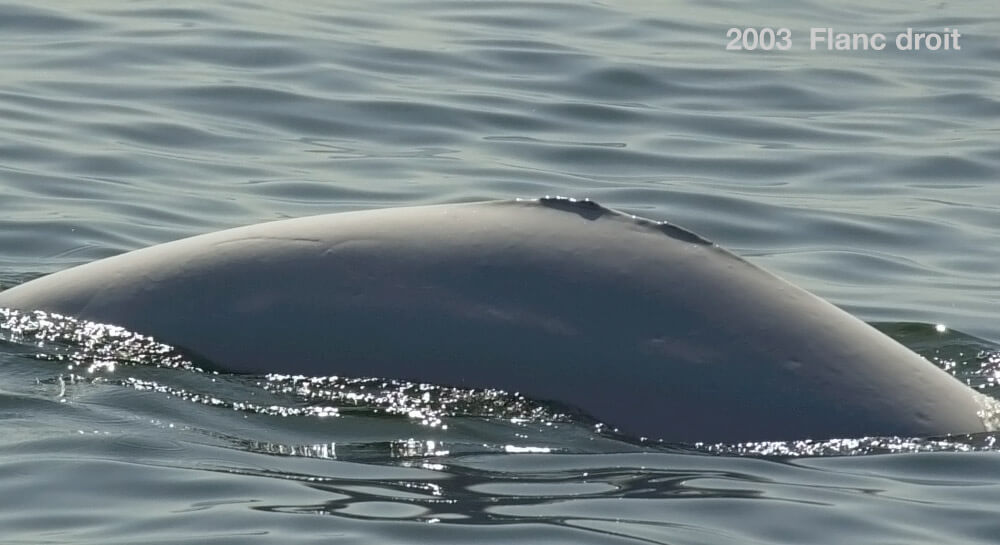 Adopted by Fairmont The Queen Elizabeth
ID number

DL0065

Sex

Female

Year of birth

Before 1970

Known Since

1986
Distinctive traits
La longue et profonde entaille dans la crête dorsale d'Élizabeth est la première chose qui saute aux yeux. Cette marque accompagnée des autres encoches dans sa crête permet de la reconnaître aisément.
Life history
Élizabeth a été identifiée la première fois en 1986. Elle était déjà toute blanche. Élizabeth serait donc née avant 1970.
Une biopsie prélevée pendant l'été 1997 nous confirme qu'Élizabeth est une femelle de la communauté du Saguenay.
En 1996, cette femelle avait été vue accompagnée d'un veau amenant l'équipe à présumer qu'il s'agissait d'une femelle et peut-être même d'une mère. Le comportement social d'un béluga peut nous permettre de déterminer le sexe d'un béluga, car ils vivent en groupe de trois à plusieurs dizaines d'individus régi selon une ségrégation sexuelle ou lié à l'âge. En été, les femelles forment même de grandes communautés dans lesquelles elles s'occupent des nouveau-nés et des jeunes. Ces communautés sont attachées à des territoires traditionnels.
Le sexe d'Élizabeth est confirmé l'année suivante grâce à une biopsie, soit un échantillon de peau prélevé sur le dos de l'animal.
Observations history in the Estuary
Years in which the animal was not observed Years in which the animal was observed
Latest news
L'un des derniers contacts avec Élizabeth s'est déroulé le 20 octobre 2009 dans le fjord du Saguenay. On la trouve dans un petit troupeau d'une dizaine d'individus, composé d'adultes et de jeunes. Yogi et son jeune que nous surnommons «Boubou» sont dans le même groupe qu'Élizabeth. À la fin du contact, le groupe se dissocie et l'on finit par perdre leur trace.
Sponsor
Fairmont The Queen Elizabeth adopted Élizabeth (1999).