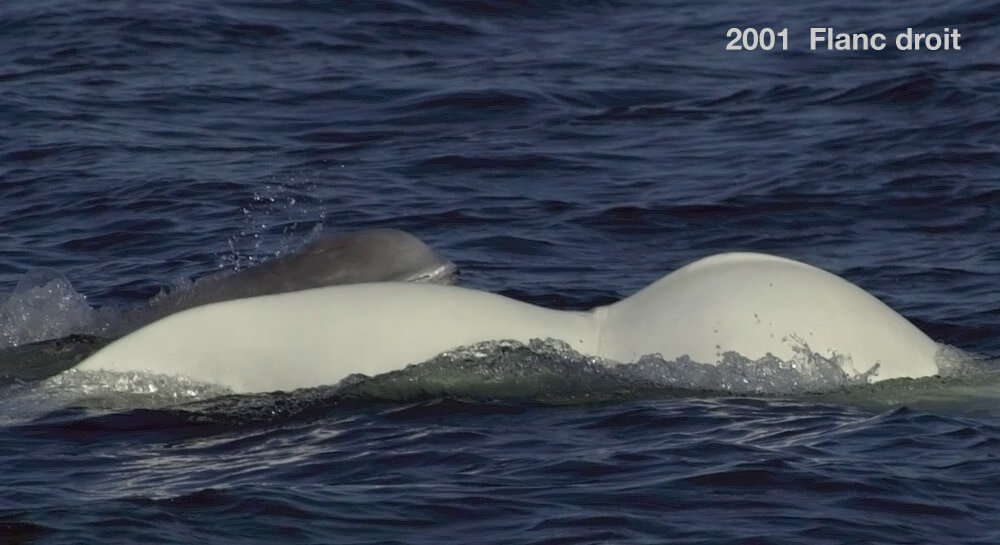 Adopted by The Tadoussac business owners
ID number

DL0003

Sex

Female

Year of birth

Around 1982

Known Since

1985
Distinctive traits
The major deformities in her vertebral column combined with a small scar in the depression of one of these deformities are Pascolio's distinctive traits.
Life history
Our first encounter with Pascolio dates back to 1985. At the time, she was a young dark gray beluga about 2 or 3 years old.
Pascolio belongs to the Saguenay community of females. Although she has regularly been observed with young and calves, we have never seen her with a newborn that we believed to be her own.
Male or female? We long thought that Pascolio was a male. Once, when she swam under our boat, we caught a glimpse of the genital slit. However, the pods in which Pascolio associates and its smaller size than most males suggested the opposite. A biopsy performed in 2008 would end the debate: Pascolio is indeed a female.
Observations history in the Estuary
Years in which the animal was not observed Years in which the animal was observed
Latest news
Par une belle journée de la fin septembre, nous partons à bord du Bleuvet vers la batture aux Alouettes, à l'embouchure du Saguenay. Le vent léger nous permet une navigation sans tracas. Arrivés près de la batture, nous repérons douze bélugas. Peu à peu, nous nous approchons pour pouvoir identifier chacun des individus du troupeau. Nous voyons des adultes, des jeunes et même deux nouveau-nés. Dans le troupeau, nous repérons la courbure du dos si caractéristique de Pascolio. Elle nage à l'écart. Pendant près d'une heure, nous accompagnons le troupeau. Puis, le brouillard se lève, les animaux se dispersent et nous décidons d'aller à la rencontre d'autres bélugas.
At Baie Sainte-Marguerite, we spot a herd of about 40 adults and young, including six newborns! This is one of the largest concentrations of calves observed this summer. Pascolio is there and is swimming with Athéna, one of her regular companions in the Saguenay community.
The animals are making vocalizations galore! Hearing beluga "voices" is not rare, but is always impressive. The beluga's vocal repertoire is vast, comprising whistles, chattering, squeals and grunts, earning them the nickname "canaries of the sea".
South of Île Rouge. We encounter a herd of some fifty adult and young belugas. Within this herd, we recognize Pascolio, who is away from the others and swimming in circles. This behaviour is not altogether atypical for this beluga; the research team has observed her alone on numerous occasions.
In our first encounters with Pascolio, she was curious and whimsical. As she aged, her behaviour grew calmer but she also became less approachable. She is even considered one of the shyest belugas.
Sponsor
The Tadoussac business owners adopted Pascolio (1988).