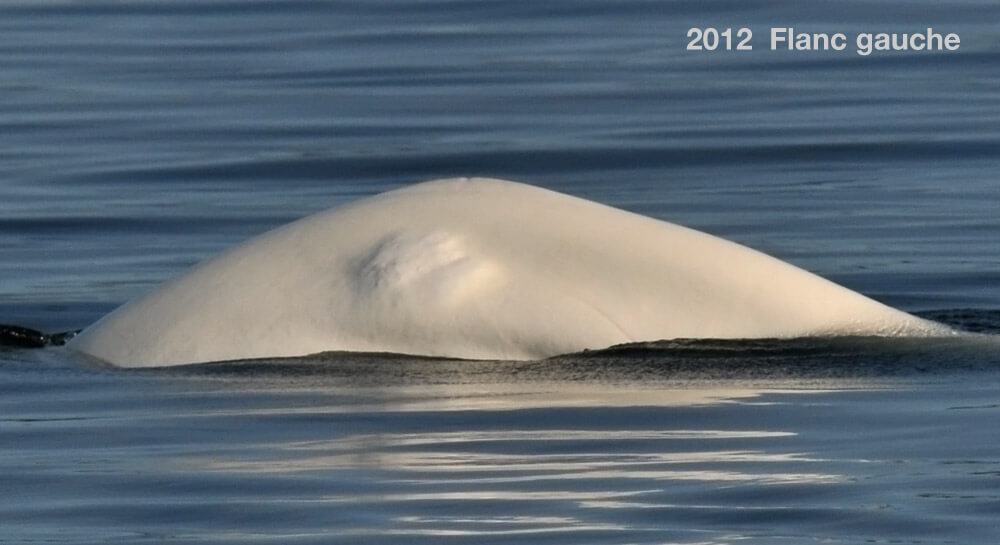 Adopted by la municipalité de Tadoussac
ID number

DL1757

Sex

Female

Year of birth

Before 1989

Known Since

2001
Distinctive traits
It is much easier to identify Blanche from the left side, thanks to the large bulge in the centre of her flank. This mark has become more complex over the years. She only has a small gash in her dorsal crest.
Her story
We first encountered Blanche in 2001. As she was already all white at the time, it is difficult to determine her age. Belugas fade however from gray to white in colour between the ages of 12 and 16. Dl1757 was therefore born before 1989!
Easily recognizable thanks to an outgrowth on her left flank, Blanche has been observed nearly every summer since 2001. She failed to show up just once, in 2003.
In summer, females form large communities in which they tend to newborns and young. These communities are associated with traditional territories. Blanche belongs to the Saguenay community. The presence of newborns at Blanche's sides in 2005, 2008 and 2014 not only confirms her sex, but also the fact that she is a very productive matriarch.
Her calf born in 2005 had a distinctive mark, a scar ressembling a Daisy upon which she was nicknammed Marguerite. Marguerite is a female. She gave birth to her first calf in 2014 at the age of 9. This is the first time we ever monitored a female from her birth to her first calf! Blanche thus became the first known "grandmother" in the St. Lawrence.
How Blanche's story unfolds will teach us volumes on the evolution of belugas' social and reproductive lives. By better understanding how belugas live, we will better be able to protect them.
Observations history in the Estuary
Years in which the animal was not observed Years in which the animal was observed
Latest news
The nice thing about Blanche is that the prominent blister-like swelling on her left flank allows us to recognize her even when we're at sea. On this particular day, we run into her in a herd of fifteen to twenty belugas. They are difficult to count due to all the whitecaps forming when the waves reach their crest. The herd is divided into four smaller groups, each of which contains a calf. Has Blanche become a grandmother again? Perhaps the future will tell us!
A spectacular day for us on the Baie Sainte-Marguerite tower. The blue sky is dotted with a few scattered clouds. We observe a herd of about twenty adult and young belugas and even one to three calves. The exact number of newborns is difficult to confirm because the animals are moving about vigorously. One minute, all the animals are swimming practically on top of one another and the next, they are widely dispersed. Tails and pectoral fins break the surface and slap the water. The encounter with the herd allows us to recognize well known stars from the St. Lawrence beluga photo-ID catalogue: Athéna, Miss Frontenac, Céline, Pure Laine and Blanchon were together that day.
The summer of 2016, our 32nd season at sea with the belugas, was again rich in encounters and surprises. Among others, we saw Blanche at least seven times and each time, a young dark grey was standing next to her. We suspect it was her calf born in 2014.
On September 13, 2016, Blanche swims with about 30 individuals swimming up the Saguenay Fjord. This herd is made up of females accompanied by young and a newborn calf. The animals are dynamic and all head in the same direction without stopping. A group of six adults, males, seems to follow the herd of females. After a while, they eventually leave the herd to return to the mouth while the females continue on their way to Baie Sainte-Marguerite, their usual terminus in the Saguenay.
We are off Pointe Noire and we spot Blanche among a beluga herd of about ten adult and young individuals. The herd is heading upstream. It is heading up the Saguenay Fjord. Blanche is swimming with a dark grey calf. This observation is interesting, as we had observed a newborn by her side in 2014 and her calf was still with her in 2015. We cannot confirm this at this time, but the young dark grey could be her calf born in 2014. The female beluga suckles her calf for about two years, but the relationship between the female and her calf may continue after nursing.
We met Blanche at least four times this summer. In the previous season, we had observed Blanche with a newborn baby. Good news, this year we saw her again with her blueberry. That's what we call one and two-year-olds. The first year of a beluga whale's life is the riskiest of its life. Its survival to this day is very encouraging for the population. Here is the story of one of these encounters.
On August 3, 2015, Blanche is in a herd of about 20 individuals, adults accompanied by youngsters. They form a long line up the mouth of the Saguenay River near Tadoussac Bay. She swims with her bluestuff that constantly passes from one side to the other of her, always stuck to her side. They are in the company of another female, also accompanied by a newborn. Once in front of the Pointe-Noire observation site, the line tightens and the animals begin to "mill", that is to say, they turn in circles, dive and resurface in the same place several times. This behaviour is often associated with feeding.
That's a contact rich in newborns! We are at the mouth of the Saguenay River, a few meters from our home port of Tadoussac. Between Pointe Rouge and Pointe Noire, we observe five newborns, including those of Marguerite, Miss Frontenac and Blanche. Pure Laine swims alongside them. For the moment, we have never been able to confirm that Pure Laine is fertile. Will we see her soon with a baby? We leave the beluga whales with newborns alone, we go to a group of adults to take two biopsies.
August 25, 2014 is a memorable day for the GREMM team. We are off the coast of Tadoussac with Blanche accompanied by her calf born earlier this summer. Soon after this observation, we see Blanche's daughter Marguerite, born in 2005, also accompanied by a newborn calf. Mother and daughter swim side by side, each accompanied by their offspring. We are in the presence of three generations of beluga whales: a first for our team.
Le parrain
The municipality of Tadoussac adopted Blanche and participates in the solidary adoptions of Neige, Nics, Solidaire, Bilou and Cica with other riverside municipalities of the St. Lawrence (2014).
Click on the name below to discover texts, drawings and videos composed by children of participating schools on Facebook.
Blanche was named by the 5th and 6th grade class of the École Saint-Joseph in Tadoussac as part of the Our Beluga's Name is… contest.