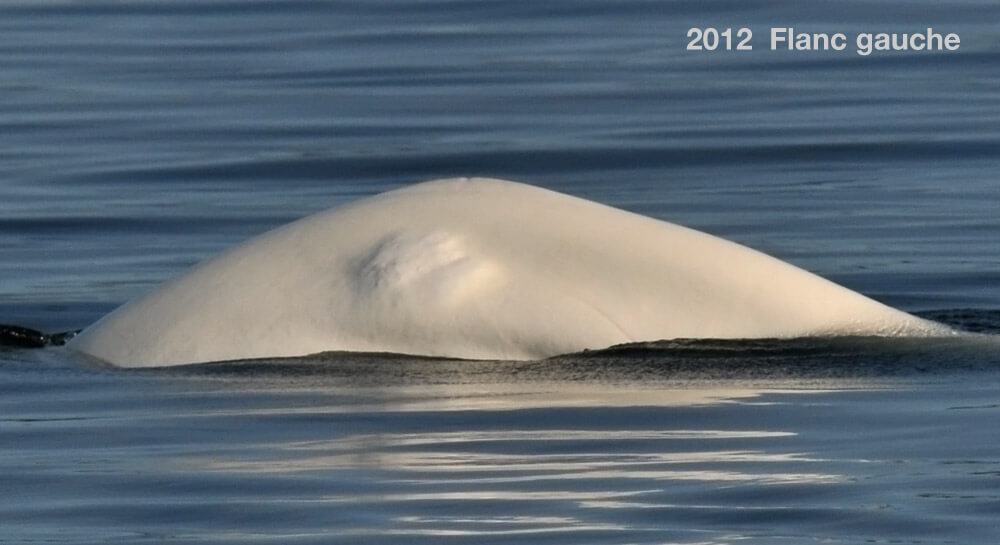 Adopted by la municipalité de Tadoussac
ID number

DL1757

Sex

Female

Year of birth

Before 1989

Known Since

2001
Distinctive traits
It is much easier to identify Blanche from the left side, thanks to the large bulge in the centre of her flank. This mark has become more complex over the years. She only has a small gash in her dorsal crest.
Her story
We first encountered Blanche in 2001. As she was already all white at the time, it is difficult to determine her age. Belugas fade however from gray to white in colour between the ages of 12 and 16. Dl1757 was therefore born before 1989!
Easily recognizable thanks to an outgrowth on her left flank, Blanche has been observed nearly every summer since 2001. She failed to show up just once, in 2003.
In summer, females form large communities in which they tend to newborns and young. These communities are associated with traditional territories. Blanche belongs to the Saguenay community. The presence of newborns at Blanche's sides in 2005, 2008 and 2014 not only confirms her sex, but also the fact that she is a very productive matriarch.
Her calf born in 2005 had a distinctive mark, a scar ressembling a Daisy upon which she was nicknammed Marguerite. Marguerite is a female. She gave birth to her first calf in 2014 at the age of 9. This is the first time we ever monitored a female from her birth to her first calf! Blanche thus became the first known "grandmother" in the St. Lawrence.
How Blanche's story unfolds will teach us volumes on the evolution of belugas' social and reproductive lives. By better understanding how belugas live, we will better be able to protect them.
Observations history in the Estuary
Years in which the animal was not observed Years in which the animal was observed
Latest news
A spectacular day for us on the Baie Sainte-Marguerite tower. The blue sky is dotted with a few scattered clouds. We observe a herd of about twenty adult and young belugas and even one to three calves. The exact number of newborns is difficult to confirm because the animals are moving about vigorously. One minute, all the animals are swimming practically on top of one another and the next, they are widely dispersed. Tails and pectoral fins break the surface and slap the water. The encounter with the herd allows us to recognize well known stars from the St. Lawrence beluga photo-ID catalogue: Athéna, Miss Frontenac, Céline, Pure Laine and Blanchon were together that day.
L'été 2016, notre 32e saison en mer avec les bélugas, a encore été riche en rencontres et en surprises. Nous avons, entre autres, revu Blanche au moins à sept reprises et chaque fois, un jeune gris foncé se tenait près d'elle. Nous soupçonnons qu'il s'agit de son veau né en 2014.
Le 13 septembre 2016, Blanche nage en compagnie d'une trentaine d'individus qui remontent le fjord du Saguenay. Ce troupeau est composé de femelles accompagnées de jeunes et d'un nouveau-né. Les animaux sont dynamiques et se dirigent tous dans la même direction sans s'arrêter. Un groupe de six adultes, des mâles, semble suivre le troupeau de femelles. Après un certain temps, ils finissent par laisser le troupeau pour retourner vers l'embouchure tandis que les femelles poursuivent leur chemin jusqu'à la baie Sainte-Marguerite, leur terminus habituel dans le Saguenay.
Nous sommes au large de la pointe Noire et nous repérons Blanche parmi un troupeau de bélugas composé d'une dizaine d'individus adultes et jeunes. Le troupeau se dirige vers l'amont. Il remonte le fjord du Saguenay. Blanche nage en compagnie d'un jeune gris foncé. Cette observation est intéressante, car nous avions observé un nouveau-né à ses côtés en 2014 et son jeune se trouvait toujours auprès d'elle en 2015. Nous ne pouvons le confirmer en ce moment, mais le jeune gris foncé pourrait être son veau né en 2014. La femelle béluga allaite son petit pour une période d'environ deux ans, mais la relation entre la femelle et son jeune peut perdurer après l'allaitement.
Nous avons rencontré Blanche au moins quatre fois cet été. Lors de la saison précédente, nous avions observé Blanche avec un nouveau-né. Bonne nouvelle, cette année, nous l'avons revue avec son bleuvet. C'est ainsi qu'on appelle les jeunes de un ou deux ans. La première année d'un béluga est la plus risquée de sa vie. Sa survie jusqu'à aujourd'hui est très encourageante pour la population. Voici le récit de l'une de ces rencontres.
Le 3 août 2015, Blanche se trouve dans un troupeau d'une vingtaine d'individus, des adultes accompagnés de jeunes. Ils forment une longue file en remontant l'embouchure du Saguenay près de la baie de Tadoussac. Elle nage avec son bleuvet qui passe sans cesse d'un côté à l'autre d'elle, toujours collé à son flanc. Ils sont en compagnie d'une autre femelle, elle aussi accompagnée d'un nouveau-né. Rendus devant le site d'observation de Pointe-Noire, la file se serre et les animaux commencent à faire du «milling», c'est-à-dire qu'ils tournent en rond, plongent et refont surface au même endroit à plusieurs reprises. Ce comportement est souvent associé à l'alimentation.
Voilà un contact riche en nouveau-nés! Nous sommes à l'embouchure du Saguenay, à quelques mètres de notre port d'attache de Tadoussac. Entre la pointe Rouge et la pointe Noire, nous observons cinq nouveau-nés, dont ceux de Marguerite, de Miss Frontenac et de Blanche. Pure Laine nage à leurs côtés. Pour le moment, nous n'avons jamais pu confirmer que Pure Laine est fertile. La verrons-nous bientôt avec un petit? Nous laissons les bélugas avec des nouveau-nés tranquilles, nous allons vers un groupe d'adultes afin de prélever deux biopsies.
Le parrain
The municipality of Tadoussac adopted Blanche and participates in the solidary adoptions of Neige, Nics, Solidaire, Bilou and Cica with other riverside municipalities of the St. Lawrence (2014).
Click on the name below to discover texts, drawings and videos composed by children of participating schools on Facebook.
Blanche was named by the 5th and 6th grade class of the École Saint-Joseph in Tadoussac as part of the Our Beluga's Name is… contest.