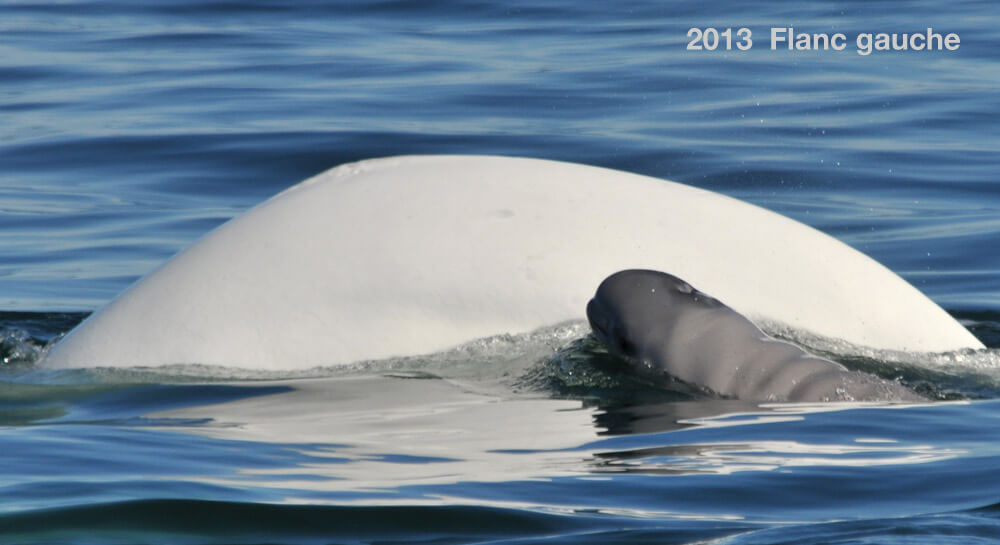 Adopted by Canada Steamship Lines
ID number

DL0516

Sex

Female

Year of birth

Around 1990

Known Since

1992
Her field marks
Annakpok can be recognized by a small round scar surrounded by small marks in the middle of the left side of her dorsal ridge. She also has a larger, but still small round scar in front of the caudal peduncle.
Life history
Our first sighting of Annakpok goes back to the summer of 1995. At the time, she was grey in colour and became white between 2003 and 2005. Given that the passage from grey to white colouring occurs at around 12 to 16 years of age, we estimate that Annakpok was born at the beginning of the 1990s.
Her small size, her habits and her regular presence within pods of adults and juveniles leave us to believe that Annakpok is a female from the Saguenay community. In fact, in their summer range, females form large communities in which they care for the newly born calves and juveniles. These communities are attached to traditional territories. The associations among females in the same community are not generally stable and may vary according to the reproductive condition of the females (pregnant or with calves). The presence of newly born calves alongside Annakpok in 2005, 2009 and 2013 confirms not only her sex, but also that she is a very productive female.
The mouth of the Saguenay is an area where communities of females and groups of males regularly meet. On September 3, 2002, Annakpok was with a pod of adults, juveniles and calves in which DL1881, a young male, was observed for the first time.
The continuation of Annakpok's story will teach us a great deal about the evolution of belugas' social lives. By understanding how belugas live we will be able to better protect them.
Observations history in the Estuary
Years in which the animal was not observed Years in which the animal was observed
Latest news
August 25, 2020 – Pointe-Noire near Baie-Sainte-Catherine: this is where photo-ID work on St. Lawrence belugas began in the 1970s. From the viewing platform, one can gaze out toward the horizon and spot belugas arriving from afar. The problem is, these little white backs don't always come close enough for the research assistants to take their pictures. The camera is all set to snap a portrait of the belugas approaching the black rocks. The group seems to be composed of females and juveniles. Visually, females can be recognized by their body shape, which bulges in the middle. Males, on the other hand, appear to have shoulders. One group finally comes in close. Click! It's Annakpok! Four or five calves are swimming in her group. Bringing up the rear are Miss Frontenac and Blanchon, the female we have known longer than any other. She was also photographed here in Pointe-Noire… in 1977! At least three generations of belugas are swimming together toward the Saguenay. Are they going to a sort of family gathering? We still have much to discover about belugas' social lives.
It's fall and it's rather chilly on board the BpJAM, GREMM's inflatable research craft, as we cut across the St. Lawrence from north to south. Fortunately for us, there are belugas to be found. Off the coast of Rivière-du-Loup, we spot a large herd of around thirty individuals. The group contains no fewer than three calves. We photograph the belugas in each small group, in one of which we recognize Annakpok. A new herd appears. To our surprise, they are the same belugas photographed this morning, only this time they're on the other side of the river! We then launch the drone to better document their behaviour. Conditions are far from ideal, as the warm sun is creating significant glare on the water. We bring the drone back on board and decide instead to continue our photo-ID work.
It's a clear and calm day… perfect for lounging on the beach! But the belugas in Baie Sainte-Marguerite have other plans for us! No sooner do we arrive at the tower at 8:15 (after our daily routine of pedalling, rowing, climbing the tower and setting up our equipment), and belugas are swimming all around us. We launch the drone to peer down on what they are doing and turn on the hydrophone while an assistant begins snapping photos. The herd is scattered: one group is swimming in the western end of the bay and the other is in the eastern part. It takes a while to tally the twenty-five individuals, mostly adults, accompanied by four bleuvets – young belugas between 1 and 3 years old – and two greys. Amongst them, we note the presence of Annakpok. A few minutes later, the group off to the west merges with the one in the east, and most if not all the females leave the area. The bulls are engaged in what we would qualify as "sociosexual" activities. We observe pelvic thrusts, penises protruding from the males' genital slits, animals rubbing up against one another. Are these bulls gearing up for the upcoming breeding season? Or perhaps this is their way of forging alliances? Analysis of the drone footage will certainly be interesting.
Leaving the Tadoussac marina aboard the Bleuvet, we quickly realize that the fog and the waves will put a damper on our photo-ID work. No matter! We sail toward the Saguenay Fjord, whose high cliffs often make for less severe maritime conditions than those encountered offshore. We head for the area nicknamed the "cowboy hat", due to the way the bank is shaped. On a map, you can find this feature near Anse Saint-Étienne. A herd of about fifty belugas is swimming there, including juveniles, adults and two newborns. The herd splits into 12 to 15 smaller groups. We recognize Annakpok, Aquabelle, Delphi, Céline, and Yogi, all females from the Saguenay community. The animals are very active, with some even spitting water, which might be an indication that they are in the process of hunting.
The summer of 2016 – our 32nd season at sea with the belugas – was once again rich in encounters and surprises. Amongst other sightings, we saw Annakpok on at least three occasions. As is often the case with Annakpok, she was observed in groups of females accompanied by juveniles. No sign of a newborn at her side this summer, however. It's been three years since we've seen Annakpok with a calf. On average, females belugas give birth every three years. The next one therefore might not be too far off.
August 23, 2016: We happen upon Annakpok who's in a herd of 45 individuals at the mouth of the Saguenay, near Pointe de l'Islet. We see as many white adults as we do young grays, in addition to four newborns. Females Miss Frontenac and Pacalou, two of her regular companions from the Saguenay community, are also there.
The entire herd is very active, especially the juveniles. The belugas are swimming in a synchronized manner when suddenly they stop, dive and resurface several times in the same spot, a behaviour often associated with feeding. With its particular oceanographic conditions, the mouth of the Saguenay is teeming with prey! Our encounter with Annakpok ends as the herd gradually splits into two.
We are plying the waters of the Saguenay Fjord, near Baie Sainte-Marguerite. We spot a herd of some 30 to 50 adult and young belugas. Annakpok is observed in the company of Athéna, another female of the Saguenay community. Within the herd we observe a newborn, but are unable to pinpoint who its mother is. Individuals within the herd are not particularly dynamic, treading water, diving and surfacing at the same spot. This behaviour is called "milling", and is often associated with feeding periods.
We encountered Annakpok six times this summer. Once again, she was seen swimming in the vicinity of newborns on several occasions. Nevertheless, our observations did not allow us to confirm whether or not any of these calves were her own. Below is an account of one of these encounters.
September 18, 2015: Annakpok is in a group of about fifteen individuals, close to Anse Saint-Étienne (Saint-Étienne cove) in the Saguenay Fjord. We can see belugas of all ages: white, dark gray, light gray and brown; the herd is made up of adults, young and newborns. They're slowly making their way toward Baie Sainte-Marguerite, which is often the final destination of herds swimming up the Saguenay Fjord. To this day, it is still unknown why belugas are particularly fond of this bay. Once they reach the bay, they sometimes stay there and swim in circles for several hours. Socializing behaviours are often observed there and their "voices" can be heard regularly, both below and above the surface!
We observed Annakpok with some fifty other individuals on July 17, 2015. She is at the tip of Île Blanche, an island off the coast of Rivière-du-Loup known for its bird concentrations, including an important common eider colony. The herd in which Annakpok is spotted consists mostly of adults, mainly females and juveniles. She is swimming in a smaller group of three adults and two juveniles. The entire herd is dynamic and directional in its movements; in other words, individuals were en route to a fixed point, without stopping along the way. In the same herd we recognize DL0249, a beluga that we haven't spotted in 17 years.
The sponsor
Canada Steamship Lines adopted Annakpok (2014).
Launch of the Adopt-a-Beluga campaign on November 10, 2014.
From left to right: Ms. Véronik de la Chenelière (GREMM), Mr. Robert Michaud (Scientific Director of GREMM), Mr. Régis Labeaume (Mayor of Quebec City), Ms. Chantale Rouleau (responsible for water and water infrastructure on the Executive Committee of the City of Montreal) and Ms. Lilia Khodjet El Khil (Manager, Sustainable Development, Canada Steamship Lines).
UNDER EMBARGO UNTIL MONDAY, NOVEMBER 10, 2014 @ 3:30 PM
CANADA STEAMSHIP LINES AND WWF-CANADA
PARTNER FOR ST. LAWRENCE BELUGAS
Quebec City, November 10, 2014 – Canada Steamship Lines (CSL) has committed to funding new scientific research aimed at better protecting threatened St. Lawrence River belugas, part of a long-standing partnership with WWF that has already helped reduce human impact on the environment. CSL's commitment totals $100 000 over the next two years.
CSL's contribution also supports the Groupe de recherche et d'éducation sur les mammifères marins' (GREMM) Adopt A Beluga campaign, a drive that funds research into why this unique population of whale continues to decline in the St. Lawrence River.
"CSL has been active on the St. Lawrence River for over 100 years and is committed to maintaining the health of this incredible national treasure. Our beluga adoption is one of the most important steps we've taken to help protect the St. Lawrence to date – for the benefit of species, and the communities that depended on it for their livelihoods," said Kirk Jones, Vice-President, Sustainability, Government and Industry Affairs at CSL.
Led by marine mammal expert Robert Michaud, GREMM is a non-profit organization dedicated to scientific research and education on whales in the St. Lawrence.
CSL and WWF partner for a Living Atlantic
CSL has supported WWF-led conservation efforts in the Atlantic region since 2006. In addition to recent efforts to reduce emissions and increase energy efficiency, CSL's industry-leading environmental commitments have also led to the adoption of best environmental practices to decrease the risk for right whales getting entangled in fishing gear.
More than 70% of all known right whales show scars on their bodies caused by encounters with fishing equipment. The fatalities resulting from entanglement — often from drowning or infection —have taken a serious toll on the endangered Atlantic right whale population.
"Because of these efforts and the efforts of other partners to save right whales, we are starting to see small signs of recovery. And whalres are also doing their part: we were pleased to see that over 58 right whale calves were born in 2010 and 2011," said David Miller, WWF-Canada's President and CEO. "WWF Canada is proud to see that CSL is continuing its industry-leading efforts to protect threatened species by collaborating with scientists, governments and non-government organizations to protect Canada's incredible natural wealth."
WWF and CSL representatives attended the launch of the Adopt A Beluga campaign today at Quebec City's historic Fairmount Chateau Frontenac.
"With its new commitment to supporting science to better protect the St. Lawrence belugas, CSL is pursuing its decades-long tradition of involvement in safeguarding marine mammal populations and conserving their habitats", said Marie-Claude Lemieux, WWF's Director for Quebec. "We are extremely pleased to see this important partner from the shipping industry helping us protecting one of Quebec's most iconic species," added Lemieux.
Quebec City Mayor Régis Labeaume and Montréal's executive committee member Chantal Rouleau presented the 10 belugas adopted by St. Lawrence waterfront municipalities of the province.
-ENDS-
About CSL
Canada Steamship Lines is a division of The CSL Group, the world's largest owner and operator of self-unloading vessels. Headquartered in Montreal with divisions based in the United States, the United Kingdom, Norway, Singapore and Australia, CSL delivers more than 76 million tonnes of cargo annually for customers in the construction, steel, energy and agri-food sectors.
About WWF-Canada
WWF-Canada (World Wildlife Fund Canada) is a member of WWF, one of the world's largest independent conservation organizations, active in more than 100 countries. WWF is creating solutions to the most serious conservation challenges facing our planet, helping people and nature to thrive. In Canada, we create solutions to conservation issues important to Canadians and the world. For more information, visit wwf.ca.
About GREMM
Founded in 1985 and based in Tadoussac, Quebec, the Group for Research and Education on Marine Mammals (GREMM) is a non-profit organization dedicated to scientific research on the whales of the St. Lawrence and to education for the conservation of the marine environment.
Contact:
Marie-Claude Lemieux
Regional Director, Quebec, WWF-Canada
514-260-6233